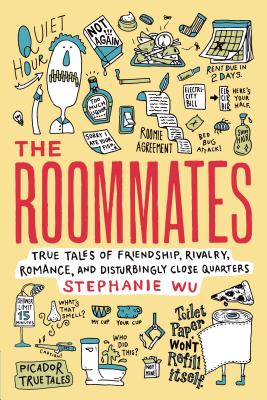 The Roommates
True Tales of Friendship, Rivalry, Romance, and Disturbingly Close Quarters (Picador True Tales)
Paperback

* Individual store prices may vary.
Description
THE SECOND ENTRY IN THE PICADOR TRUE TALES SERIES: ONE OF LIFE'S TRICKIEST RITES OF PASSAGE COLLECTED INTO AN UNFORGETTABLE VOLUME OF STORIES
The fraught relationship between roommates is a true cultural obsession. Shows like Friends, The Golden Girls, The Odd Couple, and New Girl have held us rapt for decades, simultaneously delighting and disconcerting us with their depictions of mismatched couples' cringe-worthy awkwardness and against-all-odds friendship. Maybe it's that uniquely unnatural experience of living with a total stranger that ignites our curiosity, or just that almost all of us, for better or worse, have had one of our own.
In Stephanie Wu's The Roommates, people of all ages reveal their disastrous, hilarious, and sometimes moving stories of making their best friend for life or lifelong nemesis. Learn what it's like to share a room in places as unusual as a thirty-person beach house, a billionaire's yacht, a reality show mansion, and a retirement hotel, and those as familiar as sleepaway camps, boarding schools, and college dorms. Put down your roommate's dirty dishes and passive-aggressive Post-it's for this eye-opening glimpse into how people live together in the modern age.
You'll meet: The Amateur Taxidermist · The Alcoholic Genius · The Kleptomaniac · The Rent Stiffer · The Naked Nanna · The Serial Roommate · The Top Chef · The Recovered Addict · The Russian Missionary · The Obsessive Lesbian · The Impersonator · The Party Poopers...and many more!
Praise For The Roommates: True Tales of Friendship, Rivalry, Romance, and Disturbingly Close Quarters (Picador True Tales)…
"The Roommates [is] a collection of anonymous housemate horror stories that draws a picture of a twenty-first century household and how it's changing impossibly quickly...Raw stories that feel honest and authentic." —The Washington Post
"A fine choice to pack into your college-bound child's backpack--if only to remind them, upon meeting their new randomly selected roommate, that it could probably be worse." —The Boston Globe
"Hilarious…agonizing chronicles of the passive aggressive and the plain incompatibles." —Publishers Weekly
Picador, 9781250051455, 288pp.
Publication Date: August 5, 2014
About the Author
Stephanie Wu is an editor at Town & Country, covering culture, food, and travel. She is also the founder and editor in chief of MochiMag.com, an online publication for young Asian American women. She was raised in Taipei and now lives in New York with a roommate.