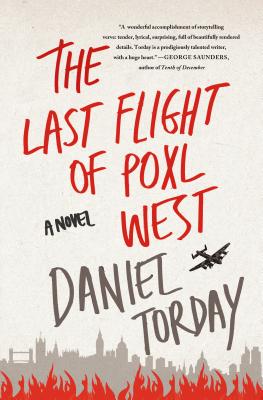 The Last Flight of Poxl West (Hardcover)
A Novel
St. Martin's Press, 9781250051684, 304pp.
Publication Date: March 17, 2015
Other Editions of This Title:
Digital Audiobook (3/16/2015)
Paperback (3/1/2016)
Hardcover, Large Print (8/12/2015)
* Individual store prices may vary.
Description
A NEW YORK TIMES BOOK REVIEW EDITORS' CHOICE

"An utterly accomplished novel."-The New York Times Book Review

Poxl West fled the Nazis' onslaught in Czechoslovakia. He escaped their clutches again in Holland. He pulled Londoners from the Blitz's rubble. He wooed intoxicating, unconventional beauties. He rained fire on Germany from his RAF bomber.
Poxl West is the epitome of manhood and something of an idol to his teenage nephew, Eli Goldstein, who reveres him as a brave, singular, Jewish war hero. Poxl fills Eli's head with electric accounts of his derring-do, adventures and romances, as he collects the best episodes from his storied life into a memoir.
He publishes that memoir, Skylock, to great acclaim, and its success takes him on the road, and out of Eli's life. With his uncle gone, Eli throws himself into reading his opus and becomes fixated on all things Poxl.
But as he delves deeper into Poxl's history, Eli begins to see that the life of the fearless superman he's adored has been much darker than he let on, and filled with unimaginable loss from which he may have not recovered. As the truth about Poxl emerges, it forces Eli to face irreconcilable facts about the war he's romanticized and the vision of the man he's held so dear.
Daniel Torday's debut novel, The Last Flight of Poxl West, beautifully weaves together the two unforgettable voices of Eli Goldstein and Poxl West, exploring what it really means to be a hero, and to be a family, in the long shadow of war.
About the Author
DANIEL TORDAY is the Director of Creative Writing at Bryn Mawr College. An author and former editor at Esquire magazine, Torday currently serves as an editor at The Kenyon Review. His short stories and essays have appeared in Esquire, Glimmer Train, Harper Perennial's Fifty-Two Stories, Harvard Review, The New York Times and The Kenyon Review.  Torday's novella, The Sensualist, won the 2012 National Jewish Book Award for debut fiction.
Praise For The Last Flight of Poxl West: A Novel…
"It's Mr. Torday's ability to shift gears between sweeping historical vistas and more intimate family dramas, and between old-school theatrics and more contemporary meditations on the nature of storytelling that announces his emergence as a writer deserving of attention."-The New York Times
"Lyrical prose glides over the page as smoothly as a Spitfire across a cloudless sky...an utterly accomplished novel."-The New York Times Book Review
"The last sentence of Torday's novel is one of the great conclusions...Torday gives his dual protagonists the ending they deserve...a real one, equal parts inevitable and explosive."-Esquire
"While Torday is more likely to be compared to Philip Roth or Michael Chabon than Gillian Flynn, his debut novel has two big things in common with Gone Girl--it's a story told in two voices, and it's almost impossible to discuss without revealing spoilers. A richly layered, beautifully told and somehow lovable story about war, revenge and loss." —Kirkus (starred review)
"A wonderful accomplishment of storytelling verve: tender, lyrical, surprising, full of beautifully rendered details. Torday is a prodigiously talented writer, with a huge heart." —George Saunders, author of Tenth of December
"A profound and timely meditation on the desire for justice, retribution, and redemption. This book is unputdownable, wise, and unbelievably generous. Its ending left me speechless." —Karen Russell, #1 New York Times bestselling author of Swamplandia!
"The Last Flight of Poxl West is a beautifully told and moving story of love, loss, and growing up. Daniel Torday is a stunning writer, and his first novel is full of elegant, thought provoking surprises." —Edan Lepucki, author of California
"This ambitious, complex novel beautifully interprets and illuminates the past with contemporary eyes and a gentle heart." —Mary Gaitskill, author of Veronica, a National Book Award Finalist
"The Last Flight of Poxl West is a love story, a war story, a family saga, an intimate view of vast Twentieth Century events, a treatise on the telling of stories, and a damned good read as well. Torday's language is precise and it is grand; and he uses it to describe scenes you will swear he was witness to himself. The details, the insights, the knowledge, the writing, and the unmistakable empathy-- these elements add up to a stellar, memorable book." —Robin Black, author of Life Drawing
"Love, lust, war, revenge, betrayal: I was inclined to like this book before I opened it. Daniel Torday's gorgeous prose and moral candor made me love it. A spectacular debut. Torday is quickly making a name for himself as one of our finest young novelists." —Daniel Smith, author of the New York Times bestseller Monkey Mind
"OMFG! What a book! Eli Goldstein has the retrospective candor of Roth's Zuckerman and the sensitivity of a Harold Brodkey narrator, and Poxl West is an unforgettable creation. Plus, things happen in this book, big things like the world wars. A delight!" —Gary Shteyngart, author of Little Failure
"A brilliant--and perhaps even more importantly, hilarious--book about what we make of our heroes, and what our heroes make of us. It's all here: the crime of storytelling, the joy of storytelling, the story hidden not so well in history, and the pleasures and problems of one word placed so well after another." —Rivka Galchen, author of Atmospheric Disturbances
"Daniel Torday's The Last Flight of Poxl West interweaves a powerful war story with a profound meditation on the need such stories fill in us, and the truths they can sometimes obscure. Eli Goldstein's relationship with Poxl West is strange and moving, and the book's final pages present a deep and revealing pathos. Really good stuff." —Phil Klay, author of Redeployment, National Book Award winner
"The Last Flight of Poxl West is an affecting meditation on the way we all want to touch history, celebrity and heroism while remaining safe in our passivity, and on how many opportunities we miss to do the right thing for others. As its saga within a saga renders viscerally London during the Blitz or the exhilarations and terrors of flying with the RAF, it exposes remorselessly the use we make of others, even those we love most." —Jim Shepard, author of NBA Finalist Like You'd Understand, Anyway
Coverage from NPR
or
Not Currently Available for Direct Purchase