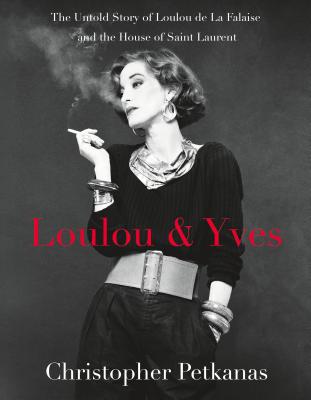 Loulou & Yves (Hardcover)
The Untold Story of Loulou de La Falaise and the House of Saint Laurent
St. Martin's Press, 9781250051691, 512pp.
Publication Date: April 17, 2018
* Individual store prices may vary.
Description
No one interested in fashion, style, or the high-flying intrigues of café society will want to miss Christopher Petkanas's exuberantly entertaining oral biography Loulou & Yves: The Untold Story of Loulou de La Falaise and the House of Saint Laurent.
Dauntless, "in the bone" style made Loulou de La Falaise one of the great fashion firebrands of the twentieth century. Descending in a direct line from Coco Chanel and Elsa Schiaparelli, she was celebrated at her death in 2011, aged just sixty-four, as the "highest of haute bohemia," a feckless adventuress in the art of living—and the one person Yves Saint Laurent could not live without.
Yves was the most influential designer of his times; possibly also the most neurasthenic. In an exquisitely intimate, sometimes painful personal and professional relationship, Loulou was his creative right hand, muse, alter ego and the virtuoso behind all the flamboyant accessories that were a crucial component of the YSL "look." For thirty years, until his retirement in 2002, Yves relied on Loulou to inspire him, make him laugh and talk him off the ledge—the enchanted formula that brought him from one historic collection to the next.
Yves's many tributes shape Loulou's memory, as if everything there was to know about this fugitive, Giacometti-like figure could be told by her clanking bronze cuffs, towering fur toques, the turquoise boulders on her fingers and her working friendship with the man who put women in pants. But another, darker story lifts the veil on Loulou, a classic "number two" with a contempt for convention, and exposes the underbelly of fashion at its highest level. Behind Yves's encomiums are a pair of aristocrat parents—Loulou's shiftless French father and menacingly chic English mother—who abandoned her to a childhood of foster care and sexual abuse; Loulou's recurring desperation to leave Yves and go out on her own; and the grandiose myths surrounding her family. Loulou felt that her life had been kidnapped by the operatic workings of the House of Saint Laurent, and in her last years faced financial ruin. Loulou & Yves unspools an elusive fashion idol—nymphomaniacal, heedless and up to her bracelets in coke and Boizel champagne—at the core of what used to be called "le beau monde."
About the Author
CHRISTOPHER PETKANAS covered Loulou de La Falaise and the House of Saint Laurent from 1982 to 1988 while living in Paris, picking up with Loulou again more than two decades later, in 2010, the year before she died. He has written for The New York Times, Vogue, and Architectural Digest, and his books include At Home in France: Eating and Entertaining with the French, and Parish-Hadley: Sixty Years of American Design (with Sister Parish and Albert Hadley). He resides in New York City.
Praise For Loulou & Yves: The Untold Story of Loulou de La Falaise and the House of Saint Laurent…
"Loulou de La Falaise was "a cross between Holly Golightly and Sally Bowles," in the words of André Leon Talley — though you might also think of her as Cosette from "Les Misérables," grown up to become the heroine of a Jackie Collins novel. A paragon of effortless glamour, Loulou twice married well ("I am not a gold digger or anything like that, but I usually do manage to get a castle. … My two husbands both have fabulous ones") and, living a life brimming with sex, drugs and cosmopolitan éclat, charmed her way to the top of the international fashion order by becoming the longtime muse to Yves Saint Laurent, who imbued his designs with her turbans-and-tunics chic only to leave her with nothing.
Petkanas opts for oral history, letting de La Falaise (who died in 2011) and her flashy circle tell her tale. What results is an affirmation of both the fashion industry as a pit of facile, well-accessorized vipers and the fascination that de La Falaise engendered, due not only to her role as haute gamine but to her indifference to the whole glittering shebang. The more she telegraphed that she didn't care, the more they did. The book — assembled from 153 original interviews, along with countless excerpts from letters, diary entries, articles and other ephemera — takes the reader on a dizzying carousel ride around hundreds of boldface European names and the details of their louche lives in the '70s and '80s. Even for those not invested in the minutiae of the jet set, it's a literary champagne cocktail that goes down easy as it sloshes from quote to quote, each one scandalous, wry, vicious, knowing or salacious, and often all five. Petkanas delivers a meticulous dissection of our endless fascination with the modish, bewitching women who refuse to let us in, and upon whom we project our fantasies, desires, even our hatred."
—Michael Callahan, The New York Times Book Review
"... the high-fashion world of yesteryear... has been brought back to life in a compulsively readable oral history, Loulou & Yves: The Untold Story of Loulou de La Falaise and the House of Saint Laurent—though that tome likewise has some lessons we might all take on board... So what does it really mean to be a designer's 'muse'? Read the book and find out."—Vanessa Friedman, The New York Times
"The legendary LouLou de la Falaise and Thadee Klossowski... Paloma Picasso and Bianca Jagger... the late Pierre Berge and Yves Saint Laurent... Baronne Guy de Rothschild, social queen of Paris! Read all about these sacred monsters in Christopher Petkanas['s] LouLou and Yves. This book is an oral biography of Paris fashion between the glittering years when LouLou was the light between all the characters! It's a modern Balzac history! You will want to give the book and also read it. It soars! It roars! Petkanas has achieved in this book, a smash artistic hit... absorb[ing] you in the history of high fashion in the 70s."—André Leon Talley, fashion journalist and subject of the documentary "The World According to André"
"Red-hot."—Fern Mallis, host of "Fashion Icons with Fern Mallis" at the 92nd Street Y, NYC
"A must read!"—Sandra Bernhard, actress, comedian and host of Sandyland on SiriusXM
"... at 495 pages, [Loulou & Yves] will no doubt prove essential reading for anyone fascinated with the Saint Laurent legend." —Joelle Diderich, Women's Wear Daily

"[Loulou & Yves] ruffles fancy feathers."—Richard Johnson, New York Post

"Like all good biographies, Loulou & Yves… is a portrait of not just its subject… but of her place and time... The result is a crackling good read with a pleasing superabundance of salt, wit and dish; even the contributor bios are snarky."—Nell Baram, Shelf Awareness, MainStreet BookEnds
"For 30 years, [Loulou de La Falaise] helped Saint Laurent see things through rose-coloured glasses. A new book reveals why the troubled designer was drawn to his right-hand woman's more-is-more style… As detailed in Christopher Petkanas's… Loulou & Yves, De la Falaise was by Yves Saint Laurent's side for 30 years."—Lauren Cochrane, The Guardian
"From the book: 'On the theory that everyone loves a cocktail party, and because people with a drink in their hand tend to be candid, Loulou & Yves traces Loulou's life chronologically through the memories of more than two hundred voices: husbands, lovers, extended family, friends, enemies, slightly less bitter detractors, colleagues, groupies, Yves, pundits, hangers-on and Grace Jones.' The good news is that you are all invited to eavesdrop on every morsel of information and tidbit of gossip that so many so freely offer at this 'party.'
—Jeffrey Felner, New York Journal of Books