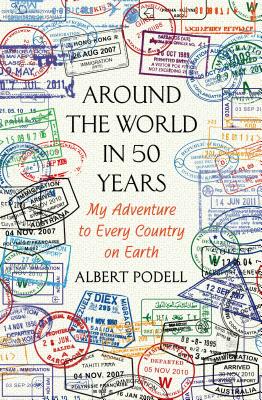 Around the World in 50 Years
My Adventure to Every Country on Earth
Hardcover

* Individual store prices may vary.
Other Editions of This Title:
Digital Audiobook (5/4/2015)
MP3 CD (5/5/2015)
Paperback (7/19/2016)
MP3 CD (5/5/2015)
Compact Disc (5/5/2015)
Compact Disc (5/5/2015)
Compact Disc (5/5/2015)
Description
The New York Times Bestseller
This is the inspiring story of an ordinary guy who achieved two great goals that others had told him were impossible. First, he set a record for the longest automobile journey ever made around the world, during the course of which he blasted his way out of minefields, survived a serious accident atop the Peak of Death, came within seconds of being lynched in Pakistan, and lost three of the five men who started with him, two to disease, one to the Vietcong.
After that-although it took him forty-seven more years-Albert Podell set another record by going to every country on Earth. He achieved this by surviving riots, revolutions, civil wars, trigger-happy child soldiers, voodoo priests, robbers, pickpockets, corrupt cops, and Cape buffalo. He went around, under, or through every kind of earthquake, cyclone, tsunami, volcanic eruption, snowstorm, and sandstorm that nature threw at him. He ate everything from old camel meat and rats to dung beetles and the brain of a live monkey. And he overcame attacks by crocodiles, hippos, anacondas, giant leeches, flying crabs-and several beautiful girlfriends who insisted that he stop this nonsense and marry them.
Albert Podell's Around the World in 50 Years is a remarkable and meaningful tale of quiet courage, dogged persistence, undying determination, and an uncanny ability to escape from one perilous situation after another-and return with some of the most memorable, frightening, and hilarious adventure stories you have ever read.
Praise For Around the World in 50 Years: My Adventure to Every Country on Earth…
"It's like Crocodile Dundee produced by Monty Python and directed by Woody Allen." —Tony Wheeler, founder of Lonely Planet
"Podell's passport would be a more fascinating read than many a thriller, but the stories behind each stamp in his mad quest to touch every corner in the world are even better. This is a great book by an even greater traveler." —Peter Allison, author of Whatever You Do, Don't Run: True Tales of a Botswana Safari Guide
"The fastest and most thrilling adventure book ever." —Tracie Max Sachs, five-time World Cup speed-skiing champion
"Podell traveled the world having more hair-raising misadventures and harrowing escapes than Indiana Jones. He survived them all to write this delightful book.... perhaps the broadest range of human cultures ever portrayed in a single book. And he puts these intriguing experiences in the context of major events and world history. It sets a new standard for adventure travel books." —Will Lutwick, author of Dodging Machetes
"Swashbuckler, philosopher, humorist, Al Podell has lived, and written, a splendidly rollicking adventure." —Trevor Morrison, Dean, New York University School of Law
"I tell my students to live life fully, and Al Podell's tour de force, described in fascinating detail in this wonderful book, shows that he has done just that." —John Sexton, president, New York University
"This fascinating book is filled with adventurous curiosity and constant drama, and written with delight, humor, and compassion." —James Fulton Hoge, Jr., former editor of Foreign Affairs and publisher of New York Daily News
"The author's tales are unquestionably entertaining. … There is never a dull moment." —Kirkus Reviews
"His writing is breathtaking. … This is substantially more than a travel book. It is one man's nearly lifelong, worldwide adventure." —Booklist
"Even the most jaded armchair traveler will enjoy these breezy anecdotal vignettes from Podell's 50 years of journeying. … This is absolutely not a travel guide but rather a shout-out to those who crave adventure from someone who persists with good luck and no fear of the unknown." —Library Journal
"Part travel adventure tale and part madcap farcical comedy, where Hunter Thompson meets Anthony Bourdain." —Chicago Tribune
"An engaging and colorful storyteller. ... Even if your desire for exotic travel never takes you out of your reading chair, you'll find Podell a fascinating companion." —Bookpage
"Albert Podell tells of his adventures with gusto, bravado, and humor in Around the World in 50 Years." —Portland Book Review
"Amazing...the most original travel narrative ever written." —Counterpunch
Thomas Dunne Books, 9781250051981, 368pp.
Publication Date: March 24, 2015
About the Author
ALBERT PODELL has been an editor at Playboy and three national outdoor magazines and written more than 250 freelance articles. He was co-leader of the Trans-World Record Expedition and co-author of Who Needs A Road, an adventure classic still in print after nearly five decades. He holds a B.A. in government from Cornell, was the graduate fellow of the Committee on International Relations at the University of Chicago, and received a law degree from New York University. He lives in New York and is an all-around outdoorsman – skier, boarder, mountaineer, climber, camper, hiker, biker, archer, angler, surfer, kayaker, scuba diver, windsurfer, long-distance swimmer, and vegetable gardener.
or
Not Currently Available for Direct Purchase