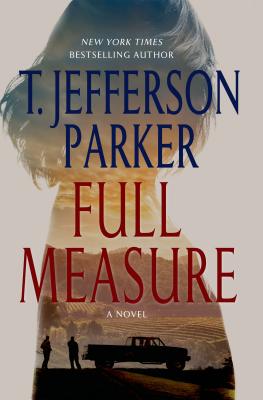 Full Measure (Hardcover)
A Novel
St. Martin's Press, 9781250052001, 288pp.
Publication Date: October 7, 2014
Other Editions of This Title:
Digital Audiobook (10/6/2014)
Paperback (12/1/2015)
CD-Audio (10/7/2014)
Pre-Recorded Audio Player (10/7/2014)
Hardcover, Large Print (10/1/2014)
* Individual store prices may vary.
Description
"A tense and compelling drama of the wars without and the wars within—and of the flame of violence that burns through the American psyche." —T.C. Boyle, New York Times bestselling author of The Women

"Stunning . . . [Parker is] a brave and daring writer." —Lisa See, New York Times bestselling author of Shanghai Girls and Dreams of Joy

"A great American family novel. . . . Parker is playing in the same league as John Steinbeck." —Stephen Harrigan, author of The Gates of the Alamo and Remember Ben Clayton

Patrick Norris has seen the worst that Afghanistan has to offer–excruciating heat, bitter cold, and death waiting behind every rock as comrades are blown to pieces by bombs and snipers. He returns home exhilarated by his new freedom and eager to realize his dream of a sport fishing business. But he is shocked to learn that the avocado ranch his family has owned for generations in the foothills of San Diego has been destroyed by a massive wildfire and the parents he loves are facing ruin.
Ted Norris worships his brother and yearns for his approval. Gentle by nature, but tormented by strange fixations with a dark undercurrent, Ted is drawn into a circle of violent, criminal misfits. His urgent quest to prove himself threatens to put those he loves in peril.
Patrick puts his own plans on hold to save the family's home and falls in love with Iris, a beautiful and unusual woman, when disaster strikes. When Ted's plan for redemption goes terribly wrong, he tries to disappear. Desperate to find his brother and salvage what remains of his family, Patrick must make an agonizing choice.
Three-time Edgar Award-winner T. Jefferson Parker is known for his many bestselling crime novels, from Laguna Heat to The Famous and the Dead. Full Measure marks a departure; it is a literary novel that explores many subjects, among them the bonds of loyalty between brothers.
About the Author
T. JEFFERSON PARKER is the bestselling author of numerous novels, including Storm Runners and The Fallen. Alongside Dick Francis and James Lee Burke, Parker is one of only three writers to be awarded the Edgar Award for Best Novel more than once. Parker lives with his family in Southern California.
Praise For Full Measure: A Novel…
"A tense and compelling drama of the wars without and the wars within--and of the flame of violence that burns through the American psyche." —T.C. Boyle, New York Times bestselling author of The Women
"Stunning . . . [Parker] has touched on the frustrations and complications of coming home from war, domestic gun violence, and the often fraught relationship between brothers set against the backdrop of California's avocado farms, fires, and floods. What a brave and daring writer." —Lisa See, New York Times bestselling author of Shanghai Girls and Dreams of Joy
"Full Measure is a great American family novel. . . . T. Jefferson Parker has often been considered an heir to Raymond Chandler and John D. McDonald, but in this compassionate and urgently contemporary book he is playing in the same league as John Steinbeck." —Stephen Harrigan, author of The Gates of the Alamo and Remember Ben Clayton
"Emotionally devastating, tense, moving toward an explosive climax, this is a great American book by a master at the top of his game. Parker is entering East of Eden territory here. Family, war, racism, violence and the sometimes painful demands of love fight for air in this charred landscape of the heart. Wow." —Luis Alberto Urrea, Pulitzer Prize-Nominated and bestselling author of Into the Beautiful North
"Skilled plotting, great pacing, characters with understandable flaws trying hard to be guided by their consciences. A winner . . . as compelling as it is unpredictable. . . . With vivid characters and a strong plot, in FULL MEASURE Parker has hooked a big one." —Stephen P. Kiernan, author of The Curiosity and Last Rights
"Aptly titled, Full Measure takes the emotional temperature of our times. T. Jefferson Parker is a gifted storyteller, and he weaves a masterful plot here; but it's his many beautiful insights into the emotional life of the good, flawed people who inhabit Full Measure that I'll never forget." —Charmaine Craig, author of The Good Men
"Under Parker's sharp and all-seeing pen, the hopes and dreams of his characters are brought into suspenseful collision with the country's conflicting social and political currents. . . . There are moments of profound beauty in Full Measure that shouldn't be missed. I couldn't put this book down." —Andrew Winer, author of The Marriage Artist
or
Not Currently Available for Direct Purchase