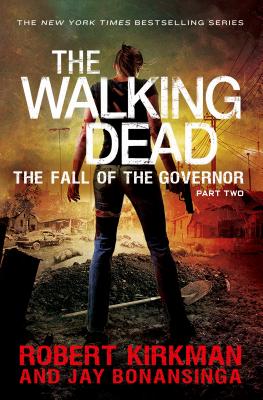 The Fall of the Governor, Part Two (Hardcover)
Thomas Dunne Books, 9781250052018, 278pp.
Publication Date: March 4, 2014
* Individual store prices may vary.
or
Not Currently Available for Direct Purchase
Description
The fourth book and epic finale to Robert Kirkman's New York Times bestselling series: "The Walking Dead: The Fall of the Governor Part Two "
""
""The Walking Dead original novel series, set in the universe of Robert Kirkman's iconic comic book, comes to a shattering conclusion with "The Fall of the Governor Part Two." From co-authors Kirkman, creator of the Eisner Award-winning comic as well as executive producer of AMC's blockbuster TV series, and Jay Bonansinga, Stoker Award-finalist and internationally acclaimed author, comes this stunning finale to their ambitious chronicle of human survival amid the plague of undead, which began with "The Walking Dead: Rise of the Governor."
In "Rise of the Governor," uber-villain Philip Blake journeyed from his humble beginnings directly into the dark heart of the zombie apocalypse, and became the self-proclaimed leader of a small town called Woodbury. In "The Road to Woodbury," an innocent traveler named Lilly Caul wound up in the terrifying thrall of Phillip Blake's twisted, violent dictatorship within Woodbury's ever tightening barricades. In "The Fall of the Governor Part One," Philip Blake finally revealed himself to be the true monster that he is, and the battle lines were drawn between the Governor and the desperate, beleaguered inhabitants of a nearby prison.
Now, in "The Fall of the Governor Part Two," the Governor's dark journey reaches its shocking, heartrending conclusion. In a roller coaster finale, war breaks out, all of the plot lines from the previous three novels converge, tensions boil over into unthinkable mayhem, and the dark destinies of those few left standing are sealed in a series of stunning twists.
About the Author
ROBERT KIRKMAN is the creator of many popular comic books, including The Walking Dead, Invincible, and Super Dinosaur. In addition to being a partner at Image Comics, Kirkman is an executive producer and writer on The Walking Dead television show. In 2010, Kirkman opened Skybound, his own imprint at Image, which publishes his titles as well as other original work.JAY BONANSINGA is a New York Times bestselling novelist whose works include Perfect Victim, Shattered, Twisted, and Frozen. His debut novel, The Black Mariah, was a finalist for a Bram Stoker Award.
Praise For The Fall of the Governor, Part Two…
Praise for The Walking Dead: The Road to Woodbury:

"An entertaining read." —ComicBookMovie.com

"The novel fleshes out . . . backstories and connects them, giving depth to people who remained largely mysteries in the comic books. For comic book readers, the novel is full of easter eggs and surprise connections, making it not only entertaining, but necessarily for filling in the gaps left by the comic books . . . 'The Road to Woodbury' is an essential read for any fan of 'The Walking Dead'." —Examiner.com

Praise for The Walking Dead: Rise of the Governor:

"An excellent companion to the The Walking Dead comic books. The story is enriched by the novel format, and the characterization of the series' most hated villain is something no fan will want to miss."
—Examiner.com
"This book stands alone and is a compelling read for fans of the series or just fans of zombies. Watch out though, because once you get a taste of the particular Kirkman brand of zombie mayhem, catching up on past issues is just around the corner."
—The Ossuary
"The story makes a great novel. You'll get sucked in and can easily visualize everything that is happening. It's simply a great read."
—Comicvine.com
"It takes great advantage of the literary medium in a way that most tie-in books would not."
—TVOverMind.com

"Not for the faint of heart, this book runs on pressure-cooker suspense, graphically described bloodshed, and dark acts of brutality...This riveting character study adds a new dimension to the oeuvre by fleshing out established characters and plot lines."
—School Library Journal
Advertisement