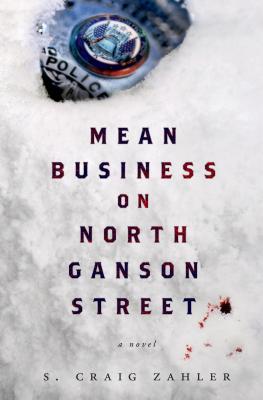 Mean Business on North Ganson Street (Hardcover)
A Novel
Thomas Dunne Books, 9781250052209, 304pp.
Publication Date: September 30, 2014
* Individual store prices may vary.
Description
A distraught businessman kills himself after a short, impolite conversation with a detective named Jules Bettinger. Because of this incident, the unkind (but decorated) policeman is forced to relocate himself and his family from Arizona to the frigid north, where he will work for an understaffed precinct in Victory, Missouri. This collapsed rustbelt city is a dying beast that devours itself and its inhabitants...and has done so for more than four decades. Its streets are covered with dead pigeons and there are seven hundred criminals for every law enforcer.
Partnered with a boorish and demoted corporal, Bettinger investigates a double homicide in which two policemen were slain and mutilated. The detective looks for answers in the fringes of the city and also in the pasts of the cops with whom he works—men who stomped on a local drug dealer until he was disabled.
Bettinger soon begins to suspect that the double homicide is not an isolated event, but a prelude to a series of cop executions...
The author, S. Craig Zahler, is currently adapting Mean Business on North Ganson Street into a movie for Warner Brothers; Jamie Foxx and Leonardo DiCaprio are both attached to the project.
About the Author
Florida-born New Yorker S. CRAIG ZAHLER worked for many years as a cinematographer and a catering chef, while playing heavy metal and creating some strange theater pieces. His debut western novel, A Congregation of Jackals was nominated for both the Peacemaker and the Spur awards, and his western screenplay, The Brigands of Rattleborge, garnered him a three-picture deal at Warner Brothers, topped the prestigious Black List and is now moving forward with Park Chan Wook (Old Boy) attached to direct, while Michael Mann (Heat & Collateral) develops his nasty crime script, The Big Stone Grid at Sony Pictures. In 2011, a horror movie that he wrote in college called, Asylum Blackout (aka The Incident) was made and picked up by IFC Films after a couple of people fainted at its Toronto premiere. In 2013, his brutal western novel, Wraiths of the Broken Land was published by Raw Dog Screaming Press.
A drummer, lyricist and songwriter, Zahler makes music with his doomy epic metal band Realmbuilder, which signed to I Hate Records of Sweden, after his foray in black metal with the project Charnel Valley (whose two albums were released by Paragon Records). He is also navigating preproduction on his directorial debut—a horror western that he wrote called, Bone Tomahawk, which will star Kurt Russell.
Zahler studies kung-fu and is a longtime fan of animation (hand drawn and stop-motion), heavy metal (all types), soul music, genre books (especially, horror, crime and hard sci-fi), old movies, obese cats and asymmetrical robots.
Praise For Mean Business on North Ganson Street: A Novel…
"Zahler evocatively illustrates a city on the verge of moral and economic collapse." —Associated Press
"From the cinematic first sentence of the first paragraph of the first page of this book, S. Craig Zahler serves notice that the term "mean streets" is not exclusively reserved for big cities on either coast. Mean Business on North Ganson Street offers up a 'heartland noir' that will appeal to readers for whom mystery novels are like crack, but it will also entertain those who usually prefer to experience their crime fiction on shows like The Killing, and The Fall, and True Detective. Read this book." —CriminalElement.com
"[A] grim, brilliantly imagined work." —Book Reporter.com
"Riveting and horrifying." —CurledUp.com
"Whether writing westerns, science fiction, or crime, Zahler always manages to bring something new to the genre…Zahler's mean streets are bizarrely mean. But Mean Business is often mordantly funny, too--and not to be missed." —Booklist, starred review
"Zahler tells a gripping story." —Kirkus Review
"Zahler means business all right. As funny as it is moving and as tender as it is violent, Mean Business On North Ganson Street is a superb police thriller that carries serious emotional heft." —Allan Guthrie, Edgar-nominated author of Slammer