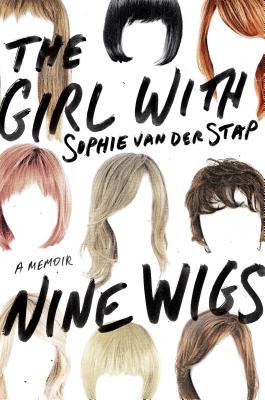 The Girl With Nine Wigs (Hardcover)
A Memoir
St. Martin's Press, 9781250052230, 288pp.
Publication Date: September 29, 2015
* Individual store prices may vary.
Description
'It's Saturday and everything is different. No, I didn't go to the market this morning and I didn't have my usual coffee on Westerstraat. And no, I wasn't getting ready for a new semester at college. Next Monday, January 31st, I have to admit myself at the hospital for my first chemotherapy session. For the next two months, I'm expected each week for a fresh shot of vincristine, etoposide, ifosfamide and loads more exciting abracadabra.'

Sophie is twenty-one when she is diagnosed with a rare, aggressive form of cancer. A striking, fun-loving student, her world is reduced overnight to the sterile confines of a hospital. But within these walls Sophie discovers a whole new world of white coats, gossiping nurses, and sexy doctors; of shared rooms, hair loss, and eyebrow pencils.
As wigs become a crucial part of Sophie's new life, she reclaims a sense of self-expression. Each of Sophie's nine wigs makes her feel stronger and gives her a distinct personality, and that is why each has its own name: Stella, Sue, Daisy, Blondie, Platina, Uma, Pam, Lydia, and Bebé. There's a bit of Sophie in all of them, and they reveal as much as they hide. Sophie is determined to be much more than a cancer patient.
With refreshing candor and a keen eye for the absurd, Sophie van der Stap's The Girl With Nine Wigs makes you smile when you least expect it.
About the Author
Sophie van der Stap was 21 years old when she was diagnosed with cancer. The Girl with Nine Wigs is the memoir of a girl struggling to survive but even more to live, through her nine invented characters. The experience changed her life, and Sophie has worked as a writer ever since. She has published her first novel, And What If This Were Love, and is currently working on her second. She lives in Paris, France.
Praise For The Girl With Nine Wigs: A Memoir…
"The author, now healthy, renders her tale with a poignant awareness of the joy that is possible even in the most dire circumstances. Readers will swiftly be drawn into this beautifully written story of a brave and quite fascinating young woman." —Publishers Weekly
"An extraordinary book from an extraordinary girl." —Marie Claire (Germany)
"[Sophie's diary] will give you goosebumps." —Elle Girl (Germany)
"The grandeur of this book does not rest only in the description of pain that Sophie suffered but also the courage with which she suffered it. What Sophie van der Stap has written is truly a masterpiece; she has managed to seize the lightness in the gravest of situations." —Der Spiegel (Germany)