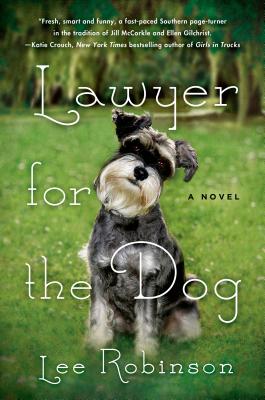 Lawyer for the Dog
A Novel (A Sally Baynard Novel #1)
Hardcover

* Individual store prices may vary.
Other Editions of This Title:
Library Binding, Large Print (2/1/2016)
Description
One of the sharpest attorneys in Charleston, S.C., Sally Baynard isn't your typical southern belle. She's certainly not what her mother hoped she'd grow up to be, especially since she divorced her husband, Family Court Judge Joe Baynard, and his historic family with their historic wealth and historic houses. Maybe Sally was never going to be a proper society lady, but her success as a public defender and family lawyer have been enough for her. She's represented murderers, burglars, drug dealers and lately has taken on some of the thorniest divorces, all cases closed with her Sally Bright Baynard wit, charm and brains.
Or have they? One case she's never successfully closed is her marriage. And when Judge Joe assigns her to one of his divorce cases by appointing her as the Lawyer for the Dog -- Sherman, a miniature schnauzer-- she's forced into close quarters with him again. Juggling the needs of the dog, the angry owners, her amorous but uncommunicative ex-husband, her aging, Alzheimer's-ridden mother, and the expectations of the court is more than Sally could have imagined. And as rascally Sherman digs his way into Sally's heart, he brings along his charming vet Tony, a man who makes Sally question her views on love and marriage.
Praise For Lawyer for the Dog: A Novel (A Sally Baynard Novel #1)…
"The frequently funny and sometimes poignant tale of an attorney who is appointed by the court to represent a pet Schnauzer in a couple's acrimonious divorce."—San Antonio Express-News, "Books of the Year in 2015"
"Likable secondary characters surround an even more likable central character, creating an almost instant emotional connection. Friendships, a previous marriage, and dedication to her profession are well supported and feel genuine and add depth... with a satisfyingly happy ending, Robinson gets it right for readers who want something light and lively but with substance." —Booklist
"Treat yourself to a delightful story, and then wait patiently for Lee Robinson's next novel-we hear it will feature our lawyer friend representing a cat." —Hudson Valley News
"A fast and very funny story...There's fun to be had from this goofy situation, and complications ensue in true romantic comedy style. Add an ailing mother, an irresistible veterinarian and a cast of needy clients and the games begin...Bring on the sequels!" —The Charleston Post and Courier
"The poignant and often humorous tale of an attorney who is appointed by the court to represent a pet Schnauzer in a couple's acrimonious divorce." —San Antonio Express-News
"The story is one that will resonate with women of a certain age. There are parts that are touching, humorous and sad...The ending brings it all together beautifully."—Examiner.com
"A funny, moving, lively story of a middle-aged woman who realizes fun and romance aren't just for the very young." —Ruth Pennebaker, author of Women on the Verge of A Nervous Breakdown
"Lawyer for the Dog is a delight, and Lee Robinson is a natural." —Abraham Verghese, author of Cutting for Stone
"One of the great pleasures of Lee Robinson's novel, Lawyer for the Dog, is the combination of great story and great writing, so that even while we avidly turn from page to page to find out how all this marvelous complication will resolve itself we want to pause and savor the equally marvelous details, turns of phrase, hilarious observations and heart wrenching moments. For a picture of the New South as experienced by smart and tortured baby boomers, for its stylistic flare, its poise, its insight into human (and animal) complexity, this book can't be beat." —Alan Shapiro, award-winning poet and photographer
"Lee Robinson's Lawyer for the Dog is a stunning book--a warm, funny, big-hearted novel about the lengths we will go to claim ownership over the things that we love. With unflinching honesty and piercing wit, Robinson takes us deep into the heart of Charleston and the lives of her characters and delivers a poignant, generous and ultimately unforgettable story." —Andrew Porter, Flanner O'Conner Award winner, The Theory of Light and Matter
"Sally Baynard is the kind of character who makes her way into your heart: smart, self-deprecating, witty, beleaguered. Readers will not only root for her, they'll want to follow her all the way through this highly engaging novel and into future books. More, more, Lee Robinson!" —Josephine Humphreys, author of Nowhere Else on Earth
"Sally Baynard's life already seems chaotic--with a busy legal practice, a circle of good friends, and a mother she's caring for. Then she takes on a four-footed client and the real chaos--the emotional kind--sets in. Lee Robinson's Lawyer for the Dog is a funny, moving, lively story of a middle-aged woman who realizes fun and romance aren't just for the very young." —Ruth Pennebaker, author of Women on the Verge of a Nervous Breakdown
"I LOVE it! Robinson was barking up the right tree when she wrote this book." —Patti Sherlock, author of A Dog for All Seasons: A Memoir
"What fun! LAWYER FOR THE DOG is a perfect frolicking story for dog lovers and others, too. Lee Robinson does a fantastic story-telling job and captures Charleston perfectly, both the place and the people." —Lisa Rogak, author of The Dogs of War
"Lee Robinson has created a character like our best friend, a woman who frustrates and endears, a person we admire, care about, and want to fix. A cross between the narrator of Bridget Jones' Diary and a character in a Scott Turow novel, Sarah Baynard and her tale of romance and self-acceptance are made for the screen." —Nan Cuba, author of Body and Bread
Thomas Dunne Books, 9781250052414, 240pp.
Publication Date: July 7, 2015
About the Author
LEE ROBINSON is the author of Lawyer for the Cat. She practiced law for over 20 years in Charleston, S.C., where she served as executive director of a legal services agency and later worked in private practice, concentrating on family law. She was elected the first female president of the Charleston Bar Association and received the Bar Association's award for her work in public interest law. She lives on a small ranch in the Texas hill country.
or
Not Currently Available for Direct Purchase