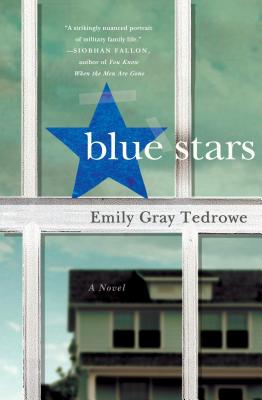 Blue Stars (Hardcover)
A Novel
St. Martin's Press, 9781250052483, 352pp.
Publication Date: February 17, 2015
Other Editions of This Title:
Digital Audiobook (2/16/2015)
Paperback (3/29/2016)
CD-Audio (5/18/2015)
Hardcover, Large Print (6/10/2015)
* Individual store prices may vary.
Description
Emily Gray Tedrowe has written an extraordinary novel about ordinary people, a graceful and gritty portrayal of what it's like for the women whose husbands and sons are deployed in Iraq.
BLUE STARS brings to life the realities of the modern day home front: how to get through the daily challenges of motherhood and holding down a job while bearing the stress and uncertainty of war, when everything can change in an instant. It tells the story of Ellen, a Midwestern literature professor, who is drawn into the war when her legal ward Michael enlists as a Marine; and of Lacey, a proud Army wife who struggles to pay the bills and keep things going for her son while her husband is deployed. Ellen and Lacey cope with the fear and stress of a loved one at war while trying to get by in a society that often ignores or misunderstands what war means to women today. When Michael and Eddie are injured in Iraq, Ellen and Lacey's lives become intertwined in Walter Reed Army Hospital, where each woman must live while caring for her wounded soldier. They form an alliance, and an unlikely friendship, while helping each other survive the dislocated world of the army hospital. Whether that means fighting for proper care for their men, sharing a six-pack, or coping with irrevocable loss, Ellen and Lacey pool their strengths to make it through. In the end, both women are changed, not only by the war and its fallout, but by each other.
About the Author
EMILY GRAY TEDROWE is the author of COMMUTERS: A Novel, which was named a Best New Paperback by Entertainment Weekly. Her short fiction has been published in the Chicago Tribune's Printers Row Journal, Fifty-Two Stories, and Other Voices. She lives in Chicago with her family.
Praise For Blue Stars: A Novel…
"An impressive addition to our national war literature ... informed, graceful, and deeply compassionate." —Roxana Robinson, author of Sparta
"A strikingly nuanced portrait of military family life. ... If you've ever wondered what happens when wounded service members return, read this book." —Siobhan Fallon, author of You Know When the Men Are Gone, Siobhan Fallon, author of You Know When the Men Are Gone
"As vivid as a news flash, Tedrowe's riveting new novel explores the shatteringly personal cost of politics. ... Blue Stars is as dazzling as it is important." —Caroline Leavitt, author of Pictures of You, Caroline Leavitt, author of Pictures of You
"Tedrowe's crisp clear voice weaves a haunting tale of the unvarnished intricacies of the human spirit and the very dear price we pay for human conflict." —Lee Woodruff, author of Those We Love Most
"A stunning novel about war as it is lived on the home front, Blue Stars offers us characters so endearing and flawed that they feel like people I know and love. Emily Gray Tedrowe has crafted a story that reminds us that the real stuff of life is in the everyday, and that there's a quiet heroism to the mothers and wives back home. I couldn't put it down." —Ann Leary, New York Times bestselling author of The Good House
"To read Blue Stars is to dive headfirst into two lives so fully realized that they both instantly claim our sympathy and loyalty--even as they stand, at times, diametrically opposed. To this military outsider, the book was an education and a delight; to those steeped in that world, it should resonate profoundly. Beautifully told and compulsively readable, this is a timely book--and an important one." —Rebecca Makkai, author of The Hundred-Year House
"A penetrating novel about the Iraq War's inevitable collateral damage - the lives of the mothers and wives left behind . . . Tedrowe's examination of military families is honest and nuanced, and she manages to wrestle some kind of equanimity for the flawed heroes of her tale. As more stories about Iraq appear, novels like Tedrowe's, focused on the home front, will be a valuable contribution to our understanding of the war." —Kirkus
"A deep look into the strain of being a military wife and mother and the power of women and their emotional bonds." —Library Journal
"Tedrowe (Commuters, 2010), a deeply perceptive observer of family dynamics complicated by social and moral concerns, offers staggering insights into the struggles of military families and the ghastly conditions at Walter Reed that erupted into scandal in 2007. Tedrowe's sensitive parsing of questions of loyalty, honor, and sacrifice illuminates the wrenching conflicts inherent in women's lives and a nation at war with a clear, searching light and pinpoint humor, resulting in an enormously affecting novel guaranteed to generate much thought and discussion." —Booklist, starred review
"Tedrowe's novel really tugs on the heartstrings as it spotlights military families, their relationships and woes. The ups and downs are dizzying, but the importance of modern depictions of soldiers at war and the ones who sit home awaiting their return will keep readers grounded. Each chapter colorfully portrays the struggles and long journey each strong-willed character must face. Keep a box of tissues nearby." —Romantic Times, Top Pick
"An unflinching look at the emotional and physical cost to soldiers on the front lines of war, viewed through the eyes of the women holding things together at home. Whether their loved ones are still deployed, home on leave or rehabilitating at the Walter Reed Army Hospital, these strong ladies share a powerful bond." —All You
"A timely and engrossing novel of the challenges faced--and connections formed--on the home front during wartime." —Shelf Awareness
"Riveting war novel . . . 'Blue Stars' drops the war onto America's front porch." —Chicago Tribune
or
Not Currently Available for Direct Purchase