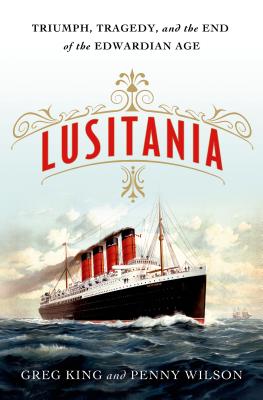 Lusitania (Hardcover)
Triumph, Tragedy, and the End of the Edwardian Age
St. Martin's Press, 9781250052544, 400pp.
Publication Date: February 24, 2015
Other Editions of This Title:
Digital Audiobook (2/23/2015)
Compact Disc (2/24/2015)
MP3 CD (2/24/2015)
Paperback (4/26/2016)
Pre-Recorded Audio Player (4/2/2015)
* Individual store prices may vary.
Description
On the 100th Anniversary of its sinking, King and Wilson tell the story of the Lusitania's glamorous passengers and the torpedo that ended an era and prompted the US entry into World War I.

Lusitania: She was a ship of dreams, carrying millionaires and aristocrats, actresses and impresarios, writers and suffragettes – a microcosm of the last years of the waning Edwardian Era and the coming influences of the Twentieth Century. When she left New York on her final voyage, she sailed from the New World to the Old; yet an encounter with the machinery of the New World, in the form of a primitive German U-Boat, sent her – and her gilded passengers – to their tragic deaths and opened up a new era of indiscriminate warfare.
A hundred years after her sinking, Lusitania remains an evocative ship of mystery. Was she carrying munitions that exploded? Did Winston Churchill engineer a conspiracy that doomed the liner? Lost amid these tangled skeins is the romantic, vibrant, and finally heartrending tale of the passengers who sailed aboard her. Lives, relationships, and marriages ended in the icy waters off the Irish Sea; those who survived were left haunted and plagued with guilt.
In Lusitania: Triumph, Tragedy, and the End of the Edwardian Age, authors Greg King and Penny Wilson resurrect this lost, glittering world to show the golden age of travel and illuminate the most prominent of Lusitania's passengers. Rarely was an era so glamorous; rarely was a ship so magnificent; and rarely was the human element of tragedy so quickly lost to diplomatic maneuvers and militaristic threats.
About the Author
Greg King is the author of seventeen internationally published works of history, including Lusitania and Twilight of Empire. His work has appeared in the Washington Post, Majesty Magazine, Royalty Magazine and Royalty Digest. He lives in the Seattle area.

PENNY WILSON is the author of six internationally published works of history on late Imperial Russia. Her historical work has appeared in Majesty Magazine, Atlantis Magazine, and Royalty Digest. She lives in Southern California with her husband and three Huskies.
Praise For Lusitania: Triumph, Tragedy, and the End of the Edwardian Age…
"The deliberate sinking of the Lusitania by a German U-boat in 1915 has been shrouded in mystery and intrigue that continue even as the 100th anniversary of the tragedy approaches. . . . More than a chronicle of the tragedy, this offers a penetrating look at the end of the Edwardian era." —Booklist
"This is a solid, fascinating account of a ship, its passengers, and its terrible fate" —PublishersWeekly.com
"[T]heir exploration of the facts surrounding the mystery is the primary pleasure of the book... but the real joy is in the authors' detective work and attention to detail." —Kirkus
"The Assassination of the Archduke creates a compelling and readable account of the private life of the imperial family headed for doom." —Seattle Post-Intelligencer
"An entertaining challenge to a century of misconceptions." —Kirkus Reviews on The Assassination of the Archduke
"King marshals an amazing amount of information in a very fluid, compelling fashion. . . . It's eye-opening, and even fun, to visit this extraordinary group in its time and place." —Booklist on The Court of the Last Tsar
"King has a vast knowledge of the subject, and those who are fascinated by the life of the royals and aristocratic intrigue will find much to delight in. . . . For those who are intrigued by the Russian high court, there is no better escort." —Publishers Weekly on The Court of the Last Tsar
"Any book by Greg King is a book to be kept and savored. . . . This book is a great work of scholarship and a wonderful read" —Peter Kurth, author of Tsar on The Court of the Last Tsar
"King marshals an amazing amount of information, and just as amazingly he presents it all in a very fluid, compelling fashion." —Booklist on The Court of the Last Tsar
"A comprehensive reexamination of the 78 days of the Ekaterinburg captivity, the murders themselves, and the 1991 exhumation of the bodies. . . . The authors engage in a complex game of historical detection that ultimately results in a controversial new perspective on an old but ever-captivating topic." —Booklist on The Fate of the Romanovs
"Biographies of Victoria are plentiful, but King's special approach, his limited focus, certainly makes this new one far from redundant." —Booklist on Twilight of Splendor
or
Not Currently Available for Direct Purchase