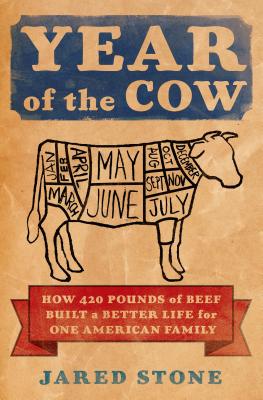 Year of the Cow (Hardcover)
How 420 Pounds of Beef Built a Better Life for One American Family
Flatiron Books, 9781250052582, 320pp.
Publication Date: April 28, 2015
* Individual store prices may vary.
Description
This is the story of a man, a cow, and a question: What am I eating?
After realizing he knew more about television on his wall than the food on his plate, award-winning TV producer and amateur chef Jared Stone buys 420 pounds of beef directly from a rancher and embarks on a hilarious and inspiring culinary adventure. With the help of an incredibly supportive wife and a cadre of highly amused friends, Jared offers a glimpse at one man's family as they try to learn about their food and ask themselves what's really for dinner.
Year of the Cow follows the trials and tribulations of a home cook as he begins to form a deeper relationship with food and the environment. From meeting the rancher who raised his cow to learning how to successfully pack a freezer with cow parts, Stone gets to know his bovine and delves into our diets and eating habits, examining the ethnography of cattle, how previous generations ate, why environmentalists and real food aficionados are mad for grass-fed beef, why certain cuts of beef tend to end up on our plates (while boldly experimenting with the ones that don't), and much more.
Over the course of dozens of nose-to-tail meals, Jared cooks his way through his cow armed with a pioneering spirit and a good sense of humor. He becomes more mindful of his diet, makes changes to his lifestyle, and bravely confronts challenges he never expected—like how to dry beef jerky without attracting the neighborhood wildlife to the backyard, and how to find deliciousness in the less-common cuts of meat like the tongue and heart—sharing a recipe at the end of each chapter.
By examining the food that fuels his life and pondering why we eat the way we do, Jared and his family slowly discover to how live a life more fully—and experience a world of culinary adventures along the way.
About the Author
JARED STONE attended the University of Kansas, graduating with dual B.A.s in Cultural Anthropology and Film, with a concentration in Visual Anthropology. He began his career with National Geographic Television, beginning as an intern and rising through the ranks to become a producer. At that point, he entered the agency world, producing television for a multitude of clients including ABC, NBC, FOX, the CW, FX, Bravo, USA, Lifetime, Sony, and Telepictures, where his work was nominated for an Emmy in 2011, and in 2013 won an Emmy for his work on The Ellen DeGeneres Show. In addition to his television work, Stone is also the author of several screenplays and is the creator of the Year of the Cow blog detailing his quest to make the absolute best use of an entire cow that he possibly can.  Stone lives with his wife, Summer, their two children, and a large dog in a small house in Los Angeles.
Praise For Year of the Cow: How 420 Pounds of Beef Built a Better Life for One American Family…
"A high-octane, thinking-man's account of one guy's quest to find meaning in life by cooking a grass-fed steer. The food descriptions and recipes could tempt even a vegan to order steak. You'll never look at feedlot meat the same way." —Steven Raichlen, author of the Barbecue! Bible cookbook series and host of PBS's Primal Grill
"A lively, informative, sometimes-intimate tale from his family's adventure eating a freezer full of beef over two years of culinary and lifestyle changes…. The author braises his book in his family's values [and] Stone's revealing set pieces are warm, winning and welcome. Readers will feel like guests in their home, privy to private fears and joys as well as gastronomic triumphs and catastrophes." —Kirkus Reviews
"Stone is at his best when he tells his own story with an affable, matter-of-fact style that is humorous and touching. His story is fun to consume and easy to digest." —Publishers Weekly
"Year of the Cow, achieves a kind of literary umami, the savory 'fifth taste' celebrated in Japan-a book that is more than the sum of its primals." —The Charleston Post & Courier
"A winsome, endearing, and revealing story, Stone's nose-to-tail experience with a whole beef in his kitchen makes the daunting seem like can-do fun.... Epiphanies occur in unexpected places, but each one expresses the connections, responsibilities, and opportunities all of us share with food and the land. A truly enjoyable read." —Joel Salatin, farmer profiled in Food, Inc. and The Omnivore's Dilemma and author of Folks, This Ain't Normal: A Farmer's Advice for Happier Hens, Healthier People, and a Better World
"This book tells how one cow purchased from a thoughtful farmer and then lovingly prepared and eaten by an exuberant amateur chef and his young family transformed their lives and could transform yours (even if you never buy a cow). Year of the Cow will help new legions of eaters discover how their food choices impact their health and why it's so important to understand where the food on their tables comes from and how it was produced. Anyone only slightly interested in such things won't be disappointed. Stone's tale of transformation is spiced with good humor, telling anecdotes, and a highly engaging narrative. Share it with those you care about." —Allan Savory, founder of The Savory Institute, winner of the 2010 Buckminster Fuller Challenge, and author of The Grazing Revolution: A Radical Plan to Save the Earth
"Stone's valiant attempt to get a little control over what he eats, and thus, what he is, is inspired" —Los Angeles magazine