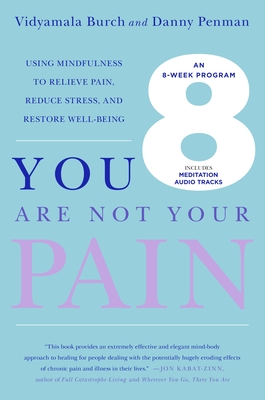 You Are Not Your Pain
Using Mindfulness to Relieve Pain, Reduce Stress, and Restore Well-Being---An Eight-Week Program
Paperback

* Individual store prices may vary.
Other Editions of This Title:
Digital Audiobook (1/5/2015)
CD-Audio (1/6/2015)
Description
Developed by two authors, Vidyamala Burch and Danny Penman who themselves have struggled with severe pain after sustaining serious injuries, You Are Not Your Pain reveals a simple eight-week program of mindfulness-based practices that will melt away your suffering.

Accompanied by a CD to guide you, the eight meditations in this book take just ten to twenty minutes per day and have been shown to be as effective as prescription painkillers to soothe some of the most common causes of pain. These mindfulness-based practices soothe the brain's pain networks, while also significantly reducing the anxiety, stress, exhaustion, irritability, and depression that often accompanies chronic pain and illness.
Whether you experience back pain, arthritis, or migraines, are suffering from fibromyalgia, celiac disease, or undergoing chemotherapy, you will quickly learn to manage your pain and live life fully once again.
Praise For You Are Not Your Pain: Using Mindfulness to Relieve Pain, Reduce Stress, and Restore Well-Being---An Eight-Week Program…
"This book provides and extremely effective and elegant mind-body approach to healing for people dealing with the potentially hugely-eroding effects of chronic pain and illness in their lives." —Jon Kabat-Zinn, PhD, author of Full Catastrophe Living and Wherever You Go, There You Are

"Drawing on their own experiences, ancient wisdom, and the latest science, Vidyamala Burch and Dr. Danny Penman have created a program of simple daily practices that anyone struggling with pain and stress can follow. You Are Not Your Pain is a powerful testament to the ways mindfulness and meditation can help us tap into our own resilience, even in the most painful times." —Arianna Huffington

"You Are Not Your Pain shares essential tools for harnessing the power of our minds and hearts to navigate all kinds of pain. The authors have clearly learned a lot both from their personal experiences and their clinical work. A wonderful support for the many people who face the challenge of pain." —Sharon Salzberg, cofounder of the Insight Meditation Society and author of Real Happiness

"It's said that pain is inevitable, suffering is optional. This compassionate program shows how to meet pain and reduce suffering, soften around it rather than freeze in fear, drop despair, and reclaim a full, rich life." —Amy Gross, former editor in chief of O, The Oprah Magazine, now teaching Mindfulness-Based Stress Reduction

"One of the most important outcomes of mindfulness practice is the reconnecting of body and mind. You Are Not Your Pain brilliantly shows us how to develop that crucial connection and use it to cope with pain and illness. A deeply valuable contribution." —Chade-Meng Tan, Jolly Good Fellow of Google and bestselling author of Search Inside Yourself

"This book is a true gift to anyone suffering from chronic pain. The authors have distilled mindfulness down to simple, core concepts and practices that are accessible to anyone. The pages are imbued with wisdom and compassion born of personal experience. When pain drives you to distraction, please begin here." —Christopher Germer, PhD, author of The Mindful Path to Self-Compassion

"Pain is the great equalizer. No matter who you are, rich or poor, woman or man, young or old, pain will be part of your life. However, with the right tools pain does not have to be a source of suffering. You Are Not Your Pain provides a lucid and powerful guide to meeting life's inevitabilities. With this book you wil learn to work with pain and use it to catalyze growth and transformation." —Jeremy Hunter, PhD, Assistant Professor of Practice at The Peter F. Drucker School of Management and creator of The Executive Mind.
Flatiron Books, 9781250052674, 256pp.
Publication Date: January 6, 2015
About the Author
VIDYAMALA BURCH is a founder and codirector of Breathworks, an organization offering mindfulness-based and compassion-based approaches to living well with chronic pain, illness, and stress. In 2008 she published Living Well with Pain and Illness which is based on her Breathworks program. She has also produced meditation CDs and booklets available through Breathworks.

DR. DANNY PENMAN is an award-winning journalist and author. He has worked for the BBC and The Independent and is a feature and comment writer for the London Daily Mail. He holds a PhD in biochemistry and a postgraduate diploma in newspaper journalism. He is coauthor of the bestselling Mindfulness: An Eight-Week Plan to Finding Peace in a Frantic World.