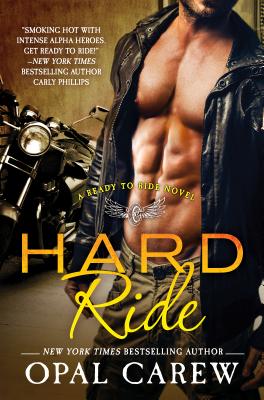 Hard Ride
A Ready to Ride Novel
Paperback

* Individual store prices may vary.
Description
In his arms, she's about to take the ride of her life...

Liv never expected to find herself trapped in a dark alley facing a band of rough bikers. And she certainly never expected to see him again. Back in college when they dated, he was heir to his family's business empire--and their fortune. She expected him to become a billionaire. Instead, he's a heavily muscled, tattooed member of a rough biker gang...and just as sinfully sexy as ever.

When Shock sees Liv again, he's ready to pay any price to have her in his bed and on his bike. Shock has his own scars to deal with, but he soon learns that Liv is in desperate need of financial help... though she won't tell him why. So he offers her a sensual deal: his help for her complete submission. Can Liv entrust Shock with her secret? And how can she stop herself from falling for the hard rider?
Praise For Hard Ride: A Ready to Ride Novel…
"Hard Ride is Opal Carew's hottest book to date! The physical and emotional toll catches up with Liva and she can't shield her heart anymore. But will a shocking secret from her new lover's past end their happily ever after? I can't wait to read the entire series! No doubt if it has Opal Carew on the cover, it will be absolutely unforgettable." —Reader to Reader
St. Martin's Griffin, 9781250052834, 256pp.
Publication Date: June 30, 2015
About the Author
Opal Carew is the author of Total Abandon, Pleasure Bound, Twin Fantasies and other erotic romance novels. "So why do I like writing erotic romance?" she asks. "I like being able to push beyond traditional boundaries." Opal loves crystals, dragons, feathers, cats, pink hair, the occult and all that glitters. While she writes, she listens to inspirational music, lights candles and keeps crystals near. Before devoting herself to her passion as a writer, Opal spent 15 years as a software analyst, and she has a degree in Mathematics from the University of Waterloo. She lives with her husband and two sons in Ontario, Canada.