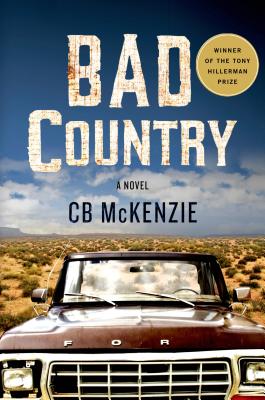 Bad Country
A Novel
Hardcover

* Individual store prices may vary.
Other Editions of This Title:
Paperback (6/7/2016)
Hardcover, Large Print (4/1/2015)
Description
Winner of the Tony Hillerman Prize, winner of the Spur Award for Best Western Contemporary Novel, a finalist for a New Mexico-Arizona Book Award, a finalist for the Shamus Award for Best First P.I. Novel, and a finalist for the Edgar Award for Best First Novel, a debut mystery set in the Southwest starring a former rodeo cowboy turned private investigator, told in a transfixingly original style.
Rodeo Grace Garnet lives with his old dog in a remote corner of Arizona known to locals as El Hoyo. He doesn't get many visitors in The Hole, but a body found near his home has drawn police attention to his front door. The victim is not one of the many undocumented immigrants who risk their lives to cross the border in Rodeo's harsh and deadly "backyard," but a member of a major Southwestern Indian tribe, whose death is part of a mysterious rompecabeza-a classic crime puzzler-that includes multiple murders, cold-blooded betrayals, and low-down scheming, with Rodeo caught in the middle.
Retired from the rodeo circuit and scraping by on piecework as a bounty hunter, warrant server, and divorce snoop, Rodeo doesn't have much choice but to say yes when offered an unusual case. An elderly Indian woman from his own Reservation has hired him to help discover who murdered her grandson, but she seems strangely uninterested in the results. Her attitude seems heartless, but as Rodeo pursues interrelated cases, he learns that the old woman's indifference is nothing compared to true hatred, and aligned against a variety of creative and cruel foes, the hard-pressed PI is about to discover just how far hate can go.
CB McKenzie's Bad Country is a noir novel that is as deep and twisty as a desert arroyo. With confident, accomplished prose, McKenzie captures the rough-and-tumble outer reaches of the Southwest in a transfixingly original style that transcends the traditional crime novel.
Praise For Bad Country: A Novel…
"One of the strongest debuts to come along in years." —Cleveland Plain Dealer
"Bleak but elegantly told. … McKenzie's voice is as dry and gritty as desert sand, just right for scouring this harsh landscape of cheap motels, run-down trailer parks and Indian trading posts selling polyester blankets." —The New York Times Book Review
"An outstanding first novel written with clarity and authority and featuring a Southwest whose spare beauty covers unspeakable crimes and a detective who's tough, honorable and authentic to the core." —Kirkus (starred review)
"This dirt-filled noir debut about a former rodeo cowboy turned private investigator has already earned comparisons to Cormac McCarthy, and the stark Southwestern setting might hold you over if you're still suffering from Breaking Bad withdrawal." —Esquire
"This edgy noir offers a master class on how to create a vivid sense of mood and place. Rodeo is a hard-nosed, hard-drinking man who searches for the truth as he understands it. Fans of the late, great Hillerman will cheer the arrival of a promising newcomer." —Library Journal
"Originality is the strong suit of McKenzie's Tony Hillerman Prize–winning debut. … McKenzie offers the reader an intriguing mystery and a new hero." —Publishers Weekly
"[A] hefty chunk of border noir that will give you the sense of grains of sand trapped within the binding. You absolutely do not want to miss Bad Country." —Bookreporter.com
"Hard-boiled? Boiled 'til the shell burst, boiled dry as adobe. … This is a very absorbing, fast, tough crime novel, set in Arizona Indian country and bound to be compared as much to the literary novelist Cormac McCarthy as to the late suspense master Tony Hillerman, who operated in these parts, and whose name is on a prize won by this very novel. … McKenzie is going to be demanding, and repaying, close attention for a long while." —Sullivan County Democrat
"CB McKenzie's Bad Country is a hard-boiled noir crime thriller set in Arizona Indian country. Tony Hillerman would have loved it. So did I." —MICHAEL McGARRITY, author of Back Lands
"Bad Country by CB McKenzie is like that perfect arrowhead you stumble onto out on the trail, and then notice that it has bloodstains on it--a charged and unique southwest story that rings with an authenticity rarely seen in crime fiction." —CRAIG JOHNSON, author of the Walt Longmire Mysteries, the basis for A&E's hit drama Longmire
"Bad Country is a compelling debut, full of stark imagery and soaring prose. This novel's beautiful conclusion is going to stay with me for a long, long time. " —MATTHEW GUINN author of The Resurrectionist
"CB McKenzie's prose is much like his landscape, sparse and poignant, and the pages of Bad Country race by like a dust cloud across the plain. The pleasure of Bad Country comes in chasing that cloud to see where it's going to end up, and there's no way of knowing until you get there." —MICHAEL FARRIS SMITH, author of Rivers and The Hands of Strangers
"CB McKenzie's gripping debut Bad Country is a rare gem of a novel: a literary page-turner with a thrilling plot, compelling characters and a palpable sense of place. In spare prose reminiscent, but not derivative, of Cormac McCarthy's, McKenzie weaves a mystery that takes hold of the reader from the first page and doesn't let go until the last stunning line." —AMY GREENE, author of Long Man and Bloodroot
"Bad Country immediately strikes the reader with the imagery of the state it depicts. Arizona becomes a character, an accomplice, and a secret keeper in the way that its stark desert environment spreads a layer of dust over everything from the writing style to the mystery itself.… There's nothing out there quite like Bad Country. As a mystery, as a setting, and as a view on culture, it's harsh. Transporting doesn't begin to cover just how this novel will take you somewhere. In the way it creates an environment of unbelievable harshness, it allows the mystery and the crime to flourish in a way that will satisfy mystery fans, especially those that want to feel enveloped in the world the novel creates." —Criminal Element
"Terrific crime/suspense/mystery novel, but the real revelation is his fresh and original voice." —Stephen King
Minotaur Books, 9781250053541, 304pp.
Publication Date: November 4, 2014
About the Author
A native Texan, CB MCKENZIE has through-hiked the Appalachian Trail and worked as a housepainter, haute couture model, farmhand, and professor in a wide variety of locales around the world, including New York and Vermont, Miami and Milan, Tokyo and Tucson. He earned both an M.F.A. and a Ph.D. from the University of Arizona. Though he currently lives in California, he still keeps his pickups in Tucson and Texas. Bad Country is his first novel.
or
Not Currently Available for Direct Purchase