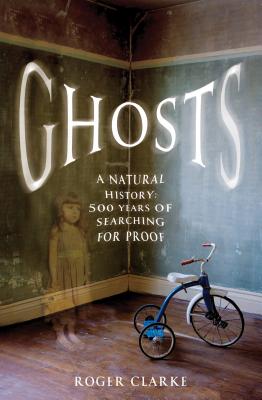 Ghosts (Hardcover)
A Natural History: 500 Years of Searching for Proof
St. Martin's Press, 9781250053572, 368pp.
Publication Date: October 7, 2014
Other Editions of This Title:
Paperback (10/6/2015)
Mass Market (10/4/2016)
Hardcover, Large Print (4/8/2015)
* Individual store prices may vary.
Description
A New York Times Book Review Editor's Choice
"Roger Clarke tells this [the story that inspired Henry James' The Turn of the Screw] and many other gloriously weird stories with real verve, and also a kind of narrative authority that tends to constrain the skeptical voice within… [an] erudite and richly entertaining book." —New York Times Book Review

"Is there anybody out there?" No matter how rationally we order our lives, few of us are completely immune to the suggestion of the uncanny and the fear of the dark. What explains sightings of ghosts? Why do they fascinate us? What exactly do those who have been haunted see? What did they believe? And what proof is there?
Taking us through the key hauntings that have obsessed the world, from the true events that inspired Henry James's classic The Turn of the Screw right up to the present day, Roger Clarke unfolds a story of class conflict, charlatans, and true believers. The cast list includes royalty and prime ministers, Samuel Johnson, John Wesley, Harry Houdini, and Adolf Hitler. The chapters cover everything from religious beliefs to modern developments in neuroscience, the medicine of ghosts, and the technology of ghosthunting. There are haunted WWI submarines, houses so blighted by phantoms they are demolished, a seventeenth-century Ghost Hunter General, and the emergence of the Victorian flash mob, where hundreds would stand outside rumored sites all night waiting to catch sight of a dead face at a window.
Written as grippingly as the best ghost fiction, A Natural History of Ghosts takes us on an unforgettable hunt through the most haunted places of the last five hundred years and our longing to believe.
About the Author
ROGER CLARKE is best known as a film-writer for the Independent newspaper and more recently Sight & Sound. Inspired by a childhood spent in two haunted houses, Roger Clarke has spent much of his life trying to see a ghost. He was the youngest person ever to join the Society for Psychical Research in the 1980s and was getting his ghost stories published by The Pan & Fontana series of horror books at just 15, when Roald Dahl asked his agent to take him on as a client. He is the author of Ghosts: True Stories.
Praise For Ghosts: A Natural History: 500 Years of Searching for Proof…
"Roger Clarke tells this [the story that inspired Henry James' The Turn of the Screw] and many other gloriously weird stories with real verve, and also a kind of narrative authority that tends to constrain the skeptical voice within… [an] erudite and richly entertaining book." —New York Times Book Review
"Ghost-hunting gets a gentlemanly makeover in this meticulous history of hauntings. Clarke indulges his lifelong interest in the paranormal in this well-documented look at ghost stories and the people who have told them throughout history… He covers everything in loving detail… Clarke's discussions of geography also lend realism...a useful index, a chronology and a reference list ...will serve other paranormal researchers well. Excerpts from letters, illustrations of experiments and many complex family trees ground in reality what could be dismissed as fantasy." —Kirkus
"Beautifully written ... lithe, complicated and hugely rewarding." —Sunday Times
"A gripping history that traces the scientific and social aspects of ghostly sightings. . . . [A] voyage through the half-lit world of lost souls ... tales told with ghoulish relish" —Telegraph
"Compelling ... Research into the paranormal necessarily involves a fair degree of debunking, and Clarke is careful to be skeptical. The narrative of ghost-hunting is simultaneously a history and exposure of fraud and popular delusion ... [yet] Clarke retains a boyish and ... well-informed enthusiasm for his subject." —Independent
"Splendid ... compelling ... Clarke manages to give goose-flesh and a giggle while informing the reader - an enviable feat." —Scotsman
"Compelling ... Research into the paranormal necessarily involves a fair degree of debunking, and Clarke is careful to be sceptical. The narrative of ghost-hunting is simultaneously a history and exposure of fraud and popular delusion ... [yet] Clarke retains a boyish and ... well-informed enthusiasm for his subject." —Independent
"A fascinating social history ... exceptionally well written and researched." —Starburst Magazine
"Outstanding ... Clarke's dissection of the shocks, sadnesses and sexiness of the seance tables from the late Victorian era is brilliantly done ... The book is deeply enjoyable, hugely informative and at times distinctly unsettling" —Shade Point
"Lively and absorbing ... [Clarke] has proven himself an ideal guide to this troubled and disorderly realm." —Literary Review
or
Not Currently Available for Direct Purchase