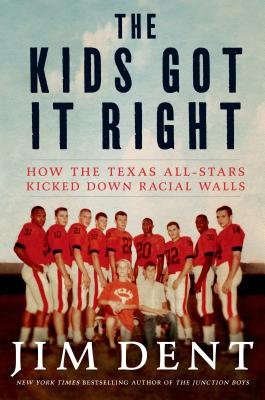 Kids Got It Right (Paperback)
St. Martin's Press, 9781250053954, 320pp.
Publication Date: August 26, 2014
Description
Jim Dent, the award-winning, "New York Times" bestselling author of "The Junction Boys," returns with a powerful Texas story which transcends college football, displaying the courage and determination of one of the game's most valiant players.
Freddie Steinmark was an under-sized but scrappy young man when he arrived in Austin as a freshman at the University of Texas in 1967. Despite the pronouncement by many coaches that he was too small to play football at the college level, Freddie was a tenacious competitor who vowed to start every game as a varsity Longhorn.
By the start of the 1969 season, Freddie was making his mark on the college gridiron and national stage as UT's star safety, but he'd also developed a crippling pain in his thigh that worried his high school sweetheart, Linda. Despite the increasingly debilitating pain, Freddie continued to play throughout the season, helping the Longhorns to rip through opponents like pulpwood. His final game was for the national championship at the end of 1969, when the Longhorns rallied to beat Arkansas in a legendary game that has become known as "the Game of the Century."
Tragically, bone cancer took Freddie off the field when nothing else could. But nothing could extinguish his irrepressible spirit or keep him away from the game. Although his struggle with cancer would be short-lived, Freddie's fight would inspire the nation as well as thousands of cancer victims, earning him a special citation from President Richard Nixon. Today, a photo of Freddie hangs in the tunnel at Darrell K. Royal-Texas Memorial Stadium, where players touch it before games en route to the field. With this moving story, a "Brian's Song" for college football, Jim Dent once again brings readers to cheers and tears with a truly American tale of resolution and bravery in the face of the worst odds.
About the Author
JIM DENT, a long-time award-winning journalist who covered the Dallas Cowboys for eleven years at the "Dallas Times Herald "and the "Fort Worth Star-Telegram, "has written eight books, including "Twelve Mighty Orphans, "and "The Junction Boys," the "New York Times "bestseller and ESPN movie that remains a fan favorite to this day. Dent lives in Texas.
Advertisement