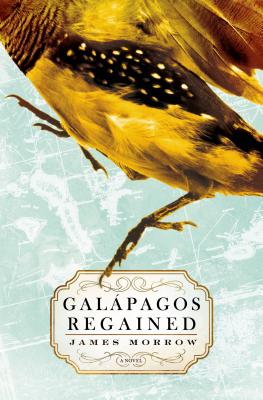 Galapagos Regained (Hardcover)
A Novel
St. Martin's Press, 9781250054012, 496pp.
Publication Date: January 6, 2015
Other Editions of This Title:
MP3 CD (5/24/2016)
* Individual store prices may vary.
Description
James Morrow's Galápagos Regained centers on the fictional Chloe Bathurst, an unemployed Victorian actress who finds work on Charles Darwin's estate, nurturing the strange birds, exotic lizards, and giant tortoises he brought back from his trip around the world. When Chloe gets wind of the Great God Contest, sponsored by the Percy Bysshe Shelley Society—£10,000 to the first petitioner who can prove or disprove the existence of a Supreme Being—she decides that Mr. Darwin's materialist theory of speciation might just turn the trick. (If Nature gave God nothing to do, maybe He was never around in the first place.) Before she knows it, her ambitions send her off on a wild adventure—a voyage by brigantine to Brazil, a steamboat trip up the Amazon, a hot-air balloon flight across the Andes—bound for the Galápagos archipelago, where she intends to collect the live specimens through which she might demonstrate evolutionary theory to the contest judges.
About the Author
James Morrow is the award-winning author of over ten novels, as well as novellas and short-story collections. His critically acclaimed works include Blameless in Abaddon, New York Times Notable Book of the Year, and The Last Witchfinder called "provocative book-club bait" and "an inventive feat" by critic Janet Maslin. He has twice received the World Fantasy Award, for Only Begotten Daughter and Towing Jehovah, and has also won the Nebula Award and the Theodore Sturgeon Memorial Award. He lives in State College, Pennsylvania, with his wife and their two enigmatic dogs.
Praise For Galapagos Regained: A Novel…
"Morrow has proven a master at combining rollicking adventure and sly, bawdy humor with attention to ideas and a skewed look at history ... It's almost a crime for a novel to be as much fun as this one is." —Library Journal (starred review)
" [This] complex tale is a round-the-world romp of improbable but delightful fun and harrowing adventures, a cross between Phileas Fogg and Lara Croft." —Publishers Weekly
"Galápagos Regained reads like a riotous conflation of Candide and Around the World in 80 Days. By turns harrowing, hilarious, and thought-provoking, the adventures of Darwin's zookeeper, the fictional Chloe Bathurst, make for a delectable historical epic." —Paolo Bacigalupi, Hugo and Nebula Award-winning author of The Windup Girl
"Jim Morrow's madcap brilliance and exuberant erudition are on the move again, and Galápagos Regained is a triumph. It's an adventure story that's not only bursting with page-turning plot but with dangerous ideas of the very best kind. Riding the wild narrative waves of Galápagos Regained is an exhilarating experience that is not to be missed." —Rebecca Newberger Goldstein, author of Plato at the Googleplex
"A witty and wisecracking Victorian adventure, an Indiana Jones caper with Charles Darwin lurking in the wings, as if Jules Verne was retold by Tom Stoppard. Rollicking, preposterously enchanting, and--as with all of Morrow's work--cagily profound." —Wilton Barnhardt, author of Lookaway, Lookaway
"James Morrow's uncanny genius for creating imagined worlds within historical ones finds its full flowering in Galapagos Regained. In Chloe Bathurst, sometime assistant to Charles Darwin, the author has forged one of his most memorable characters--a young woman who risks life and livelihood in an epic quest to save her destitute father. Erudite, hilarious, prodigiously inventive on every page, Galapagos Regained is simply intoxicating in its originality and wisdom." —Bradford Morrow, author of The Forgers
"Here are storytelling, showmanship and provocative book-club bait (try finding another recent novel that rivals this one for erudite talking points), all rolled into one inventive feat." —Janet Maslin, The NYT
"Novelist James Morrow addresses controversial topics in The Philosopher's Apprentice without being heavy-handed, and infuses the narrative with a wit that pragmatists and idealists alike will appreciate." —Entertainment Weekly
"Grim and gorgeous, earthy and erudite as well, Morrow's "Witchfinder" woos readers with a secularist vision of reason triumphant, rewarding its followers richly, giving them all the world and ample time in which to enjoy it." —The Seattle Times
"Sporting an oeuvre that puts him in the highest ranks of comedic novelists and satirical writers, Morrow is long overdue for a mainstream audience." —The Denver Post
"This tour-de-force of early America bears a buoyant humor to lighten its macabre load." —PW, starred review
or
Not Currently Available for Direct Purchase