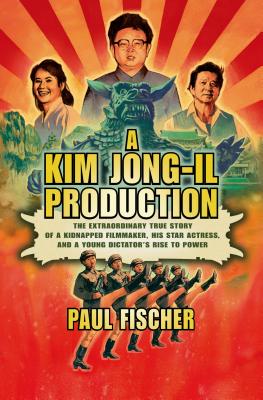 A Kim Jong-Il Production
The Extraordinary True Story of a Kidnapped Filmmaker, His Star Actress, and a Young Dictator's Rise to Power
Hardcover

* Individual store prices may vary.
Other Editions of This Title:
Digital Audiobook (2/2/2015)
Paperback (11/24/2015)
Compact Disc (2/3/2015)
Hardcover, Large Print (7/8/2015)
Description
"The 1978 abductions of the South Korean actress Choi-Eun-hee and her ex-husband, the director Shin Sang-ok, in Hong Kong is the true crime at the center of Paul Fischer's gripping and surprisingly timely new book."
-The New York Times
Before becoming the world's most notorious dictator, Kim Jong-Il ran North Korea's Ministry for Propaganda and its film studios. Conceiving every movie made, he acted as producer and screenwriter. Despite this control, he was underwhelmed by the available talent and took drastic steps, ordering the kidnapping of Choi Eun-Hee (Madam Choi)-South Korea's most famous actress-and her ex-husband Shin Sang-Ok, the country's most famous filmmaker.
Madam Choi vanished first. When Shin went to Hong Kong to investigate, he was attacked and woke up wrapped in plastic sheeting aboard a ship bound for North Korea. Madam Choi lived in isolated luxury, allowed only to attend the Dear Leader's dinner parties. Shin, meanwhile, tried to escape, was sent to prison camp, and "re-educated." After four years he cracked, pledging loyalty. Reunited with Choi at the first party he attends, it is announced that the couple will remarry and act as the Dear Leader's film advisors. Together they made seven films, in the process gaining Kim Jong-Il's trust. While pretending to research a film in Vienna, they flee to the U.S. embassy and are swept to safety.
A nonfiction thriller packed with tension, passion, and politics, author Paul Fischer's A Kim Jong-Il Production offers a rare glimpse into a secretive world, illuminating a fascinating chapter of North Korea's history that helps explain how it became the hermetically sealed, intensely stage-managed country it remains today.
Praise For A Kim Jong-Il Production: The Extraordinary True Story of a Kidnapped Filmmaker, His Star Actress, and a Young Dictator's Rise to Power…
"The 1978 abductions of the South Korean actress Choi-Eun-hee and her ex-husband, the director Shin Sang-ok, in Hong Kong is the true crime at the center of Paul Fischer's gripping and surprisingly timely new book." —The New York Times
"An entertaining new book…details how [Shin and Choi] finally seized their chance to seek asylum…A stupefying, novelistic read." —The Boston Globe
"Gripping… A Kim Jong-Il Production tells the absurd, harrowing, and true story of Choi and Shin's ordeal, which reveals the importance of film as propaganda to the North Korean regime." —Esquire.com
"In his exhaustively researched new book, A Kim Jong-Il Production, Paul Fischer has uncovered a story about a film producer who would make any Sony exec look warm and fuzzy…" —Details Magazine
"Nonfiction nail-biter…" —Vulture.com
"That a North Korean dictator should kidnap two South Korean movie stars and force them to make films he hoped would rival Hollywood seems the stuff of fantasy. But it isn't, Kim Jong-Il did and Paul Fischer captivatingly tells perhaps the most extraordinary tale from the world's most bizarre country. A Kim Jong-Il Production is simply flabbergasting!" —Paul French, author of The New York Times bestseller Midnight in Peking
"The incredible tale of how a dictator's obsession with the cinema led to one of them most hair-brained schemes ever concocted: to kidnap a famous South Korean director and his star actress and force them to make movies that would inspire his flagging nation. Kim Jong-Il failed to realize, however, that movies--especially good ones--have a pb ower all their own and that real life rarely follows a script. A KIM JONG-IL PRODUCTION is the true story of desperate movie stars, daring escapes, and the paranoid leader who brought it all together. Equal parts history, thriller, and farce, Fischer's masterful reporting will keep you engrossed until the very end. " —Matt Baglio, coauthor of The New York Times bestseller ARGO: How the CIA and Hollywood Pulled off the Most Audacious Rescue in History
"In A Kim Jong-Il Production, Paul Fischer defrosts a Cold War story almost too wild to believe, an epic love story that reveals in Technicolor the North Korean hermit kingdom and its movie-obsessed, improbably charismatic late leader. This book is un-put-downable." —Benjamin Wallace, author of the New York Times bestseller The Billionaire's Vinegar
"Exhaustively researched, highly engossing chronicle of the outrageous abduction of a pair of well-known South Korean filmmakers by the nefarious network of North Korea's Kim Jong-Il. Filmmaker Fischer carefully presents a well-documented story of the kidnapping ... A meticulously detailed feat of rare footage inside the DPRK's propaganda machinery." —Kirkus Reviews (Starred Review)
"North Korea is a nightmarish movie theater without an exit in this gripping true-life thriller ... Fischer's entertaining narrative paints an arresting portrait of a North Korean "theater state," forced to enact the demented script of a sociopathic tyrant." —Publishers Weekly
"Fischer matches keen cinematic analysis with an unusually cogent and vivid brief history of the two postwar Koreas. The most compelling facets of this book of astonishments are Fischer's insights into the relationships between Choi, Sun, and their diabolical captor... Gripping and revelatory, Fischer's true-life thriller provides a portal into the mad tyranny of North Korea." —Booklist (Starred Review)
"Paul Fischer's book A Kim Jong-Il Production is a highly illuminating deep dive on the middle Kim's cinematic obsessions and the film arms race between the two Koreas." —The Washington Post
Flatiron Books, 9781250054265, 368pp.
Publication Date: February 3, 2015
About the Author
PAUL FISCHER is a film producer who studied social sciences at the Institut d'Etudes Politiques in Paris and film at the University of Southern California and the New York Film Academy. Paul's first feature film, the documentary Radioman, won the Grand Jury Prize at the Doc NYC festival and was released to critical and commercial acclaim. A Kim Jong-Il Production is his first book.
or
Not Currently Available for Direct Purchase