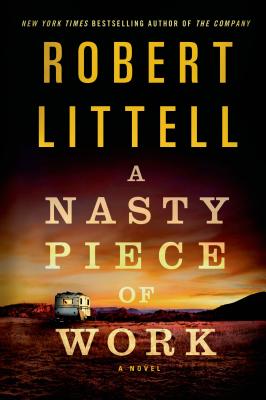 A Nasty Piece of Work (Paperback)
A Novel
St. Martin's Griffin, 9781250054630, 272pp.
Publication Date: October 14, 2014
Other Editions of This Title:
Hardcover (11/19/2013)
* Individual store prices may vary.
Description
A master of the spy genre, Robert Littell turns his formidable skills towards crime fiction in A Nasty Piece of Work.

Former CIA agent Lemuel Gunn left the battlefield of Afghanistan for early retirement in the desert of New Mexico, where he works as a private investigator from the creature comforts, such as they are, of a mobile home.
Into his life comes Ornella Neppi, a thirtysomething woman making a hash out of her uncle's bail bonds business. The source of her troubles, Emilio Gava, was arrested for buying cocaine. She has reason to believe he is planning to jump bail. For $95 a day plus expenses (not to mention the pleasure of her company), Gunn agrees to help Ornella track down the wayward suspect. Curiously, no photographs of Gava seem to exist, and once Gunn begins his manhunt, he starts to wonder whether Gava himself existed in the first place.
About the Author
ROBERT LITTELL is the author of more than a dozen novels and the nonfiction book If Israel Lost the War, written with Shimon Peres, President of Israel. He has been awarded both the Gold Dagger and the Los Angeles Times Book Prize for his fiction. His novel The Company was a New York Times bestseller and was adapted into a television miniseries. He lives in France.
Praise For A Nasty Piece of Work: A Novel…
"Brainy when it needs to be, arch at every conceivable opportunity and good-natured withal. It's a pleasure to see Littell, who's always seemed kind of tightly wound, relax a bit and invite readers along for the ride." —Kirkus Reviews
"Littell certainly proves with this book that he can delve into the crime realm just as easily as the spy game universe he usually writes about." —Suspense Magazine
"If Littell's superb espionage novels are a figurative blazing fastball, Gunn's debut is a tantalizing changeup. … Fans of quirky gumshoes will love Lemuel." —Booklist
"I want to rave about the plot, but I don't want to spoil any of it for you. But then, Littell is so gifted a creator of intelligent entertainment that I could give away almost everything and still not spoil your pleasure in reading this neat, new genre novel by one of our best." —Alan Cheuse, NPR
"Robert Littell is a master of the delicate art of storytelling. He has produced a first-rate homage to the great Chandleresque detective novel. Humor and melancholaly are on the agenda." —L'Express
"Robert Littell offers us a world-weary, wise-cracking detective who is drawn into a mysterious case by the mysterious charms of a bare-footed client. Since he is a man of principle, and a man in love, they will go the distance, from one dirty trick to another…. With its fully-formed and vibrant characters, the novel us in a suspenseful thrall throughout." —La Croix
"A Nasty Piece of Work is one of those page-turning detective tales that feels like an instant classic. … A Chandleresque noirnoir novel, as delightful as it is suspenseful." —Le Monde
"Robert Littell never fails to surprise us. An irresistible adventure…. A real dance of mutual seduction…. There are deserts, organized crime families, murders, incredible kidnappings and blood in the sand. … Littell has written a superbly gritty novel." —Le Canard Enchaîné
"The hero finds himself enmeshed in an investigation that only gets more complicated the further he goes and in which people are seldom what they seem. Murders, muggings, impossible love, sweet bitterness, nostalgia for what might have been – all presented with subtlety. With its fierce aura of real life; this novel delivers an intoxicating blend of desire and freedom that one savors from the first page to the last." —Toute la culture.com
"Lemuel Gunn is an authentic tough guy who has seen everything and lived to tell the tale. He pursues his investigation with flashes of wit and literary references, in a picturesque universe filled with sinister characters and sleazy decors that call to mind the films of the Coen brothers." —Les Inrockuptibles
"The well-paced plot, full of clever twists, keeps us in suspense right up to the last sentence (yes, the last sentence). Certain pages, in particular those about the U.S. intervention in Afghanistan, are like so many uppercuts to our complacency. A Nasty Piece of Work opens the reader's eyes, with its subtle and deceptively light-hearted take on universal themes." —Juror's report, Readers' Grand Prix, L'Express Magazine
"A detective novel with a nostalgic tone (Bogart is not far off!), a wonderful plot, and a surprise ending that leaves the reader happy to have spent time with its wise-cracking hero. Written in a world-weary but enjoyable style, the author is clearly eager and probably amused to sweep us up into an adventure with a beauty named Friday." —Juror's report, Readers' Grand Prix, L'Express Magazine
"Humor is the main ingredient. Littell loves digressions, crazy details, short silences. From time to time, there is a touch of melancholy, as when he evokes memories of war. … Somewhere, Raymond Chandler is rubbing his hands together in glee. He is in no danger of being forgotten. The fact that a writer of Littell's stature is paying homage to him can only make him blush with pleasure." —Le Figaro
"This well-seasoned cocktail served up by Robert Littell has a delectable taste of nostalgia. He offers us a sparkling homage to the '50s detective novel. A timeless hero, a manipulative female, and childishly bickering Mafiosi are the truculent heroes of this novel which is spiced with a good dose of hard-hitting humor." —Paris-Match
"When Robert Littell, the master of the espionage novel, decides to amuse himself with an homage to Raymond Chandler, the result is sheer pleasure. A book to be read in a single sitting. Then reread, many times, as a fabulous exercice de style on the art of writing a classic American noir novel." —Corsicapolar
"Robert Littell is the author of bestsellers read the world over, set in very different universes. … In his new 'Chandleresque' novel, we meet a femme fatale, an Afghanistan veteran living in a mobile home in New Mexico, and some quite irresistible characters in supporting roles." —Télérama
"With themes like gambling, Mafiosi, and the underbelly of America, A Nasty Piece of Work is evocative of both Chandler and Scorsese." —LIRE
"The novel is filled to the brim with a crowd of characters and atmospheres – cops, newsmen, security guards, FBI agents, mysterious beauties…and what a treat it is to discover them through the eyes and the caustic commentaries of the ex-CIA agent Gunn: nothing escapes him of the faults and foibles of our society. The former spy not only has no illusions about his peers, but few about himself either, and the novel quickly becomes an irresistible page-turner." —Bouqintessences
"A Nasty Piece of Work? Pure pleasure…. A totally different and absolutely superb book, a treat to be savoured on a sandy beach, a real old-fashioned noir novel. The couple of the older detective and the young 'barefoot contessa' works perfectly in this novel filled with irony, humor, and sensuality." —La Libre Belgique
"Narrated by this funny, erudite, romantic and nostalgic hero, the story plunges the reader into the scorching heat of the Nevada desert…an exercice de style to be devoured on a torrid summer night, with a glass of Southern Comfort close to hand. The ferocious if somewhat beat-up humanity of this 'Last of the Mohicans' is hard to resist … and as one reads the final pages one cannot help hoping that Littell will soon be giving Gunn another occasion to take some hard knocks." —Le Matin de Lausanne
or
Not Currently Available for Direct Purchase