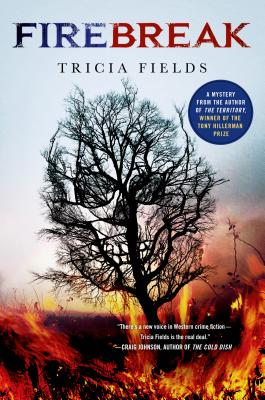 Firebreak
A Mystery (Josie Gray Mysteries #4)
Hardcover

* Individual store prices may vary.
Description
Winner of the Willa Literary Award for Contemporary Fiction
Texas is experiencing its worst season of wildfires in a decade, forcing police chief Josie Gray to evacuate the citizens of Artemis and the surrounding ranchlands. Not everyone makes it out alive, however.
In the fire's wake, Josie discovers the body of someone who didn't leave in time, inside the partly burned home of a local country music singer. A syringe found near the body offers an answer for why the deceased missed the evacuation. The question remains, though, why the unlucky soul was in the house in the first place. As Josie investigates, digging further into the country music scene and its hard-living characters, she begins to wonder whether or not something more sinister took place.
Firebreak continues Tricia Fields's award-winning Josie Gray mystery series, which has drawn acclaim for its detailed portrayal of this remote corner of America and the tough, resilient people who call it home.
Praise For Firebreak: A Mystery (Josie Gray Mysteries #4)…
"There's a new voice in Western crime fiction--Tricia Fields is the real deal." —Craig Johnson, author of The Cold Dish
"It's easy to see why Tricia Fields has become one of the authors whom fans of the mystery genre are raving about." —William Kent Krueger
"A fresh, confident writer of Western crime fiction." —Dallas Morning News
"Crime fiction readers who yearn for wide-open spaces, characters with real heartbeats, and stories that ring true will welcome Fields." —M.J. Rose, author of The Reincarnationist
"The Territory runs on adrenaline." —Houston Chronicle on The Territory
"Buckle your seatbelts for an off-road trip full of adrenaline. Tough and determined to make her way in today's Wild West, Josie is the type of police chief you'd want in your hometown, a gutsy new heroine who would be friends with Nevada Barr's Anna Pigeon and probably Lori Armstrong's Mercy Gunderson, too." —Library Journal (starred review) on The Territory
"Tricia Fields' gritty debut novel about a Texas border town battling a Mexican drug cartel feels like, well, fresh territory for a mystery. The Territory has a lot going for it." —USA Today on The Territory
"The Territory provides plenty of thrills for readers, as well as food for thought." —Associated Press on The Territory
"Fields builds suspense with a well-wrought cast of characters who deal with deadly violence that's particularly frightening for being all-too-believable. And no one does it better than Josie Gray....Readers will want to see much more of her." —Booklist (starred review) on The Territory
"As in Fields' Tony Hillerman Prize–winning debut: carefully integrated red herrings, a tinge of romance and dead-on descriptions of West Texas weather--oppressive heat, weeklong downpours and earth-obliterating mudslides." —Kirkus Reviews on Scratchgravel Road
"Noteworthy for the delineation of the west Texas desert country and the well-drawn cast of characters; Josie Gray is a protagonist worth following." —Booklist on Scratchgravel Road
"Fields sounds a warning on industrial dangers and their wide-ranging effects on ordinary people in this engrossing follow-up to her Hillerman Prize–winning debut. … A tense climax with a flood, mudslide, explosives, and a possible murderer add to the suspense." —Publishers Weekly on Scratchgravel Road
"Wrecked is a brutal tale with beauty at its heart. A powerful story driven by the violence of the Mexican drug war, which frequently spills across the border, it's also about integrity, loyalty, and love. Small town police chief Josie Gray is one hell of a protagonist, and the harsh landscape of west Texas, which she patrols, provides a stunning backdrop to a compelling, often surprising plot. It's easy to see why Tricia Fields has become one of the authors whom fans of the mystery genre are raving about." —William Kent Krueger on Scratchgravel Road
"Emotionally taut, building to a breathtaking climax and portraying, in the process, the danger inherent in a Texas border town." —Booklist (starred review) on Scratchgravel Road
"This is a barnburner of a story and held my attention all the way through." —Reviewing the Evidence on Scratchgravel Road
"Tricia Fields has proved once again that West Texas noir remains hot--as hot as the desert surrounding Artemis." —Gumshoe Review on Scratchgravel Road
"As crisp as brush ready to catch fire." —Publishers Weekly on Firebreak
"A brisk narrative, a vivid sense of place, and an appealing protagonist make this another fine entry in this winning series." —Booklist on Firebreak
Minotaur Books, 9781250055057, 288pp.
Publication Date: March 3, 2015
About the Author
Tricia Fields lives in a log cabin on a small farm with her husband and two daughters. She was born in Hawaii but has spent most of her life in small town Indiana, where her husband is a state trooper. She won the Tony Hillerman Prize for her first mystery, The Territory, which was also named a Sun-Sentinel Best Mystery Debut of the Year.
or
Not Currently Available for Direct Purchase