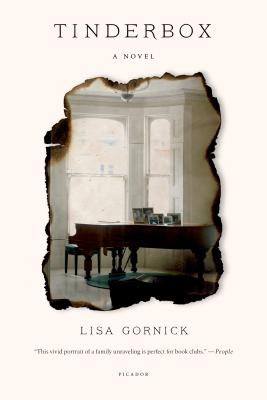 Tinderbox
A Novel
Paperback

* Individual store prices may vary.
Description
Myra is a Manhattan psychotherapist. But when she learns that her phobia-addled son is moving back to New York with his wife and child, she responds with a mother's heart rather than the prudence that has guided her career. Myra invites her son's family to share her brownstone and hires Eva, from a Jewish community deep in the Amazon, as a nanny and housekeeper. Eva seems like the perfect addition, but as she reveals more of herself, the felicitous arrangement turns ominous. Slowly and inexorably, the relationship becomes too close, too entangled—and, ultimately, terrifyingly destructive.
With Tinderbox, the psychoanalyst and novelist Lisa Gornick gives us a gripping story of the tragedy of good intentions—a haunting mystery of hidden traumas and a searingly perceptive exploration of power and love.
Praise For Tinderbox: A Novel…
"This vivid portrait of a family unravelling is perfect for book clubs." —People, Four-Star Review
"Tinderbox is a brilliant gem of a novel: a page-turner that reminds us that, while we are never without the weight of our past, we also choose how we carry it. Lisa Gornick mines her characters' hidden histories and ignites our interest from page one. Absolutely riveting." —Christina Baker Kline, No. 1 New York Times bestselling author of Orphan Train
"Tinderbox will certainly be compared to Jonathan Franzen's acclaimed The Corrections. And it should be, since Gornick creates a world of characters every bit as complex and flawed--and as real--as Franzen's subjects." —Jewish Book World
"I clung to every page of Tinderbox....Gornick has translated the very real and tender chaos of family into a novel that's expertly constructed and engaging." —Bustle
"I loved this novel--it is deeply intelligent and shot through with suspense....An extraordinary book, written for adults." —Joan Silber, PEN/Faulkner finalist for Fools and National Book Award finalist for Ideas of Heaven
"Lisa Gornick is both a writer and a psychoanalyst. Her gifts for seeing beyond the surface, for appreciating and depicting the consequences of unrealized love and psychic pain, for observing with unblinking honesty the dynamics of family life and human foibles, come together in this novel, which starts off like a brush fire and then engulfs and burns with fury." —Lloyd I. Sederer, The Huffington Post
"Tinderbox is the story of a family undergoing seismic changes brought on by a stranger who unwittingly forces her hosts to face themselves. A masterly and dramatic group portrait, drawn with intelligence, precision, and deep feeling." —Daniel Menaker, author of The Treatment
"A fiery, tender novel about the smoldering secrets that can destroy a family. Lisa Gornick is a psychoanalyst as well as a novelist, and the training serves her well. She exposes her characters with a skilled therapist's blend of gentility and intensity. She knows just when to hang back--and when to light the match." —Lisa Zeidner, author of Love Bomb and Layover
"I was gripped from the first line of Lisa Gornick's ingenious novel to the last. Using a polished prose to scratch hard and deep through the surface of a pristine upper-middle-class Upper West Side family's life, Gornick's incisive narrative explores the creepy underbelly of privilege and self-satisfaction." —Jenny McPhee, author of A Man of No Moon
"What a smart, compassionate novel Lisa Gornick has written! In the first line of Tinderbox, Myra says yes when she should say no, allowing her maternal instincts to trump her wisdom as a therapist. That tension--the tug of war between the advice we give others and the life we actually live--pulls the reader through this wonderful book of family turmoil. Getting to know these characters truly, madly, deeply is as gut-wrenching and joyful as life itself." —Mary Kay Zuravleff, author of The Bowl is Already Broken
"A Private Sorcery is a deep, powerful, exciting story that casts a spell on the reader from the opening pages. I was riveted and entranced--and something even more than that: thrilled to be in the presence of an important and authentic new voice." —Dani Shapiro, author of Slow Motion, on A Private Sorcery
"Every now and then a new voice comes along that makes sense of our deep need for stories and their tellers. Lisa Gornick is one of those voices--she manages to match a compelling storyline with a language that is simultaneously intimate, intelligent, and crafted. It's certainly not easy to make it seem so easy. A Private Sorcery is a wonderfully honest book, deeply felt, with characters carved from the true stuff of what we are. A first-rate novel, all the more surprising since it is Gornick's debut." —Colum McCann, author of This Side of Brightness, on A Private Sorcery
"An astonishingly good novel and completely compelling, A Private Sorcery is superbly written and sparkles with intelligence and subtlety. I can't remember a first novel in the last ten years that has impressed me as much as this. The characters are complex and fascinating. The evocation of place and time is vivid and convincing. This seems to me to be a novel for grown-ups." —Charles Palliser, author of Quincunx and The Unburied, on A Private Sorcery
Picador, 9781250055378, 320pp.
Publication Date: September 2, 2014
About the Author
Lisa Gornick is the author of Louisa Meets Bear, Tinderbox, and A Private Sorcery. Her stories and essays have appeared widely, including in The New York Times, Prairie Schooner, Real Simple, Salon, Slate, and The Sun. She holds a BA from Princeton and a PhD in clinical psychology from Yale, and is on the faculty of the Columbia University Center for Psychoanalytic Training and Research. A long-time New Yorker, she lives in Manhattan with her family.
or
Not Currently Available for Direct Purchase