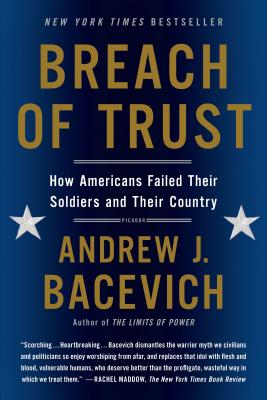 Breach of Trust
How Americans Failed Their Soldiers and Their Country (American Empire Project)
Paperback

* Individual store prices may vary.
Other Editions of This Title:
Digital Audiobook (9/9/2013)
Description
A blistering critique of the gulf between America's soldiers and the society that sends them off to war, from the bestselling author of The Limits of Power and Washington Rules

The United States has been "at war" for more than a decade. Yet as war has become normalized, a yawning gap has opened between America's soldiers and the society in whose name they fight. For ordinary citizens, as former secretary of defense Robert Gates has acknowledged, armed conflict has become an "abstraction" and military service "something for other people to do." In Breach of Trust, bestselling author Andrew J. Bacevich takes stock of the damage this disconnect has wrought.

National defense, he argues, should become the business of "we the people." Should Americans refuse to shoulder this responsibility, the prospect of endless war, waged by a "foreign legion" of professionals and contractor-mercenaries, beckons. So too does bankruptcy—moral as well as fiscal.
Praise For Breach of Trust: How Americans Failed Their Soldiers and Their Country (American Empire Project)…
"Scorching...heartbreaking...Bacevich dismantles the warrior myth we civilians and politicians so enjoy worshiping from afar, and replaces that idol with flesh and blood, vulnerable humans, who deserve better than the profligate, wasteful way in which we treat them." —Rachel Maddow, the New York Times Book Revie

"A powerful critique...splendid...Bacevich has written a book that precious few people in Washington will like, at least those people...who are connected in one way or another to what Dwight Eisenhower in 1961 called the 'military-industrial complex.'" —The Washington Post

"Breach of Trust is a necessary and important commentary on modern American life....I can almost guarantee that, in these war-weary times, this timely and informative read will change the way you think." —James Carville, The Hill
Picador, 9781250055385, 256pp.
Publication Date: September 9, 2014
About the Author
Andrew Bacevich is the author of The Limits of Power, Washington Rules, and The Age of Illusions: How America Squandered Its Cold War Victory. His writings have appeared in The New York Times, the London Review of Books, and the American Conservative, among other publications. Having served in the army for twenty-three years, he is currently a professor emeritus of history and international relations at Boston University and founder and president of the Quincy Institute for Responsible Statecraft, a Washington think tank dedicated to foreign policy. He lives in Walpole, Massachusetts.