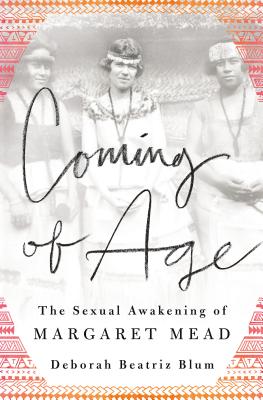 Coming of Age
The Sexual Awakening of Margaret Mead
Hardcover

* Individual store prices may vary.
Description
The startling coming-of-age story of famed anthropologist Margaret Mead whose radical ideas challenged the social and sexual norms of her time.

The story begins in 1923, when twenty-two year old Margaret Mead is living in New York City, engaged to her childhood sweetheart and on the verge of graduating from college. Seemingly a conventional young lady, she marries, but shocks friends when she decides to keep her maiden name. After starting graduate school at Columbia University, she does the unthinkable: she first enters into a forbidden relationship with a female colleague, then gets caught up in an all-consuming and secret affair with a brilliant older man. As her sexual awakening continues, she discovers it is possible to be in love with more than one person at the same time.

While Margaret's personal explorations are just beginning, her interest in distant cultures propels her into the new field of anthropology. Ignoring the constraints put on women, she travels alone to a tiny speck of land in the South Pacific called Samoa to study the sexual behavior of adolescent girls. Returning home on an ocean liner nine months later, a chance encounter changes the course of her life forever.

Now, drawing on letters, diaries, and memoirs, Deborah Beatriz Blum reconstructs these five transformative years of Margaret Mead's life, before she became famous, revealing the story that she hid from the world – during her lifetime and beyond.
Praise For Coming of Age: The Sexual Awakening of Margaret Mead…
"Elegantly weaving existing memoir and letters into a beautifully constructed narrative, Blum brings to convincing and exciting life the early years of Margaret Mead. Mead's 'coming of age', both intellectually and sexually, turns out to have been no less fascinating than that of the Samoan girls she famously studied. Blum's story is absorbing, surprising, and eminently satisfying." —Marisa Silver, author of Little Nothing and Mary Coin

"Deborah Beatriz Blum is a splendid storyteller, and what a terrific story she tells: the adventurous early life and loves of the strangely alluring Margaret Mead. With deep research and narrative energy, Blum presents a revelatory, intimate portrait of the young Mead, before, and during her nine months in Samoa, when her passionate secret life was wakening." —Jeffrey Frank, author of national bestseller Ike and Dick: Portrait of a Strange Political Marriage

"Coming of Age is nearly impossible to stop reading. While we think of Margaret Mead as a trailblazing anthropologist, until now we have known nothing of the workings of her heart, and how the turmoil and ecstasy in her private life illuminated the culture-changing work she performed in the South Pacific. Now—at last—Deborah Beatriz Blum reveals the truth about one of the 20th century's great heroines, in prose that's wise and luminous. As Blum makes clear, Mead's greatest research subject may have been the enigma of her own desire." —Jennifer Finney Boylan, author of She's Not There and Long Black Veil

"Through Blum's narrative, Mead becomes more than a quotable female pioneer and transforms into a three-dimensional woman." —Library Journal (starred review)

"Blum's vivid and personal reimagining is an entertaining addition to the constellation of work on this important figure, giving insight into the vulnerable girl's heart behind the groundbreaking work." —Publishers Weekly

"[An] absorbing...breathless page-turner." —Kirkus
Thomas Dunne Books, 9781250055729, 336pp.
Publication Date: July 11, 2017
About the Author
DEBORAH BEATRIZ BLUM is the author of Bad Karma: A True Story of Obsession and Murder. She has been a writer, producer and director working in the film business for most of her adult life. For the last twenty years she's written and directed documentaries for National Geographic, Discovery Channel, and the History Channel.
or
Not Currently Available for Direct Purchase