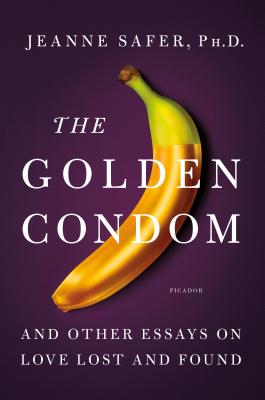 The Golden Condom
And Other Essays on Love Lost and Found
Hardcover

* Individual store prices may vary.
Other Editions of This Title:
MP3 CD (5/3/2016)
Description
A psychotherapist recounts fascinating stories and observations from her years of private practice on the topic of life's greatest mystery: love.

Dr. Jeanne Safer has dedicated much of her decades' long career in psychotherapy to exploring taboo subjects that we all think about in private but seldom discuss in public. From conflicted sibling relationships to the choice not to have children, Safer's work has always been unflinching in its aim to dive deep into topics that make most of us blush, but which are present in all of our lives. In The Golden Condom, Safer turns her sharp and fearless eye to a subject perhaps more universal than any other: love in all its permutations.

In The Golden Condom Safer interweaves her own experiences with those of a variety of memorable people, including her patients, telling a series of tales that investigate relationships--both healthy and toxic--that most of us don't escape life without experiencing at least once, including traumatic friendships, love after loss, unrequited or obsessional love and more. Never prescriptive and always entertaining, these stories will demolish any suspicion you might have that you're alone in navigating a turbulent romantic life, and will inspire you with the range of possibilities that exist to find love, however unconventional, and at any age.
Praise For The Golden Condom: And Other Essays on Love Lost and Found…
"The Golden Condom is one of those brilliant, generous, and captivating psychology books, that will almost certainly free readers from the limits they have unknowingly set for themselves."—Simon Van Booy, Author of Father's Day and The Secret Lives of People in Love

"We live in a time of paradox: As sexual and emotional arrangements become ever more complicated, our culture insists on recycling antiquated myths about what love should be rather than what it is. Deeply informed and intensely intimate, The Golden Condomis a unique and necessary contribution to the popular literature on modern relationships. Drawing on a lifetime of experience, Jeanne Safer puts forth a wise, expansive vision of romance in all its variations, reminding us that love is earned more commonly than it's found, and lasts even when it's gone."—Kate Bolick, author of Spinster: Making a Life of One's Own

"Thought-provoking and deeply useful...For anyone dealing with the intense pain caused by unrequited love, false friendships, or romantic obsessions, this book offers comfort and solid coping strategies." —Publishers Weekly (starred review)

"The timelessness of the topic as well as its confessional, educational content will give The Golden Condom wide appeal—anyone will be able to find themselves reflected in one story or another, whether they are in love, or longing, or looking to understand this mystifying, powerful, innately human experience."—Booklist

"Safer provides psychotherapeutic insight into a near and dear topic...The narratives and their protagonists offer the reader a mirror, friend, and confidant for personal experiences." —Library Jounral

"Though the stories of jealously and embitterment are salaciously entertaining, Safer closes the collection with a section on fulfilled love. Perhaps most heartwarming is the chapter on late-life first marriage, which defies typical conventions of love as a young person's game and serves as an uplifting and optimistic ending to the woes and travails of love lost and regretted. Throughout the author's many different examples, her analysis is mostly Freudian-based (with additional credit to Heinz Kohut, "the founder of psychoanalytic self psychology"), and her insights are astute…. A highly relatable collection of anecdotes that serves as a valuable crash course on the pitfalls, seductions, and rewards of love."—Kirkus Reviews

"Jeanne Safer is like a best friend, a gifted therapist and an enchanting storyteller rolled into one. In a culture that romanticizes the idea of unconditional love, Safer reminds us that relationships are inherently contractual. Better yet, she shows is that it is within those contracts that genuine compassion and affection can truly--even ecstatically—flourish. This book is both a warm fuzzy and a sharp kick in the pants. Don't let it far from your side."—Meghan Daum, author of The Unspeakable: And Other Subjects of Discussion

"[Jeanne Safer] is honest, smart, brave, funny, and makes you thing about things you don't think about."—Peggy Noonan
Picador, 9781250055750, 288pp.
Publication Date: April 5, 2016
About the Author
Jeanne Safer, Ph.D., a psychotherapist in New York City, is the author of The Golden Condom, Beyond Motherhood, The Normal One, and several other books. Dr. Safer has appeared on The Daily Show and Good Morning America as well as numerous NPR broadcasts. Her work has been the subject of articles in the New York Times and the Wall Street Journal. She is the host of the I Love You, But I Hate Your Politics podcast.
or
Not Currently Available for Direct Purchase