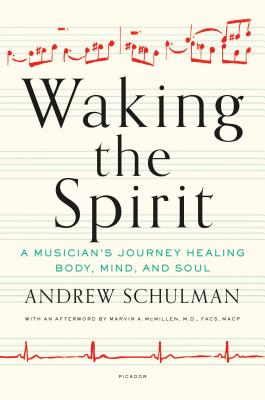 Waking the Spirit
A Musician's Journey Healing Body, Mind, and Soul
Hardcover

* Individual store prices may vary.
Other Editions of This Title:
Paperback (8/1/2017)
Description
An Oliver Sacks Foundation Best Book of the Year selection, Finalist for the Books for a Better Life "Best First Book" Award, and a People Magazine Pick in non-fiction.

For millennia, music has been known to have a powerful role in the healing process. This moving and inspiring book tells the tale of a man pulled from the brink of death by music who, in turn, uses music as medicine to help heal others.

Andrew Schulman, a fifty-seven-year-old professional guitarist, had a close brush with death on the night of July 16, 2009. Against the odds—with the help of music—he survived: A medical miracle.

Once fully recovered, Andrew resolved to dedicate his life to bringing music to critically ill patients in the same ICU where music helped save his life. In Waking the Spirit, you'll learn the astonishing stories of the people he's met along the way—both patients and doctors—and see the incredible role music can play in a modern hospital setting.

In his new work as a professional musician, Andrew has met with experts in music, neuroscience, and medicine. In this book, he shares with readers an overview of the cutting-edge science and medical theories that illuminate this exciting field.

This book explores the power of music to heal the body and awaken the spirit.
Praise For Waking the Spirit: A Musician's Journey Healing Body, Mind, and Soul…
"Earnest but affable memoir....He talks with neuroscientists and psychiatrists and explores the legacy of Pythagoras, the ancient Greek mathematician and philosopher who was among the first to recognize the healing properties of music. Along the way, Schulman posits that the relationship between the pain we feel and the songs and compositions we love has its roots in a tender, transcendent form of symbiosis." - Meghan Daum, The New York Times Book Review

"Waking the Spirit is an inspiring story that teaches many important spiritual lessons, but the principal one is that to give thanks, you have to give. By healing others, he healed himself. You will never listen to music in the same way again." - John Kralik, author of 365 Thank Yous

"An inspiring personal story of the ageless power of music to comfort and to heal supported with plentiful compelling scientific evidence." - Caroline Stoessinger, author of A Century of Wisdom

"Andrew Schulman has chronicled his amazing journey in a book that should be read by everyone, not only by doctors, caregivers and musicians. 'Waking the Spirit' recounts Andrew's own miraculous recovery in an ICU when he was literally brought back to life. His profound discoveries related to healing and self healing through music will astound the reader. As a classical guitarist and composer I have witnessed music's power to heal, but nothing as dramatic as what the author, facing death, has been able to reveal." - Liona Boyd, author of In My Own Key: My Life in Love and Music

"In the grand tradition of Oliver Sacks'Musicophilia: Tales of Music and the Brain, Schulman cannily narrates stories of the ways that music can bring healing not only to the broken spirit but also to the broken body." -- No Depression, Journal of Roots Music

"Inspirational." -- Publisher's Weekly

"Great new book on power of music in medicine by Andrew Schulman. A must read."
- Kate Edgar, Oliver Sacks Foundation

"Waking the Spirit is full of hope and wonders. Andrew Schulman has as light a touch with his pen as he does when he picks up his guitar. I think the world has been waiting for this book."
-- Bill McGlaughlin, Host and music director of the public radio programs Exploring Music and Saint Paul Sunday

"A very educational and uplifting look at music therapy from a world class musician." -- The Help Desk

"In his heartfelt chronicle of unorthodox medicine, professional guitarist Schulman celebrates his sixth year as resident musician in the Surgical Intensive Care Unit at Manhattan's Mount Sinai Beth Israel hospital. His own journey began years earlier when, at 57, he was admitted to the same ward as a terminal "Code Blue" patient with circulatory collapse following a routine pancreatic tumor excision. Along with the bedside presence of his wife, Wendy, also a professional musician, was an iPod loaded with Bach, Brahms, Debussy, Ellington, and the Beatles. It was, writes the author, "all the music that moved my heart"—just the thing to help him cope and sooth his spirit. Schulman miraculously survived his ordeal, escaping with only minor brain damage. He swiftly decided to redirect his music career toward patient care as a "medical musician" in the same ward where he was a patient just months prior. With a winning combination of anecdotal bedside stories, personal experience, and the research of neuroscientists, neuromusicologists, and fellow musicians, the author offers evidence of the calming, stabilizing, and synchronous ("entrainment") physical effects music therapy can have on a patient's nervous system, pain, and overall health. Though his own work in the ward was not without its share of trial and error, Schulman's innate intuitive skills (brain surgery patients were treated to Bach first) and compassionate demeanor made him an integral part of the hospital staff. The author considers his proactive role in patient care and his own astounding recovery to have both been beautifully transformed "by the bridge that music creates between the healthy and the sick."

An inspirational testament to the limitless benefits of music and its role in health care."

-- Kirkus Review
Picador, 9781250055774, 304pp.
Publication Date: August 2, 2016
About the Author
ANDREW SCHULMAN is the Medical Musician/Critical Care at Berkshire Medical Center and the first Certified Medical Musician admitted as a member of the Society of Critical Care Medicine. He is the founder and artistic director of the Abaca String Band, which has performed throughout the United States, and also a solo guitarist who has appeared at Carnegie Hall, the Royal Albert Hall in London, the White House, and the Improv Comedy Club, among many others. Schulman lives in New York City with his wife, Wendy, and their dog, Phoebe. He is the author of Waking the Spirit: A Musician's Journey Healing Body, Mind, and Soul.
or
Not Currently Available for Direct Purchase