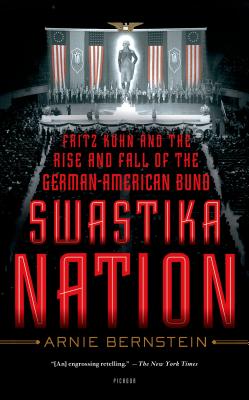 Swastika Nation
Fritz Kuhn and the Rise and Fall of the German-American Bund
Paperback

* Individual store prices may vary.
Other Editions of This Title:
Hardcover (9/3/2013)
Description
Imagine a United States where swastikas hang proudly in meeting rooms across the country. Cries of Sieg Heil! resound at rural family retreats. A dictator pontificates at Madison Square Garden to an overflowing crowd for a Nuremberg-style rally.
This is not alternative historical fiction; this is the true story of the German-American Bund. In the late 1930s, the Bund, led by Fritz Kuhn, was a small but powerful national movement, determined to conquer the U.S. government with a fascist dictatorship. However, the Bundist dream of a swastika nation attracted powerful foes. Many larger-than-life figures—including New York Mayor Fiorello LaGuardia; the newly formed Congressional House Committee on Un-American Activities; newspaper columnist Walter Winchell; and Jewish mobsters Meyer Lansky and Mickey Cohen—brought Kuhn and the German-American Bund to an inglorious end.
Arnie Bernstein's Swastika Nation is a story of bad guys, good guys, and a few guys in between. The rise and fall of Fritz Kuhn and his German-American Bund is a sometimes funny, sometimes harrowing, always compelling story from start to finish, a vibrant narrative of a forgotten corner of American history.
Praise For Swastika Nation: Fritz Kuhn and the Rise and Fall of the German-American Bund…
"[An] engrossing retelling..." —The New York Times
"Impeccably researched and forcefully written." —Chicago Tribune
"Told with relish and undisguised disdain." —Kirkus Reviews
"A breathtaking story of a lost piece of American history--a powerfully written, expertly researched tale packed with fascinating characters and riveting action." —Jonathan Eig, New York Times bestselling author of Luckiest Man
"The frightening, compulsively readable story...A vivid and enlightening look at a largely forgotten episode of American history." —Gary Krist, New York Times bestselling author of City of Scoundrels
"...fast-paced...a fresh account of a well-documented era." —Publishers Weekly
"This is narrative nonfiction at its best, a gripping tale that's impossible to put down." —Karen Abbott, author of American Rose
"Arnie Bernstein is a master storyteller…Here's a book with a cast of bigger-than-life characters…A powerful, riveting story." —John McNally, Award-winning author of The Book of Ralph
"No novelist would have dared to pass off the bumptious Fritz Kuhn, his dim-witted associates, or his improbable harem of divorced socialites as real-life characters. But for a few years in the 1930s, the Bundesführer purveyed his bizarre blend of Hitler-worship, Jew-hatred, and star-spangled patriotism to audiences of thousands--while the likes of Walter Winchell, Thomas Dewey, Fiorella LaGuardia, and Meyer Lansky worked separately and sometimes together to bring him down. Swastika Nation reminds us that when it comes to the politics of hatred, truth is stranger than fiction--and nothing is new under the sun." —Arthur Goldwag, author of The New Hate: A History of Fear and Loathing on the Populist Right
"Bernstein wraps his arms around an amazing cast and spins a tale that will readers breathless--it's that good. An astonishing read by a wonderful writer." —Gregg Olson, New York Times best-selling author of Starvation Heights
Picador, 9781250056016, 368pp.
Publication Date: September 9, 2014
About the Author
ARNIE BERNSTEIN learned firsthand about American Nazis as a high school student, when a group of neo-fascists threatened to march in his neighborhood, known for its large Jewish population. He has been interviewed by the New York Times, BBC Radio, NPR, PBS, and numerous documentaries. He's lectured at DePaul University, the Chicago History Museum, and other venues, and appeared on C-SPAN's Book-TV. Bernstein's nonfiction tale Bath Massacre: America's First School Bombing was honored as a Notable Book of the Year by the State Library of Michigan. He lives in Chicago.
or
Not Currently Available for Direct Purchase