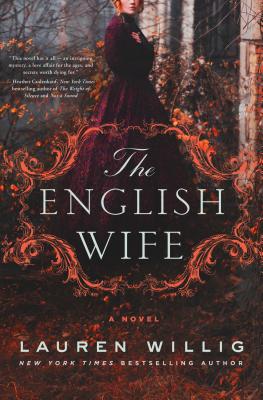 The English Wife
A Novel
Hardcover

* Individual store prices may vary.
Other Editions of This Title:
Digital Audiobook (1/8/2018)
Paperback (2/26/2019)
CD-Audio (1/9/2018)
Library Binding, Large Print (2/7/2018)
Description
From New York Times bestselling author Lauren Willig comes The English Wife, a scandalous novel set in the Gilded Age full of family secrets, affairs, and even murder.

"Brings to life old world New York City and London with all the splendor of two of my favorite novels, The Age of Innocence and The Crimson Petal and the White. Mystery, murder, mistaken identity, romance--Lauren Willig weaves each strand into a page-turning tapestry."--Sally Koslow, author of The Widow Waltz

"Her best yet...A dark and scintillating tale of betrayal, secrets and a marriage gone wrong that will have readers on the edge of their seats until the final breathtaking twist."--Pam Jenoff, New York Times bestselling author of The Orphan's Tale

A Book of the Month club pick!

Annabelle and Bayard Van Duyvil live a charmed life in New York: he's the scion of an old Knickerbocker family, she grew up in a Tudor house in England, they had a fairytale romance in London, they have three-year-old twins on whom they dote, and he's recreated her family home on the banks of the Hudson and named it Illyria. Yes, there are rumors that she's having an affair with the architect, but rumors are rumors and people will gossip. But then Bayard is found dead with a knife in his chest on the night of their Twelfth Night Ball, Annabelle goes missing, presumed drowned, and the papers go mad. Bay's sister, Janie, forms an unlikely alliance with a reporter to try to uncover the truth, convinced that Bay would never have killed his wife, that it must be a third party, but the more she learns about her brother and his wife, the more everything she thought she knew about them starts to unravel. Who were her brother and his wife, really? And why did her brother die with the name George on his lips?
Praise For The English Wife: A Novel…
"A dark and scintillating tale." -Pam Jenoff, New York Times bestselling author of The Orphan's Tale

"A gorgeous gem of a novel." -Karen White, New York Times bestselling author of The Night the Lights Went Out

"The pages fly fast and furious in this thoroughly engaging, suspenseful yarn." —Booklist

"Willig has a knack for creating sympathetic characters and fully fleshed settings, adding some juicy plot twists to this atmospheric period piece." — Kirkus Reviews

"A dark, romantic mystery full of twists and turns." — Library Journal

"Lauren Willig is skilled in historical fiction and draws us deeply into the world of Gilded Age New York...The book is also perfectly paced, as we're gradually fed clues and revelations that keep us guessing until the very end." -- New York Daily News

"Lauren Willig's historical novels are so immersive, so note-perfect in their mastery of setting and voice, that I'm tempted to wonder if she has a time machine at her disposal. The English Wife, with its deliciously evocative portrait of the splendours, sorrows and intrigues of Gilded Age high society, is her best book yet." — Jennifer Robson, USA Today and #1 Toronto Globe & Mail bestselling author of Goodnight from London.

"Full of intrigue and suspense, Willig weaves an intricate tapestry of romance and betrayal. Rich in period detail and a plot that keeps you guessing, The English Wife, is a wonderful read."-- Alyson Richman, Internationally bestselling author of The Velvet Hours and The Lost Wife

"Lauren Willig absolutely delivers in this deliciously-paced, intriguing tale that is part mystery, part love story, and part family drama of the most emotionally-riveting kind. Brimming with evocative historical details and hauntingly good." — Susan Meissner, Award-winning author of A Bridge Across the Ocean

"The English Wife is an atmospheric, instantly absorbing page-turner. Lauren Willig delivers a richly detailed, expertly plotted novel that will instantly transport you back in time. This novel has it all—an intriguing mystery, a love affair for the ages and secrets worth dying for." —Heather Gudenkauf, New York Times bestselling author of The Weight of Silence and Not A Sound

"An elegant page turner that kept me guessing. A masterful story that transported me back in time. A great, great Gothic." -M.J. Rose, New York Times bestselling author of The Library of Light and Shadow

"Full of Gilded Age glamour and Gothic suspense, The English Wife will haunt readers long after the story ends. Willig draws us in immediately – not just with an opulent setting and sensational gossip – but with a crime so visually stunning, I was left gasping for air by the end of chapter one. From London to old New York, readers will be mesmerized. Willig's writing is so smart and her pacing so masterful that readers will be guessing until the very last page. The English Wife combines the all insight of Edith Wharton with the tension and intrigue of Daphne du Maurier. It is Willig at her very best and most compelling." -Lynda Cohen Loigman, author of The Two-Family House

"The English Wife brings to life old world New York City and London with all the splendor of two of my favorite novels, The Age of Innocence and The Crimson Petal and the White. Mystery, murder, mistaken identity, romance—Lauren Willig weaves each strand into a page-turning tapestry." -Sally Koslow, author of The Widow Waltz and Another Side of Paradise

St. Martin's Press, 9781250056276, 384pp.
Publication Date: January 9, 2018
About the Author
LAUREN WILLIG is the author of the New York Times bestselling Pink Carnation series and a RITA Award-winner for Best Regency Historical for The Mischief of Mistletoe. She graduated from Yale University, and has a graduate degree in English history from Harvard and a J.D. from Harvard Law School. She lives in New York City, where she now writes full time.
1. The book opens with a series of rumors swirling around Annabelle Van Duyvil: because she's English and doesn't socialize, she must be a snob; because she has a close relationship with an architect, they must be having an affair. Have you ever leapt to conclusions about a person or situation, and then discovered you were wrong? Are there certain types of stories we tend to believe more readily because they fit our preconceived ideas? Why do you think that is?
2. Who did you identify with more, Janie or Georgie? Why?
3. Did you find Anne sympathetic or unsympathetic? Did your view of her change over the course of the book? Do you believe that Janie and Anne will find some sort of relationship once the truth is out, or will they revert to form?
4. At one point, Bay tries to explain to Georgie that Anne lashes out because she's unhappy. In his eyes, that justifies her behavior. Do you agree? Have you ever had a friend or relative like Anne? How did you deal with that person?
5. What surprised you most about this story? Did you anticipate the plot twists, or did you think the story would take a different course?
6. Who did you think killed Bay?
7. At one point, Burke tells Janie, "It's only in serial stories that murder is committed for fantastical causes. In real life, it always boils down to love or money—more often the latter than the former." Do you agree with that?
8. When Bay and Georgie meet, Georgie is performing in a burlesque version of Shakespeare's Twelfth Night. In Twelfth Night, a woman separated from her twin by a shipwreck finds it necessary to masquerade as a man, but falls in love with her employer, Orsino. Meanwhile, an heiress falls in love with the heroine, believing her to be a man. Do the references to Twelfth Night add anything to the story?
9. Several readers have classified The English Wife as a gothic novel, comparing it to Daphne DuMaurier's Rebecca. How would you define "gothic"? Do you think The English Wife falls in that category?
10. Janie's part of the story takes place during the brutally cold winter of 1899, culminating in a record-breaking blizzard. What role does the weather play in the story? Would the story have felt different if it had taken place in spring or summer? Do you find that the weather and season influence your actions and decisions?
11. The English Wife is set during the Gilded Age, a period of extreme affluence following the Civil War that stretched from roughly the 1860s to the first World War, during which the old families battled for supremacy against new money, and Mrs. Astor—herself one of the new people— famously set the tone with her "Four Hundred." What did you think about this setting? Does it have relevance for us today?
12. The book hops around between several different locations: the mansions, printing presses, and girls' clubs of Gilded Age Manhattan; the seedy world of London burlesque theatre; the salons of Belle Époque Paris; the glittering "cottages" of Newport; the pastoral pleasures of the Hudson Valley. Which of these settings appeals to you the most? Which would you most like to visit/learn more about?
13. Burke comes from a very different background than Janie. Do you believe they can be happy together despite that? Or is it their differences that draw them together? Do you believe opposites attract?
14. How would you characterize Georgie and Bay's relationship? Is theirs a love match? What do you think makes a good marriage?
15. What do you believe happened to Georgie?
or
Not Currently Available for Direct Purchase