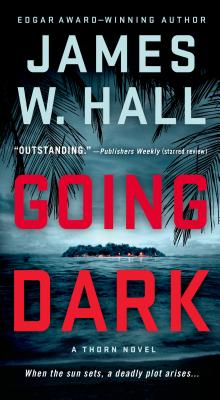 Going Dark (Mass Market Paperbound)
St. Martin's Press, 9781250056412, 403pp.
Publication Date: October 28, 2014
* Individual store prices may vary.
or
Not Currently Available for Direct Purchase
Description
"Master of suspense" ("The New York Times" "Book Review") James W. Hall delivers another nail-biting Thorn thriller and this time, the stakes are higher than ever as Thorn embarks on a mission to save his newfound son.
Earth Liberation Front is a loosely-knit national organization of radical environmental activists who take a "by any means necessary" approach to defending the planet. In the last decade, ELF has been responsible for almost a hundred million dollars in damage mainly through arson. The FBI ranks them, along with other eco-radicals, as the number one homegrown terrorist threat. And Flynn Moss Thorn's newly discovered son appears to be among ELF's members.
"no-holds-barred action A fine thriller on every level." "Booklist "
Flynn has naively fallen in with an ELF cell in Miami, where he's engaged in non-violent protest against one of Florida's largest nuclear power plants. But soon Flynn uncovers another, darker plot among ELF operatives one that involves a radioactive catastrophe rivaling Chernobyl or Fukushima. With a growing sense of dread about his involvement in such a scheme, Flynn summons Thorn to help him escape from Prince Key, the remote island off the shores of Miami where the ELF group is camped. But just as soon as Thorn leads the fight to save Flynn, he reaches a frightening realization: In order to protect his son, he must join the eco-terrorists and help them complete their deadly mission. And time is running out in "Going Dark"
"James Hall is the king of the Florida-gothic noir." "New York Times "bestselling author Dennis Lehane.
About the Author
JAMES W. HALL is an Edgar and Shamus Award-winning author whose books have been translated into a dozen languages. His Thorn Mysteries include Dead Last and The Big Finish. He divides his time between South Florida and North Carolina.
Praise For Going Dark…
"Hall's latest novel, titled Going Dark proves he's one of the best genre writers working today." —Alan Cheuse, All Things Considered
"Among the best [of Florida writers] is James W. Hall. . . . As the story spins forward, Hall builds the suspense and violence to what could literally be a breaking point for South Florida. Along the way, he treats the reader to gorgeous prose about the state's natural bounty, advances his development of Thorn, supplies multiple shocks and proves that not all of Florida's reptiles slither on their bellies."
—Richmond Times-Dispatch
"As ever, Hall is in colorful command of his South Florida setting… Compared to other mystery writers, he plays things refreshingly low key, but he's always in control, thriving on the setup as much as the payoff …with its nicely observed characters and lively dialogue—and terrific sex scenes—it keeps readers turning the pages." —Kirkus
"Hall is one of those rare thriller writers who can build character as he ratchets tension, who can do no-holds-barred action scenes with panache and, in the midst of bedlam, never lose sight of nuance. All those skills are on display here, as Hall assembles a full-bodied supporting cast whose stories hold our interest as much as Thorn's attempt to save his son without helping to bring about a South Florida version of Chernobyl. A fine thriller on every level." —Booklist on Going Dark

"Superlative….Hall steadily ratchets the suspense while seamlessly combining elements of Florida's natural history with elements of the state's early development and overdevelopment."  —Publishers Weekly (starred) on Silencer
"A damn good mystery." —Booklist on Dead Last
"Hall's ability to evoke the deep, primeval essence of the Bay and Glades—the water, air, wildlife, feral excitement—are unmatched, and the life and death struggle that ensues is heightened and set apart by a heavy ambivalence…With his unerring sense of place, and a frighteningly sure grasp of the dark side, nobody cooks it up like Hall."  —Miami Herald
Advertisement