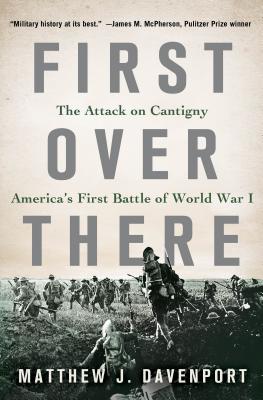 First Over There (Hardcover)
The Attack on Cantigny, America's First Battle of World War I
Thomas Dunne Books, 9781250056443, 384pp.
Publication Date: May 12, 2015
Other Editions of This Title:
Compact Disc (11/29/2016)
MP3 CD (11/29/2016)
Pre-Recorded Audio Player (3/1/2017)
* Individual store prices may vary.
Description
The riveting true story of America's first modern military battle, its first military victory during World War One, and its first steps onto the world stage

At first light on Tuesday, May 28th, 1918, waves of American riflemen from the U.S. Army's 1st Division climbed from their trenches, charged across the shell-scarred French dirt of no-man's-land, and captured the hilltop village of Cantigny from the grip of the German Army. Those who survived the enemy machine-gun fire and hand-to-hand fighting held on for the next two days and nights in shallow foxholes under the sting of mustard gas and crushing steel of artillery fire.
Thirteen months after the United States entered World War I, these 3,500 soldiers became the first "doughboys" to enter the fight. The operation, the first American attack ever supported by tanks, airplanes, and modern artillery, was ordered by the leader of America's forces in Europe, General John "Black Jack" Pershing, and planned by a young staff officer, Lieutenant Colonel George C. Marshall, who would fill the lead role in World War II twenty-six years later.
Drawing on the letters, diaries, and reports by the men themselves, Matthew J. Davenport's First Over There tells the inspiring, untold story of these soldiers and their journey to victory on the Western Front in the Battle of Cantigny. The first American battle of the "war to end all wars" would mark not only its first victory abroad, but the birth of its modern Army.
About the Author
MATTHEW J. DAVENPORT is a litigation attorney who is a former prosecutor and veteran of the U.S. Army Reserve. He is a member of the Western Front Association, the American Legion, and the Military Writers Society of America. He lives with his wife and two sons in Greenville, North Carolina. First Over There is his first book.
Praise For First Over There: The Attack on Cantigny, America's First Battle of World War I…
"This story of the men who participated in the first attack by American troops in World War 1 is military history at its best. The Battle of Cantigny proved to European allies and enemies alike that U.S. doughboys could fight. The gritty, grinding, lethal nature of warfare on the Western Front comes alive for the reader in this splendid book." —Dr. James M. McPherson, Pulitzer Prize-winning and New York Times bestselling author of Battle Cry of Freedom
"Not only does Davenport trace the battle with addictive readability but he brings to life both the ordinary soldiers who were there and the leaders who still resonate throughout history, General John 'Black Jack' Pershing and General George C. Marshall among them. The victory there foretold America's mettle throughout the remainder of the War. Davenport has placed Cantigny in its rightful place on the map of World War I battles." —Joesph E. Persico, New York Times bestselling author of Roosevelt's Centurions and Eleventh Month, Eleventh Day, Eleventh Hour
"If these centennial years of World War 1 make us remember this 'forgotten war,' one of the events we should recall best is the battle of Cantigny, the first major engagement of American forces. In First Over There, Matthew Davenport has brought this engagement and the men who fought and died in it and lived on after it back in a moving way. This is first-rate military history, which recounts the personal reality of this country's first foray overseas as a great power." —John Milton Cooper, Pulitzer Prize finalist and author of Woodrow Wilson: A Biography
"America's premier fighting force, the Army's 1st Division, earned its dauntless reputation in the blood and horror of the Great War. In First Over There, Matt Davenport tells that story anew, focused on the Big Red One's first major battle at Cantigny. Drawing on a wealth of stirring eye-witness accounts, Davenport tells us what it took to go "over the top" in the face of deadly machine gun fire. His aim is true. This is military history at its best." —Lieut. Gen. Daniel Bolger (US Army, retired), author of Why We Lost: A General's Inside Account of the Iraq and Afghanistan Wars
"Matthew Davenport's new account is superb. Based on exhaustive research, his narrative moves easily among the great questions of policy and strategy, the dramatic experiences of individual soldiers, and the home front. This is excellent military history and cannot fail to re-awaken our interest in that long ago conflict as we enter its centennial." —Col. Paul Herbert (U.S. Army, retired), Executive Director of the First Division Museum in Cantigny Park, Ill.
"Matthew J. Davenport's First Over There is an exhilarating, minutely detailed, boots-on-the-ground account of America's baptism by fire in the maelstrom of World War 1. It's a solid work of military history--and a great read." —James Carl Nelson, author of The Remains of Company D: A Story of the Great War and Five Lieutenants: The Heartbreaking Story of Five Harvard Men Who Led America to Victory in World War 1
"Matthew Davenport gives a human face to the ordeal of the doughboys who gave the AEF its first victory at Cantigny, May 1918. His book recounts the reality of warfare on the Western Front." —Dr. Allan Millett, Stephen E. Ambrose Professor of History at the University of New Orleans and author of For the Common Defense
"The battle of Cantigny has been ably examined by many superb historians, but the story of that seminal engagement has never been told in a more gripping fashion than by Matthew Davenport in this powerful, popular account." —Lieut.Col. Mark Grotelueschen (USAF), professor of history at the US Air Force Academy and author of The AEF Way of War: The American Army and Combat in World War I
"A spectacularly well-written and researched work... From the 'creeping barrage' of artillery to the eventual American victory, the reader will hear every explosion, feel each bullet whiz past, and sometimes cry at the loss of a comrade. This is a brilliant work for every library." —Library Journal, STARRED review
"First Over There is no doubt the first salvo on a distinguished literary and historical career. Davenport is that rarest of military historians, marshaling a vast amount of battlefield action while keeping the human drama centerstage. The Battle of Cantigny is a historical turning point, arguably the true beginning of the American Century. It has never been told better than in this rousing recreation, as gripping a read as it is definitive scholarship." —Richard Norton Smith, author of On His Own Terms: The Biography of Nelson Rockefeller and CSPAN's in-house historian