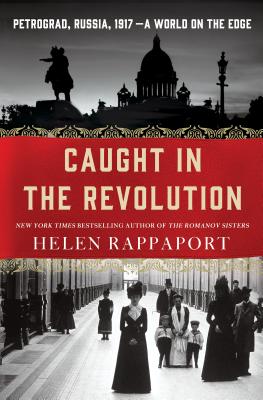 Caught in the Revolution (Hardcover)
Petrograd, Russia, 1917 - A World on the Edge
St. Martin's Press, 9781250056641, 464pp.
Publication Date: February 7, 2017
Other Editions of This Title:
Digital Audiobook (2/6/2017)
Paperback (4/10/2018)
CD-Audio (2/21/2017)
* Individual store prices may vary.
Description
From the New York Times bestselling author of The Romanov Sisters, Caught in the Revolution is Helen Rappaport's masterful telling of the outbreak of the Russian Revolution through eye-witness accounts left by foreign nationals who saw the drama unfold.
Between the first revolution in February 1917 and Lenin's Bolshevik coup in October, Petrograd (the former St Petersburg) was in turmoil – felt nowhere more keenly than on the fashionable Nevsky Prospekt. There, the foreign visitors who filled hotels, clubs, offices and embassies were acutely aware of the chaos breaking out on their doorsteps and beneath their windows.
Among this disparate group were journalists, diplomats, businessmen, bankers, governesses, volunteer nurses and expatriate socialites. Many kept diaries and wrote letters home: from an English nurse who had already survived the sinking of the Titanic; to the black valet of the US Ambassador, far from his native Deep South; to suffragette leader Emmeline Pankhurst, who had come to Petrograd to inspect the indomitable Women's Death Battalion led by Maria Bochkareva.
Helen Rappaport draws upon this rich trove of material, much of it previously unpublished, to carry us right up to the action – to see, feel and hear the Revolution as it happened to an assortment of individuals who suddenly felt themselves trapped in a "red madhouse."
About the Author
Helen Rappaport studied Russian at Leeds University and is a specialist in Russian and Victorian history. Her books include Caught in the Revolution: Petrograd, Russia, 1917 - A World on the Edge, A Magnificent Obsession: Victoria, Albert, and the Death That Changed the British Monarchy and The Last Days of the Romanovs. She lives in West Dorset.
Praise For Caught in the Revolution: Petrograd, Russia, 1917 - A World on the Edge…
"Splendid . . . By confining herself to foreigners in Russia's capital, Rappaport takes a necessarily narrow slice of revolutionary history. But the stories these witnesses tell is endlessly fascinating." —The New York Times Book Review
"Lively . . . Ms. Rappaport's account works well as an introduction to a complicated year, but is most valuable for its record of the impressions of those who lived through it." —Wall Street Journal
"One of the great strengths of this book is the way in which the unheralded and the celebrated mingle in its pages . . . A mosaic of truth which no fictional one could outdo." —The Washington Times
"A multifaceted account of the 1917 Russian Revolution . . . gripping and thoroughly researched. . . [Rappaport brings] the streets and spirit of the early-20th-centuryPetrograd to life on the page." —Harper's Bazaar

One of Bustle's 16 Best Nonfiction Books coming in February 2017
One of Harper Bazaar's 14 Books You Need To Read In February
"Helen Rappaport combines thorough scholarship with the stylistic grace of a novelist, and the result is a riveting tale of the Russian Revolution that's difficult to put down" —PopMatters
"Rappaport's elegantly detailed writing shapes and pulls together excerpts from letters, diaries, articles, and more, quoted throughout, creating the immediacy and energy of history in the making: terrifying, brutal, and unforgettable." —Booklist
"The most comprehensive compendium to date of non-Russian perspectives across social classes. . . . An engaging if challenging look at a country's collapse with worldwide repercussions. Informed general readers will enjoy this glimpse into history; scholars will declare it a definitive study." —Library Journal (starred)
"Rappaport creates a portrait of the Russian Revolution from the points of view of outsiders who happened to be in Petrograd at the time . . . An undeniably valuable history of the Russian Revolution." —Kirkus Reviews
"Rappaport adopts an eye witness approach to the Russian revolution of 1917 . . . fun, fast-paced." —Publishers Weekly
"Illuminating . . . Rappaport has collected a wonderful array of observations . . . delightful and enlightening." — The London Times on Caught in the Revolution
"A gripping, vivid, deeply researched chronicle of the Russian Revolution told through the eyes of a surprising, flamboyant cast of foreigners in Petrograd, superbly narrated by Helen Rappaport." —Simon Sebag Montefiore, author of The Romanovs

"Helen Rappaport paints a compelling portrait of the doomed grand duchesses." —People magazine on The Romanov Sisters

"Rappaport, with a light hand and admiring eyes, allows the four Grand Duchesses to grow on us as they grow up." —Christian Science Monitor on The Romanov Sisters (10 best books of June 2014)