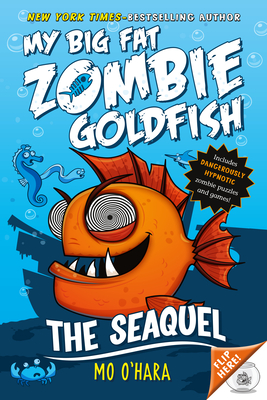 The SeaQuel (Paperback)
My Big Fat Zombie Goldfish
Square Fish, 9781250056801, 224pp.
Publication Date: March 3, 2015
Other Editions of This Title:
Hardcover (3/11/2014)
* Individual store prices may vary.
Description
After Tom rescued Frankie the goldfish from his big brother Mark's toxic science experiment by zapping him back to life with a battery, Frankie somehow became a BIG FAT ZOMBIE GOLDFISH with dangerous hypnotic powers. Fortunately, Frankie has appointed himself Tom's bodyguard, and together, with a little help from their friends, they thwart Mark's Evil Scientist plans.
Tom is looking forward to their annual family trip to the seaside, right up until he hears about the Evil Eel of Eel Bay—a monster that Mark is entirely too interested in. After all, even a BIG FAT ZOMBIE GOLDFISH might have a little trouble with a Super Electric Zombie Eel!
Then, Frankie takes center stage to rescue Tom's school play from Mark's evil plans.
About the Author
Mo O'Hara is the author of the My Big Fat Zombie Goldfish series. She grew up in Pennsylvania and now lives in London, where she works as a writer, actor, and storyteller, visiting theaters and schools all across the UK and Ireland. Mo and her brother once brought their own pet goldfish back from the brink of death (true fact).

Marek Jagucki, the illustrator of the My Big Fat Zombie Goldfish series, is a graduate of Falmouth School of Art and Design. He is a full-time illustrator and graphic designer based in Yorkshire, UK.
Praise For The SeaQuel: My Big Fat Zombie Goldfish…
"A kooky, zany little story about a boy and his pet zombie goldfish, Frankie. The kids in my library are already clamoring for this book and I can't get it ready for the shelves soon enough for them. Keep up the good work." —Wendy A. Emlinger, on Amazon.com on My Big Fat Zombie Goldfish
"I saw this book on sale at Walmart, and I couldn't resist picking it up. The cover just popped out at me. It's a good sized book for young readers. I read it in one sitting, and I loved it!" —Angela Roquet on Amazon.com on My Big Fat Zombie Goldfish
"The book is packed with bonkers humour...Anyone who likes books by Dav Pilkey would seriously love this book." —Biteso, for TheGuardian.com on My Big Fat Zombie Goldfish