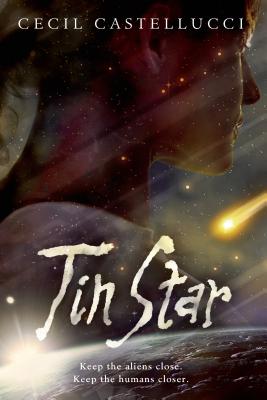 Tin Star (Paperback)
Square Fish, 9781250057006, 256pp.
Publication Date: February 24, 2015
Other Editions of This Title:
Hardcover (2/25/2014)
MP3 CD (9/20/2016)
* Individual store prices may vary.
Description
On their way to start a new life, Tula and her family travel on the Prairie Rose, a colony ship headed to a planet in the outer reaches of the galaxy. All is going well until the ship makes a stop at a remote space station, the Yertina Feray, and the colonist's leader, Brother Blue, beats Tula within an inch of her life. An alien, Heckleck, saves her and teaches her the ways of life on the space station.
When three humans crash land onto the station, Tula's desire for escape becomes irresistible, and her desire for companionship becomes unavoidable. But just as Tula begins to concoct a plan to get off the space station and kill Brother Blue, everything goes awry, and suddenly romance is the farthest thing from her mind.
About the Author
Cecil Castellucci's books include Boy Proof (Candlewick, 2005), The Plain Janes (Minx/DC Comics, 2007), The Year of the Beasts (Roaring Brook, 2012), and Tin Star (a 2015 Sunburst Award Winner). She collaborated with artist Sara Varon on Odd Duck, a graphic novel for young readers. She is the YA editor of the Los Angeles Review of Books and a two-time Macdowell Fellow. She lives in Los Angeles.
Praise For Tin Star…
"This compact but complex and well-written novel offers a pleasing blend of coming-of-age story and space adventure. The engaging storyline takes the reader through various surprising twists and turns while remaining true to its emotional core." —BCCB
"A riveting page-turner." —The Horn Book
"Castellucci forgoes complicated world building to focus on the rusty, junky environs of the space station, making this one of the few sci-fi books that can be accurately described as 'gritty.'" —Booklist
"Written in spare, vivid prose, Tin Star was an intense read, and Tula Bane is the kind of no-nonsense heroine I love. Highly recommended!" —Malinda Lo, author of Ash, Huntress
"The narrative alternates between text chapters and graphic novel panels–a unique format that perfectly complements the story. Through this richly detailed window into her tortured existence, readers witness Tessa's struggles with her "beasts" of jealousy, shame, and grief. However, though "Tessa knew that she was made up of all kinds of darkness," the story offers a hopeful resolution." —School Library Journal, starred review on Year of the Beasts
"Castellucci and Powell make a powerful team, and smartly let the two different breeds breathe in different fashions..Powell's skillfully drawn counterpoint is steeped in mythological undertones, as a girl (presumably Tessa, but never named as such) with Medusa hair turns all who look upon her at home and at school to stone." —Booklist, starred review on Year of the Beasts
"Castellucci (First Day on Earth) and comics artist Powell (The Silence of Our Friends) mix narrative and graphic storytelling to produce an innovative, moody story about jealousy and grief. Readers will appreciate their access to Tessa's dark emotions throughout; this is a book teens will likely read and reread, gaining greater understanding as they piece together the two halves of this challenging coming-of-age story." —Publishers Weekly on Year of the Beasts
"...Sophisticated readers will eat this melancholy, appealingly disjointed novel right up." —Kirkus on Year of the Beasts