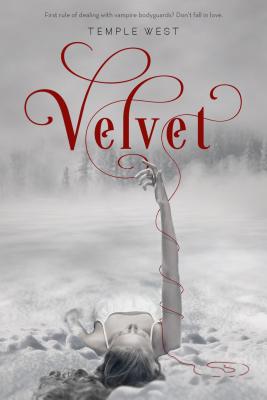 Velvet (Paperback)
Swoon Reads, 9781250057082, 416pp.
Publication Date: May 12, 2015
* Individual store prices may vary.
Description
Equal parts steamy and funny, with a few genuinely creepy moments, this paranormal romance has everything -- compelling characters, plenty of witty banter, and a romance that just might be to die for.

After losing both her parents before age 17, aspiring designer Caitlin Holte feels like her whole world has been turned upside down, and that was before she accidentally attracted the attention of a demon. Then, she learns that her hot, bad-boy neighbor, Adrian -- who might have just saved her life -- is actually a half-demon vampire.

Suddenly, Caitlin is stuck with a vampire bodyguard who feels that the best way to protect her is to become her pretend boyfriend. Trouble is, Caitlin is starting to fall in love for real, while Adrian can never love a human. Caitlin trusts Adrian to keep her safe from his demon father, but will he be able to protect her heart?

Temple West's debut novel Velvet is a sexy, delightful romance chosen by readers like you for Macmillan's young adult imprint Swoon Reads.

Praise for Velvet:

"This romantic Twilight readalike shines with credible dialogue and fully developed characters." —School Library Journal

"Velvet is fun and very entertaining with snappy dialogue, awesome characters and some solid teen angst." —The Windy Pages

"It's humorous yet dark, cute yet sexy, lighthearted yet heart-stopping." —The Eater of Books!

"An excellent mix of hip and quirky with the right dash of romance!" –T. S. Reeds, reader on SwoonReads.com
About the Author
Temple West, debut author of the YA paranormal romance Velvet, is as nerdy in real life as she is on the Twitter. She can sew (poorly), drive stick (please fasten your seat belt), and is in the slow process of acquiring a motorcycle (and motorcycle license, which should, in all honesty, come first). She currently lives in Seattle and is quite content to have no pets, plants, or children to fail at looking after.
Praise For Velvet…
"This romantic Twilight readalike shines with credible dialogue and fully developed characters. Paranormal fans who haven't reached their vampire saturation point will cheer and eagerly await the cliff-hanger's resolution in the sequel." —School Library Journal

"Dude. So this is what Twilight should have been. Velvet is fun and very entertaining with snappy dialogue, awesome characters and some solid teen angst." —The Windy Pages

"It's humorous yet dark, cute yet sexy, lighthearted yet heart-stopping. This one is definitely worth the read, if only to get your swoon on!" —The Eater of Books!

"This is just straight up good and steamy! The author has a great voice—fresh, fun and clearly talented. An excellent mix of hip and quirky with the right dash of romance!" –T. S. Reeds, reader on SwoonReads.com