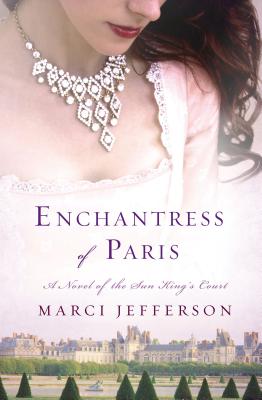 Enchantress of Paris (Hardcover)
A Novel of the Sun King's Court
Thomas Dunne Books, 9781250057099, 336pp.
Publication Date: August 4, 2015
* Individual store prices may vary.
Description
Fraught with conspiracy and passion, the Sun King's opulent court is brought to vivid life in this captivating tale about a woman whose love was more powerful than magic.
The alignment of the stars at Marie Mancini's birth warned that although she would be gifted at divination, she was destined to disgrace her family. Ignoring the dark warnings of his sister and astrologers, Cardinal Mazarin brings his niece to the French court, where the forbidden occult arts thrive in secret. In France, Marie learns her uncle has become the power behind the throne by using her sister Olympia to hold the Sun King, Louis XIV, in thrall.
Desperate to avoid her mother's dying wish that she spend her life in a convent, Marie burns her grimoire, trading Italian superstitions for polite sophistication. But as her star rises, King Louis becomes enchanted by Marie's charm. Sensing a chance to grasp even greater glory, Cardinal Mazarin pits the sisters against each other, showering Marie with diamonds and silks in exchange for bending King Louis to his will.
Disgusted by Mazarin's ruthlessness, Marie rebels. She sacrifices everything, but exposing Mazarin's deepest secret threatens to tear France apart. When even King Louis's love fails to protect Marie, she must summon her forbidden powers of divination to shield her family, protect France, and help the Sun King fulfill his destiny.
About the Author
MARCI JEFFERSON is the author of Girl on the Golden Coin. She graduated from Virginia Commonwealth University's Medical College as a Registered Nurse. She is a member of the Historical Novel Society. Jefferson lives in Indiana with her husband and children.
Praise For Enchantress of Paris: A Novel of the Sun King's Court…
"Told with vivid historical detail and packed with court intrigue, this is sure to please fans of royal fiction." —Library Journal
"Marci Jefferson wowed fans of fiction with last year's Girl on the Golden Coin. Marci's back with [Enchantress of Paris], a story about King Louis the XIV, a woman who loves him, a corrupt Cardinal, and the occult." —WFYI The Art of the Matter
"Engrossing and witty, this account of the fascinating Mancini sisters will hold the reader's attention with exceptional historical detail and convincing characters. This beautifully written narrative is heartily recommended for lovers of royalty and biographical novels, and will not disappoint those looking for a politically charged, lightly romantic tale." —Historical Novel Society
"Sacrifices, secrets and the power of divination make this 17th century historical fiction an exciting read." —BookTrib
"Jefferson's intoxicating first novel superbly draws readers into the mischief and maneuverings, loyalties and treacheries, and lust and hostility of powerful 17th century kings and scheming court sycophants....this is an exciting, solid debut." —Publishers Weekly (starred review) on Girl on the Golden Coin
"This small leap from the Tudors is a must-read for Alison Weir-Philippa Gregory fans." —Booklist on Girl on the Golden Coin
"Written with spirit and insight, the novel reveals both the glamour and the dirt of court life while peering into the soul of a woman who is one of the unsung heroines of English history." —Historical Novels Review on Girl on the Golden Coin
"A novel as rich and golden as the coin she graced. Frances Stuart's face was truly her fortune and left its mark on history, a rare achievement." —Margaret George, New York Times bestselling author of Elizabeth I: The Novel, on Girl on the Golden Coin
"A delicious story of court intrigues, affairs and vibrant personalities, Jefferson's novel is sure to please fans of historical fiction of all kinds." —Madeline Hunter, New York Times bestselling author of The Counterfeit Mistress, on Girl on the Golden Coin
"As vibrant and delightful as the woman it's based on, Girl on the Golden Coin is a jewel of a novel!" —Michelle Moran, national bestselling author of The Second Empress
"Jefferson is an accomplished writer, and Girl on the Golden Coin is an excellent debut that sets a high standard for any future works." —Roanoke Times
"Jefferson's first novel focuses on a woman and time that recent historical novelists have overlooked: Restoration England." —Library Journal on Girl on the Golden Coin
"Frances makes an appealing heroine, by turns wary and passionate, sophisticated and innocent...Her struggles...make for lively, entertaining reading." —Kate Quinn, national bestselling author of Mistress of Rome, on Girl on the Golden Coin
or
Not Currently Available for Direct Purchase