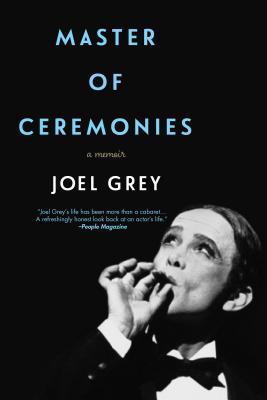 Master of Ceremonies
A Memoir
Paperback

* Individual store prices may vary.
Other Editions of This Title:
Digital Audiobook (2/15/2016)
Hardcover (2/16/2016)
CD-Audio (2/16/2016)
Hardcover, Large Print (5/4/2016)
Description
Joel Grey, the Tony and Academy Award-winning Master of Ceremonies in Cabaret finally tells his remarkable life story. Born Joel David Katz to a wild and wooly Jewish American family in Cleveland, Ohio in 1932, Joel began his life in the theater at the age of 9, starting in children's theater and then moving to the main stage. He was hooked, and his seven decades long career charts the evolution of American entertainment - from Vaudeville performances with his father, Mickey Katz to the seedy gangster filled nightclubs of the forties, the bright lights of Broadway and dizzying glamour of Hollywood, to juggernaut musicals like Cabaret, Chicago, and Wicked.
Master of Ceremonies is a memoir of a life lived in and out of the limelight, but it is also the story of the man behind the stage makeup. Coming of age in a time when being yourself tended to be not only difficult but also dangerous, Joel has to act both on and off the stage. He spends his high school years sleeping with the girls-next-door while carrying on a scandalous affair with an older man. Romances with to-die-for Vegas Showgirls are balanced with late night liaisons with like-minded guys, until finally Joel falls in love and marries a talented and beautiful woman, starts a family, and has a pretty much picture perfect life. But 24 years later when the marriage dissolves, Joel has to once again find his place in a world that has radically changed.
Drawing back the curtain on a career filled with show-stopping numbers, larger-than-life stars and even singing in the shower with Bjork, Master of Ceremonies is also a portrait of an artist coming to terms with his evolving identity. When an actor plays a character, he has to find out what makes them who they are; their needs, dreams, and fears. It's a difficult thing to do, but sometimes the hardest role in an actor's life is that of himself. Deftly capturing the joy of performing as well as the pain and secrets of an era we have only just started to leave behind, Joel's story is one of love, loss, hard-won honesty, redemption, and success.
Praise For Master of Ceremonies: A Memoir…
"Simply smashing," - The New York Times Book Review
"Joel's story comes straight from his heart right into yours." —Carol Burnett
"A very honest and moving telling of a very complicated and talented life. By the end, it's inspirational." —Larry Kramer
"We all know that Joel Grey has lived an extraordinary life--from nightclubs to Broadway to the silver screen--but who knew he could write about it with such artistry? At once a riveting, heartbreaking memoir, thrilling show business tell-all and a portrait of a changing time and nation, MASTER OF CEREMONIES is the remarkable story of a living legend." —Gay Talese
"As refreshingly honest look back at an actor's life, regrets and all." - People Magazine
"Joel Grey's memoir charts his voyage of discovery. Clearly, he needed to write this book and it is authentically compelling. He knew when we resurrected the little Emcee I had seen as a member of the occupation troops in Stuttgart in 1951 that he was a tragic figure and, because he invested him with compassion, along with the worst taste and hideous desperation, he became one of the most iconic figures in musical theatre history. No one has ever matched him. No one ever will. Read Master of Ceremonies!" —Hal Prince
"The memoir of a magical man should be a magical book, and Master of Ceremonies is fully the match of its author's many enchantments. Joel Grey has written a candid and courageous book about a life of rough but enviable richness. Happy is the man who has this story for his own." —Leon Wieseltier
"In Master of Ceremonies, Joel Grey succeeds in portraying his own anecdote- and secret-rich life with the same sensitivity, wit, and chutzpah as those of his most memorable characters; but where, on stage and screen, so often through the years he has dazzled us by the putting on of masks, here he dazzles us by the removal of them. The result is a literary performance not to be missed." —John Burnham Schwartz, Author of The Commoner and Reservation Road
"As readers of "Master of Ceremonies" will discover, Grey's life story has its own dark undercurrent, namely his decades-long struggle to accept his sexuality." - The New Yorker
The diminutive, unforgettable creator of the emcee in Cabaret both on stage and on screen writes frankly of his diverse career, exacting mother, and public embrace of his homosexuality...An honest, eloquent, memorable autobiography. - Kirkus
"He was a successful nightclub entertainer who didn't want to be a nightclub entertainer. He was ready to give up show business when he got the role of a lifetime — playing a sleazy nightclub entertainer. And he was (and is) a gay man who says unequivocally that the love of his life was a woman. Such are the complexities of the life of Joel Grey, recounted with candor and charm in his new memoir, Master of Ceremonies." - The Advocate
Flatiron Books, 9781250057259, 256pp.
Publication Date: February 7, 2017
About the Author
JOEL GREY is a Tony, Golden Globe, and Oscar-winning actor, and director. In his seven decades in entertainment, Joel has acted in more than a dozen Broadway productions, in over twenty films, and countless television appearances. Along with his work on the stage and screen, he is a renowned photographer. He lives in New York City.
or
Not Currently Available for Direct Purchase