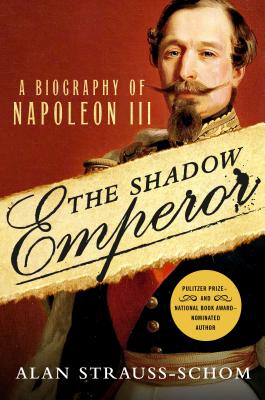 The Shadow Emperor (Hardcover)
A Biography of Napoleon III
St. Martin's Press, 9781250057785, 512pp.
Publication Date: May 29, 2018
* Individual store prices may vary.
Description
A breakout biography of Louis-Napoleon III, whose controversial achievements have polarized historians.
Considered one of the pre-eminent Napoleon Bonaparte experts, Pulitzer Prize-nominated historian Alan Strauss-Schom has turned his sights on another in that dynasty, Napoleon III (Louis-Napoleon) overshadowed for too long by his more romanticized forebear.
In the first full biography of Napoleon III by an American historian, Strauss-Schom uses his years of primary source research to explore the major cultural, sociological, economical, financial, international, and militaristic long-lasting effects of France's most polarizing emperor. Louis-Napoleon's achievements have been mixed and confusing, even to historians. He completely revolutionized the infrastructure of the state and the economy, but at the price of financial scandals of imperial proportions. In an age when "colonialism" was expanding, Louis-Napoleon's colonial designs were both praised by the emperor's party and the French military and resisted by the socialists.
He expanded the nation's railways to match those of England; created major new transoceanic steamship lines and a new modern navy; introduced a whole new banking sector supported by seemingly unlimited venture capital, while also empowering powerful new state and private banks; and completely rebuilt the heart of Paris, street by street.
Napoleon III wanted to surpass the legacy of his famous uncle, Napoleon I. In The Shadow Emperor, Alan Strauss-Schom sets the record straight on Napoleon III's legacy.
About the Author
Alan Strauss-Schom is a critically acclaimed author and historian. He has received Pulitzer Prize and National Book Award nominations for One Hundred Days: Napoleon's Road to Waterloo, Trafalgar, Countdown to Battle, 1803-1805, and Napoleon Bonaparte which took second place in the Los Angeles Times Best Biography of the Year category, 1997. It was also one of Library Journal's top five biographies of that year and nominated for a Critics Circle Award.
Praise For The Shadow Emperor: A Biography of Napoleon III…
"Louis Napoleon's story is certainly remarkable. Alan Strauss-Schom tells it with brio...a boldly revisionist biography."—The Wall Street Journal
"An excellent biography...This work's perceptive synthesis of recent research will interest scholars, and its engaging presentation and fast-paced narrative will attract general readers."—Publishers Weekly

"Strauss-Schom sheds much-needed light on France's Second Empire in this compelling biography of Emperor Louis-Napoleon III. Pulitzer Prize-nominated historian Strauss-Schom's portrayal, while sympathetic, doesn't gloss over Louis's flaws: his serial infidelities poisoned his relationship with Empress Eugénie, while his indecisive foreign policy culminated in the Franco-Prussian War. But in stressing the progressive even benevolent ideas that shaped the achievements of his reign, Strauss-Schom helps bring this Bonaparte out of the shadow of his more brutal forebear. "—Library Journal