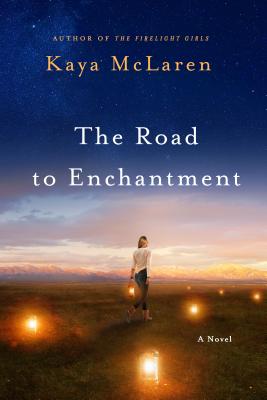 The Road to Enchantment (Paperback)
A Novel
St. Martin's Griffin, 9781250058225, 352pp.
Publication Date: January 31, 2017
Other Editions of This Title:
Mass Market (12/5/2017)
Library Binding, Large Print (4/1/2017)
* Individual store prices may vary.
Description
As a young girl, Willow watched her mother leave their home in Washington State in a literal blaze of glory: she set the mattress of her cheating husband on fire in her driveway, roasting marshmallow peeps and hot dogs before the fire department arrived.
And with that, she and Willow set off to New Mexico, to a new life, to a world of arroyos and canyons bordering an Apache reservation. Willow was devastated. Her eccentric mother believed in this new life and set about starting a winery and goat ranch. But for Willow, it meant initially being bullied and feeling like an outsider. Today, as a grown woman, Willow much prefers Los Angeles and her job as a studio musician. But things tend to happen in threes: her mother dies, her boyfriend dumps her, and Willow discovers she is pregnant.
The DeVine Winery and Goat Ranch is all she has left, even if it is in financial straits and unmanageable back taxes. There is something, though, about the call of "home." She's surprised to find that her Apache best friend Darrel along with the rest of the community seems to think she belongs far more than she ever thought she did. Can Willow redefine what home means for her, and can she make a go of the legacy her mother left behind?
Told with Kaya McLaren's humor and heart, The Road to Enchantment is a story about discovering that the last thing you want is sometimes the one thing you need.
"This is a potent coming of true age novel. One that gently leads us to leave behind all we imagined as lost, encourages us to embrace what adventure of the simple day lies ahead. The Road to Enchantment carries us into that place beyond the dark hour where the power of story reigns, truth will not be denied, and all the magic of this life will be remembered." –River Jordan
About the Author
Kaya McLaren is the author of Church of the Dog. She lives and teaches on the east slope of Snoqualmie Pass in Washington State. When Kaya's not working, she likes to telemark ski, sit in hot springs, moonlight hike, and play in lakes with her dog, Big Cedar.
Praise For The Road to Enchantment: A Novel…
"This touching novel of homecoming will draw apt comparisons to early Barbara Kingsolver."—Booklist
"I loved every single thing about this book… A captivating and enchanting story full of mystical awareness—a novel not to be missed." —Patti Callahan Henry on The Road to Enchantment
Praise for The Firelight Girls
"A sweet, touching view of the evolution of love and friendships." –Library Journal
"Coming-of-age novels are always interesting, but this novel puts a new spin on it." –RT Book Reviews (four stars)
"What a generous, big-hearted book this is. McLaren explores her subjects—friendship, regret, rebirth, the irresistible pull of place—with such tenderness that you'll find yourself wishing you could be a Firelight Girl, too." —Marisa de los Santos
"Touching, brilliantly insightful, and deeply compassionate…The Firelight Girls is a story of the places we love and how we never outgrow them, and a sweet reminder that sometimes we have to go back before we can move forward." –Amy Hill Hearth
Praise for How I Came to Sparkle Again
"This warmhearted and funny novel transports the reader to the small ski town of Sparkle, Colorado, where one snowy winter works its magic on several residents. Quick with the quips and repartee, the dialogue is a pleasure to read, as McLaren shows her readers how even the brokenhearted can get their sparkle back." —Seattle Times
"McLaren's intimate portrait of a seasonal town and its colorful characters makes for an entertaining ride." —Publishers Weekly
"How I Came to Sparkle Again is a gem of a novel. I loved the fresh setting and quirky, endearing cast of characters. This novel is like a perfect run down a black diamond slope—fun and fast-moving and invigorating." —Kristin Hannah
"How I Came to Sparkle Again is a delightful novel of life, lessons, and growth for a plethora of characters. Lisa wants to love someone; Jill is trying to pick up the pieces of a shattered life; and Cassie and Mike are struggling with grief. Jill quickly moves off of Lisa's sofa (which is the only space available while Lisa remodels her house) and into "the Kennel," a ramshackle trailer that's home to the Cat Crew, Hans, Eric, and Tom." —Romance Reviews Today
Kaya McLaren's How I Came to Sparkle Again is sad and funny and so much fun to read! Jill, Lisa and Cassie are wonderful. Sparkle is both entertaining and wise! —Nancy Thayer
"How I Came to Sparkle Again weaves together the stories of two women and a young girl grappling with love and loss. Set in a ski town and featuring a cast of surprisingly hilarious supporting characters, this warm, satisfying novel is a treat." —Sarah Pekkanen
"This novel is filled with all of my favorite things: characters who are so real you want to reach out and give them a hug; a magical setting; enough surprises to keep the pages turning; heartbreak, laughter, crying, and sighing. Not to be missed!" —Susan Wiggs
"In a small Colorado ski town called Sparkle, second chances come with the winter's fresh snow. And it's here that McLaren weaves a wonderfully tender story of three lives in search of love and healing that will leave you crying, laughing, and wanting for more. A true page-turner, How I Came to Sparkle Again, reads as fast as a run down the slopes!" —Susan Gregg Gilmore
"How I Came to Sparkle Again is a generous and endearing novel of loss and reconnection, of friendship and love and finding your way home to a small town called Sparkle, where the ski bums have big hearts and name their dogs after beer, and just the right number of people grow up into adults." —Erica Bauermeister
or
Not Currently Available for Direct Purchase