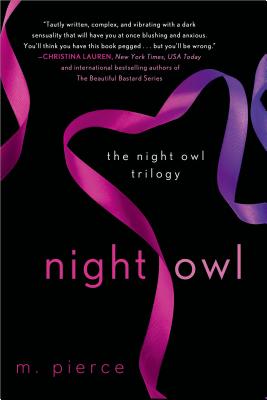 Night Owl (Paperback)
The Night Owl Trilogy
St. Martin's Griffin, 9781250058232, 272pp.
Publication Date: July 1, 2014
* Individual store prices may vary.
Description
"Tautly written, complex, and vibrating with a dark sensuality that will have you at once blushing and anxious. You'll think you have this book pegged . . . but you'll be wrong."—Christina Lauren, New York Times, USA Today, and international bestselling authors of The Beautiful Bastard series
From bestselling ebook author M. Pierce comes Night Owl, the first novel in a provocative erotic trilogy where an anonymous online writing partnership turns into an uncontrollable, passionate obsession
At twenty-eight, Matt Sky has the perfect life. He has a beautiful girlfriend, a massive inheritance, and four national bestsellers -- all penned under his airtight alias, M. Pierce.
At twenty-seven, Hannah Catalano is a train wreck. Her boyfriend is a deadbeat and her job is abysmal.
Matt and Hannah meet online as writing partners. Their relationship is safe, anonymous, and innocent...
Until Matt sees a picture of Hannah. Hannah's picture sparks an attraction Matt is powerless to ignore. When circumstance brings Matt and Hannah together, the strangers begin a love story that's passionate, poignant, unforgettable, and unstoppable.
About the Author
M. Pierce is the pen name of a bestselling author of the Night Owl Trilogy, including Night Owl, Last Light, and After Dark, who lives in Colorado.
Praise For Night Owl: The Night Owl Trilogy…
"Tautly written, complex, and vibrating with a dark sensuality that will have you at once blushing and anxious. You'll think you have this book pegged . . . but you'll be wrong." —Christina Lauren, New York Times, USA Today and international bestselling authors of The Beautiful Bastard Series
"Night Owl took me to dark places I didn't even know I wanted to go." —Abbi Glines, New York Times bestselling author of the Rosemary Beach series
"Matt and Hannah are beautifully flawed and captivating--one of the best books that I've read in years." —Kristen Proby, USA Today bestselling author of the With Me in Seattle series
"I loved it! FANTASTIC writing, fantastic pacing, fantastic characters. This is my latest favorite book." —Maryse's Book Blog
"If you're looking for a book with a great blend of sweet, hot, passionate and kinky romance, a healthy dose of angst mixed in, a fast paced plot and complex characters, this is it!" —Aestas Book Blog