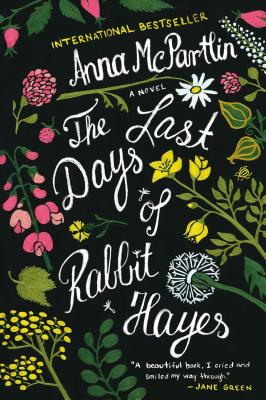 The Last Days of Rabbit Hayes (Hardcover)
A Novel
St. Martin's Press, 9781250058249, 368pp.
Publication Date: August 4, 2015
Other Editions of This Title:
Paperback (8/9/2016)
* Individual store prices may vary.
Description
International Bestseller
Mia-"Rabbit"-Hayes knows that life is hard for everyone. And she knows that she's one of the lucky ones. She loves her life, ordinary as it is. And she loves the extraordinary people in it: her spirited daughter, Juliet; her colorful, unruly family; the only man in her big heart, Johnny Faye. Rabbit has big ideas, full of music and love and so much life. She has plans for the world. But the world, it turns out, has other plans for Rabbit: a devastating diagnosis.
Rabbit is feisty. And with every ounce of love and strength in her, she promises that she will overcome. She will fight fight fight. She will be with those who love her for as long as she can, and she will live as long as she can with music and love and so much life. And as her friends and family rally round to celebrate Rabbit's last days, they look to her for strength, support, and her unyielding zest for life. Because she is Rabbit Hayes and she will live until she dies.
About the Author
ANNA MCPARTLIN is a novelist and scriptwriter. Her previous incarnation as a stand-up comic left an indelible mark. She describes herself as a slave to the joke and finds humor and humanity in even the darkest situations. Anna lives in Dublin, Ireland. The Last Days of Rabbit Hayes is her sixth novel.
Praise For The Last Days of Rabbit Hayes: A Novel…
"What a beautiful book. I started crying on page one, crying and smiling my way through to the end. I found it to be searingly, sweetly painful. I gave up seven months to take care of my best friend, and this book brought back all the grief and laughter of those final days. I hadn't been able to dwell on those thoughts for a very long time, had instead tried to replace them with what my friend was like 'before' her diagnosis, but this book allowed me to revisit those days, remember that amidst our collective grief there was also levity, and so very much love." —Jane Green
"McPartlin very effectively captures a family during a traumatic moment. The novel is kept light with a measure of dry humor and many beautiful instances of love, leaving a lighter impression than one might expect. This novel will be torn from the shelves by fans of tearjerkers such as P.S. I Love You." —Publishers Weekly
"McPartlin brings heart and humor to her account of Rabbit's last days as lived not only by her but also by her loving family." —Booklist
"By turns laugh-out-loud funny and weep-into-your-hanky heartbreaking, Rabbit's story is a powerful catharsis." —Kirkus
or
Not Currently Available for Direct Purchase