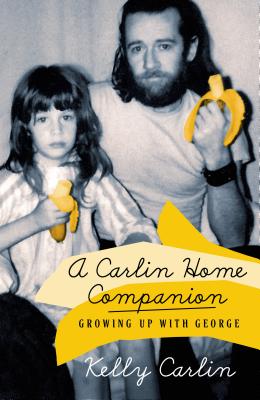 A Carlin Home Companion
Growing Up with George
Hardcover

* Individual store prices may vary.
Other Editions of This Title:
Digital Audiobook (9/14/2015)
Paperback (10/18/2016)
CD-Audio (9/15/2015)
Description
Truly the voice of a generation, George Carlin gave the world some of the most hysterical and iconic comedy routines of the last fifty years. From the "Seven Dirty Words" to "A Place for My Stuff," to "Religion is Bullshit," he perfected the art of making audiences double over with laughter while simultaneously making people wake up to the realities (and insanities) of life in the twentieth century.
Few people glimpsed the inner life of this beloved comedian, but his only child, Kelly, was there to see it all. Born at the very beginning of his decades-long career in comedy, she slid around the "old Dodge Dart," as he and wife Brenda drove around the country to "hell gigs." She witnessed his transformation in the '70s, as he fought back against---and talked back to---the establishment; she even talked him down from a really bad acid trip a time or two ("Kelly, the sun has exploded and we have eight, no-seven and a half minutes to live!").
Kelly not only watched her father constantly reinvent himself and his comedy, but also had a front row seat to the roller coaster turmoil of her family's inner life---alcoholism, cocaine addiction, life-threatening health scares, and a crushing debt to the IRS. But having been the only "adult" in her family prepared her little for the task of her own adulthood. All the while, Kelly sought to define her own voice as she separated from the shadow of her father's genius.
With rich humor and deep insight, Kelly Carlin pulls back the curtain on what it was like to grow up as the daughter of one of the most recognizable comedians of our time, and become a woman in her own right. This vivid, hilarious, heartbreaking story is at once singular and universal-it is a contemplation of what it takes to move beyond the legacy of childhood, and forge a life of your own.
Praise For A Carlin Home Companion: Growing Up with George…
"There are a lot of nights I still wish I could sit next to George and talk; this is the next best thing. Wonderful read." —Jon Stewart
"Entertaining and enlightening!" —The Washington Post
"Drop all your expectations when you open this book. It is written in the DNA of a Carlin, honest, biting, savage, funny, sad, dark, and profound. Kelly Carlin takes us on a journey from growing up in the shadow of one America's greatest comic icons into the light that it led her into. Hold on; like George Carlin, this book gives you a hell of a ride." —Lewis Black
"With A Carlin Home Companion, Kelly Carlin proves she can stay cool while standing next to the sun. As a Carlin-phile, I began reading hoping to peek behind the curtains of Earth's funniest man. I got more than a peek. Carlin opens the flood lights onto her childhood and the dysfunction in her house and in her mind. Her personal growth and awareness of self is inspiring. Kelly's stories are hilarious and so personal, at times felt like I was reading her diary. For anyone that's has ever not been sure who they are, this book is for you. There is a landing spot. Let Kelly Carlin be your beacon." —Jay Mohr
"As a fan, this book is essential. As a comic, this book is profound." —Margaret Cho
"A Carlin Home Companion is one hell of a ride. With her unique perspective, Kelly Carlin shines a light on George Carlin, and gives great insight into a man who was a hero to many, but a father to one." —Bill Maher
"Kelly tells a much-needed, revealing story about what it means to grow up in the shadow of fame and overcome dysfunctional, show-business-family patterns on the way to her own successful performing and writing career" —Booklist
"George Carlin spent his life dissecting the American psyche. Now his daughter Kelly continues the family tradition, wielding a scalpel of her own as she lays bare her life as a child, and an adult child, in the Carlin household. A brave and, naturally, hilarious book." —Dana Gould
"In the hands of an accomplished writer, with a lifetime supply of research, this story would be a fascinating read. In Kelly's hands, we get SO much more. Ms. Carlin has shared her firsthand knowledge in a masterful, hilarious and heartbreaking memoir of, and dedication to, one of the greatest comedic minds and performers in American history. Filled with wit, charm, and genuine, if not extraordinary prose. Bravo, Kelly!" —Kevin Pollak
"Kelly Carlin has humanized her father, in a way that doesn't hold back and through her brilliant writing, brings him to life in a whole new way. In this book she shows she has her father's talent for writing, his awesome humanity, and a good dose of his twisted comedic mind." —Lizz Winstead
"The daughter of the great comedian speaks: funny and moving." —Robert Klein
"A heartwarming, hysterical read! Carlin the younger evokes a version of Carlin the senior we never had the pleasure of knowing: George Carlin the Dad! A Carlin Home Companion may be Kelly Carlin's story specifically, but it's also the story of the American family in general." —Kevin Smith
"A Carlin Home Companion, which simultaneously documents Kelly's own attempts at self-discovery, is a must for fans who want to understand the legend behind the mic" —Mother Jones
"Highly readable... Told with candor, humor, and good L.A. gossip..., the tale of Carlin's journey... is one of trauma well told and triumph well earned." —Playboy
"George Carlin's daughter offers and intimate look at her life growing up with a comedy legend... A funny, honest, and compassionate account of growing up with a master of comedy." —Kirkus Reviews
"George Carlin gave us all so much to be thankful for, not least of which is his daughter Kelly. Her affection and admiration for her father jump off the page. And like her dad, her writing is funny, courageous and wise; this book is a glowing testament to them both. An inspiring and beautiful read." —Paul Reiser
St. Martin's Press, 9781250058256, 336pp.
Publication Date: September 15, 2015
About the Author
Kelly Carlin was born in Ohio in 1963. She received her Master's Degree from Pacifica Graduate Institute. She presently tours her critically acclaimed solo show, "A Carlin Home Companion," hosts two radio shows—The Kelly Carlin Show on SiriusXM and Waking from the American Dream on SModcast Network, and blogs for the Huffington Post. She lives in Los Angeles with her husband, Bob McCall and their Jack Russell Terrier, Stella.
Coverage from NPR
or
Not Currently Available for Direct Purchase