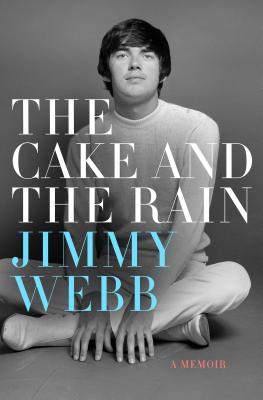 The Cake and the Rain
A Memoir
Hardcover

* Individual store prices may vary.
Other Editions of This Title:
Digital Audiobook (7/30/2018)
Paperback (7/31/2018)
MP3 CD (7/31/2018)
Compact Disc (7/31/2018)
Description
"Novelistic, perfectly plotted and quite possibly the best pop-star autobiography yet written." - The Wall Street Journal

Jimmy Webb's words have been sung to his music by a rich and deep roster of pop artists, including Glen Campbell, Art Garfunkel, Frank Sinatra, Donna Summer and Linda Ronstadt. He's the only artist ever to win Grammy Awards for music, lyrics, and orchestration, and his chart-topping career has, so far, lasted fifty years, most recently with a Kanye West rap hit and a new classical nocturne.

Now, in his first memoir, Webb delivers a snapshot of his life from 1955 to 1970, from simple and sere Oklahoma to fast and fantastical Los Angeles, from the crucible of his family to the top of his longed-for profession.

Webb was a preacher's son whose father climbed off a tractor to receive his epiphany, and Jimmy, barely out of his teen age years, sank down into the driver's seat of a Cobra to speed to Las Vegas to meet with Elvis. Classics such as "Up, Up and Away", "By the Time I Get to Phoenix", "Wichita Lineman", "Galveston", "The Worst that Could Happen", "All I Know", and "MacArthur Park" were all recorded by some of the most important voices in pop before Webb's twenty-fifth birthday: he thought it was easy.

The sixties were a supernova, and Webb was at their center, whipsawed from the proverbial humble beginnings into a moneyed and manic international world of beautiful women, drugs, cars and planes. That stew almost took him down—but Webb survived, his passion for music and work among his lifelines.

The Cake and The Rain is a surprising and unusual book: Webb's talent as a writer and storyteller is here on every page. His book is rich with a sense of time and place, and with the voices of characters, vanished and living, famous and not, but all intimately involved with him in his youth, when life seemed nothing more than a party and Webb the eternal guest of honor.
Praise For The Cake and the Rain: A Memoir…
"The Cake and the Rain is novelistic, perfectly plotted and quite possibly the best pop-star autobiography yet written. No one writes songs like Jimmy Webb does, and no musician ever wrote a biography like this. The Cake and the Rain is a dream of sin and redemption, told with contrapuntal rigor. And, yes, Mr. Webb explains the lyrics of "MacArthur Park" too." - The Wall Street Journal

"I am devouring Jimmy Webb's autobiography right now. Tunesmith took me inside Jimmy's music (one of my favorite of my 1250 books). The Cake and the Rain takes me inside his life. There's the 60's I know so well. There's the extraordinary, gifted, friend of mine Jimmy Webb." - Art Garfunkel

"During the late Sixties and early Seventies, Jimmy Webb was arguably the most successful mainstream songwriter alive, churning out sweeping, richly orchestrated hits for Glen Campbell, Barbra Streisand and Frank Sinatra, among others. Webb's new memoir, The Cake and the Rain, follows his rise from Oklahoma preacher's son to L.A. pop aristocrat. At the heart is his struggle to carve out his own identity as he lived a double life as a Middle American fixture with countercultural artistic ambitions." —Rolling Stone

"Jimmy Webb has been famous for his words for more than 50 years as the Grammy-winning songwriter behind classics such as "By the Time I Get to Phoenix" and "MacArthur Park." But when it came time to begin writing his memoir, The Cake and the Rain Webb says he discovered a freedom of expression that he hadn't felt before — one that comes outside the constraints of a three-minute pop song." —Newsday

"Songwriter Jimmy Webb hits the high notes in The Cake and the Rain." —Vanity Fair

"For those who want a good—and at times incredible—story of muses, merriment, melancholy, melodrama, along with touches of ordinary life and multiple near-death experiences, this is your book … Fans who have attended his concerts through the years know full well that Jimmy Webb always has some fascinating tales that stand on their own, without the aid of some of the greatest melodies the human ear has been fortunate to catch. Here he gets to fill in the details of interactions with Elvis, Sinatra, the Beatles (and their individual members), Joni Mitchell, Richard Harris, a totally out-of-control Harry Nilsson, and even the Devil himself" —Elmore Magazine

"Amazing! One of the best music memoirs I've ever read - I guess I shouldn't be surprised." - Will Friedwald, author of Sintra! The Song is You

"The Cake and the Rain has an almost cinematic quality, thanks to Webb's evocative writing, and the book's structure, which juxtaposes tales of Webb's adventures in the music business with stories of his family."- James Watts, Jr., Tulsa World

"Part memoir, part confessional, part musical history, and part cultural studies, The Cake and the Rain chronicles Webb's fantastical (and at times tortuous) path through the music world of the late 1960s and early 1970s. It's a must-read for music lovers everywhere." - Mark Mussari

"Webb writes in a comfortable, conversational way, as though he's telling a few close friends some stories from his fascinating life, and the book makes a great way for a music fan to pass a few hours." —Booklist

"An insider's view of the star-maker machinery and a treat for Webb's many fans." —Kirkus
St. Martin's Press, 9781250058416, 352pp.
Publication Date: April 18, 2017
About the Author
JIMMY WEBB, "America's Songwriter", is the author of the musician's "bible", TUNESMITH: INSIDE THE ART OF SONGWRITING. Webb's songs with their complex chord structure have been recorded or performed by artists from Frank Sinatra to Carly Simon, to R.E.M. He tours extensively performing his own works and stories in the United States and around the world. He was the youngest man ever inducted into the Songwriters' Hall of Fame and was named by Rolling Stone Magazine as one of the top fifty songwriters of all time. A father of six and grandfather of one, Webb lives with his wife, Laura Savini, in New York.
or
Not Currently Available for Direct Purchase