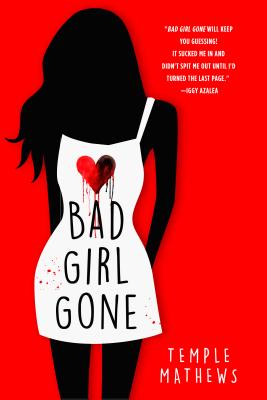 Bad Girl Gone (Hardcover)
A Novel
A Thomas Dunne Book for St. Martin's Griffin, 9781250058812, 272pp.
Publication Date: August 8, 2017
Other Editions of This Title:
Digital Audiobook (8/7/2017)
CD-Audio (8/8/2017)
* Individual store prices may vary.
Description
A recently deceased girl must solve her own murder in order to escape purgatory in Bad Girl Gone by Temple Mathews.
Sixteen year-old Echo Stone awakens in a cold sweat in a dark room, having no idea where she is or how she got there. But she soon finds out she's in Middle House, an orphanage filled with mysteriously troubled kids.
There's just one problem: she's not an orphan. Her parents are very much alive.
She explains this to everyone, but no one will listen. After befriending a sympathetic (and handsome) boy, Echo is able to escape Middle House and rush home, only to discover it sealed off by crime scene tape and covered in the evidence of a terrible and violent crime. As Echo grapples with this world-shattering information, she spots her parents driving by and rushes to flag them down. Standing in the middle of street, waving her arms to get their attention, her parents' car drives right through her.
She was right. Her parents are alive—but she's not.
She's a ghost, just like all the other denizens of Middle House. Desperate to somehow get her life back and reconnect with her still-alive boyfriend, Echo embarks on a quest to solve her own murder. As the list of suspects grows, the quest evolves into a journey of self-discovery in which she learns she wasn't quite the girl she thought she was. In a twist of fate, she's presented with one last chance to reclaim her life and must make a decision which will either haunt her or bless her forever.­­­­
About the Author
TEMPLE MATHEWS is an American born author and screenwriter with several films to his credit, including Disney's Return to Neverland, which grossed over 100 million dollars worldwide. Mathews also wrote The Little Mermaid 2: Return to the Sea, and the segment starring Mickey Mouse in Mickey's Once Upon a Christmas, both direct-to-video film for Walt Disney TV Animation. He wrote the screenplay for Aloha Scooby Doo, a DVD release for Warner Brothers Animation, and co-wrote/produced Off the Mark, a feature film released in the U.S.
For television Mathews wrote Picture This starring Ashley Tisdale. In addition, he was a story editor on the daytime courtroom drama The Judge, working on over forty episodes. Mathews was also story editor on Propaganda Films' Inside Out, where he was the supervising writer on 74 episodes written and/or directed by several now-prominent directors, including Alexander Payne (Sideways), Richard Shepard (The Matador), Bernard Rose (Immortal Beloved), Antoine Fuqua (Olympus Has Fallen), as well as numerous others. Mathews has written dozens of animated TV episodes and has worked-for-hire at every major studio in Hollywood.
Mathews was a producer at the American Film Institute, a graduate of the University of Washington, and Redmond High School in Redmond, Washington. In 2008 BenBella Books published Mathews's The New Kid. Its success led to the publication of two more New Kid books: The Rising: The New Kid Book Two and The Sword of Armageddon: The New Kid Book Three. Under the pen name William Payton, Mathews also wrote The Good Father, originally published by Coscom Entertainment.
Praise For Bad Girl Gone: A Novel…
"Paranormal romance meets murder mystery in this YA tale. Echo Stone wakes up alone in a cold, dark room. This is her home now, she is told—a place called Middle House. Echo and a group of other children and teens were sent here one reason: they were all murdered... VERDICT A good addition to any YA murder mystery collection." —School Library Journal, Bobbi Parry, East Baton Rouge Parish School System, LA
"Bad Girl Gone will keep you guessing! It sucked me in and didn't spit me out until I'd turned the last page." —Iggy Azalea
Praise for The New Kid:
"This fast-paced, action-packed first novel by veteran Hollywood screenwriter Temple Mathews takes the idea of high school as hell to a whole new level. Will's story, part wish-fulfillment sci-fi adventure and part iconic hero's journey with a side of budding romance, will appeal to teen readers of both genders." —Somewhere Only We Know Blog
"The pace is good, the attention to small details almost made it seem like a movie script, while the twists add character to the story." —Tome Tender Book Blog
"Temple Mathews is a writer to keep your eyes on. Bad Girl Gone has everything a young adult wants in a book, but also enjoyable for adults who want to read. I will definitely be checking out more from Temple Mathews in the future." —Kristin Downer, #NerdProblems
or
Not Currently Available for Direct Purchase