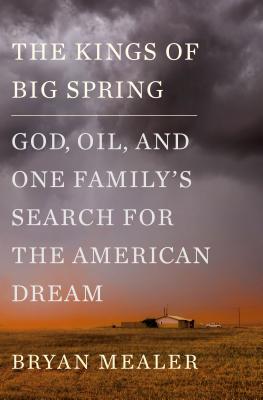 The Kings of Big Spring
God, Oil, and One Family's Search for the American Dream
Hardcover

* Individual store prices may vary.
Other Editions of This Title:
Digital Audiobook (2/5/2018)
Library Binding, Large Print (2/21/2018)
Description
"Think of it as a Texas version of Hillbilly Elegy."
— Bryan Burrough, New York Times bestselling author of THE BIG RICH and BARBARIANS AT THE GATE

"Bryan Mealer has given us a brilliant, and brilliantly entertaining, portrayal of family, and a bursting-at-the-seams chunk of America in the bargain."
— Ben Fountain, bestselling author of Billy Lynn's Long Halftime Walk

A saga of family, fortune, faith in Texas, where blood is bond and oil is king…

In 1892, Bryan Mealer's great-grandfather leaves the Georgia mountains and heads west into Texas, looking for wealth and adventure in the raw and open country. But his luck soon runs out. Beset by drought, the family loses their farm just as the dead pastures around them give way to one of the biggest oil booms in American history. They eventually settle in the small town of Big Spring, where fast fortunes are being made from its own reserves of oil. For the next two generations, the Mealers live on the margins of poverty, laboring in the cotton fields and on the drilling rigs that sprout along the flatland, weathering dust and wind, booms and busts, and tragedies that scatter them like tumbleweed. After embracing Pentecostalism during the Great Depression, they rely heavily on their faith to steel them against hardship and despair. But for young Bobby Mealer, the author's father, religion is only an agent for rebellion.

In the winter of 1981, when the author is seven years old, Bobby receives a call from an old friend with a simple question, "How'd you like to be a millionaire?"

Twenty-six, and with a wife and three kids, Bobby had left his hometown to seek a life removed from the blowing dust and oil fields, and to find spiritual peace. But now Big Spring's streets are flooded again with roughnecks, money, and sin. Boom chasers pour in from the busted factory towns in the north. Drilling rigs rise like timber along the pastures, and poor men become millionaires overnight.

Grady Cunningham, Bobby's friend, is one of the newly-minted kings of Big Spring. Loud and flamboyant, with a penchant for floor-length fur coats, Grady pulls Bobby and his young wife into his glamorous orbit. While drilling wells for Grady's oil company, they fly around on private jets and embrace the honky-tonk high life of Texas oilmen. But beneath the Rolexes and Rolls Royce cars is a reality as dark as the crude itself. As Bobby soon discovers, his return to Big Spring is a backslider's journey into a spiritual wilderness, and one that could cost him his life.

A masterwork of memoir and narrative history, The Kings of Big Spring is an indelible portrait of fortune and ruin as big as Texas itself. And in telling the story of four generations of his family, Mealer also tells the story of America came to be.
Praise For The Kings of Big Spring: God, Oil, and One Family's Search for the American Dream…
"The Kings of Big Spring tears like a flaming roller-coaster through four generations of a Texas family that's lived it all, from hardscrabble farms and tarpaper shacks to the crazy-making highs of oil booms and big money, with gobs of love, lust, heartache, and Jesus along the way. Bryan Mealer has given us a brilliant, and brilliantly entertaining, portrayal of family, and a bursting-at-the-seams chunk of America in the bargain."
— Ben Fountain, New York Times bestselling author of Billy Lynn's Long Halftime Walk

"Mealer has pulled off something downright remarkable here. On one level, he has penned a sweeping multigenerational family chronicle that can be read as a history of Texas and, by natural extension, of the American experience. But it's more than even that. In the small twists of fate and nature that buffet the extended Lewis-Mealer clan are reminders of the profound capriciousness of life, of how something as simple as a rain that doesn't come - or a weevil that does - can alter a family's fortunes forever. Masterful and deeply thought-provoking."
—Scott Anderson, author of the New York Times bestselling Lawrence in Arabia: War, Deceit, Imperial Folly and the Making of the Modern Middle East


"THE KINGS OF BIG SPRING is the kind of epic tale we rarely see, the sprawling, multi-generation story of a single, hardscrabble working-class family, scrapping and clawing its way through dust storms, droughts and oilfields in its quest for a sliver of the American Dream. At a time when the national spotlight is rediscovering the plight of Middle American families, this book will never be more relevant. Think of it as a Texas version of ``Hillbilly Elegy.''
— Bryan Burrough, New York Times bestselling author of THE BIG RICH and BARBARIANS AT THE GATE


"In The Kings of Big Spring Bryan Mealer has written a mutigenerational saga as broad as the Texas landscape that forms its backdrop. With poignancy and warmth, Mealer's memoir traces his family from Appalachian hollows to the open ranges of the West. During hardscrabble years, they suffer through droughts, depression, and dust bowl years with tenacity, faith, and more than a bit of luck, and when their fortunes rise during the oil boom, their newfound wealth catapults them into a fleeting jet set lifestyle. At once heartbreaking and exhilarating, The Kings of Big Spring brings to life one family's quest for the American Dream with a Texas twist."
-Jennifer Gromada, Labyrinth Books (Princeton, NJ)


"Bryan Mealer incorporates extensive research presenting the story of his family while showcasing the history of West Texas during the Twentieth Century. The Kings of Big Spring portrays the oil industry, through both the good and bad years, wrapped in an intriguing saga spanning several generations of Texans."

Martha Jarred, Henderson Book Store, owner

"The Kings of Big Spring is the manual laborers' view of 20th century Texas economic
history -- a tour de force unlike any Texas history I've ever read. Mealer
reminds me of Carl Sandburg, Howard Zinn and John Steinbeck all rolled into one.
— Erwin McGee, Balcones Books (Austin, TX)

"While this engrossing memoir is set in Texas for the most part, it is truly an American tale for everyone. From the first Europeans who set out for the New World, families have moved westward (or northward) for economic opportunities. The Mealers are one of these families. This is a wonderful story about a working class family in the 20th century. Highly recommended"

—Valerie Koehler, Blue Willow Bookshop

"If everything is bigger in Texas then so too is Texans' resilience, that ability to muscle through the cycles of boom and bust that seem inherent in the state's DNA.Bryan Mealer brings the mythical stature of twentieth century Texans to life with this history of four generations of his family. Theirs is a story of poverty and prayer; oil discoveries and ostentation--big personalities who live hard and take whatever fate delivers, with little regard for past misfortune or future uncertainty. Mealer's fascinating chronicle feels ripped from the pages of a Faulkner novel: colorful folks with ambition and egos as big as the Texas sky who, when the bottom falls out, curse their fate, seek the salve of redemption, and then simply move on."
—Laurie Feathers,Interabang Books (Dallas, TX)
Flatiron Books, 9781250058911, 384pp.
Publication Date: February 6, 2018
About the Author
Bryan Mealer is the author of Muck City and the New York Times bestseller The Boy Who Harnessed the Wind – written with William Kamkwamba – which has been translated into more than a dozen languages and is the basis of a major motion picture. He's also the author of All Things Must Fight to Live, which chronicled his time covering the war in the Democratic Republic of Congo for the Associated Press and Harper's. His other work has appeared in Texas Monthly, Esquire, the Guardian, and the New York Times. Mealer and his family live in Austin.
or
Not Currently Available for Direct Purchase