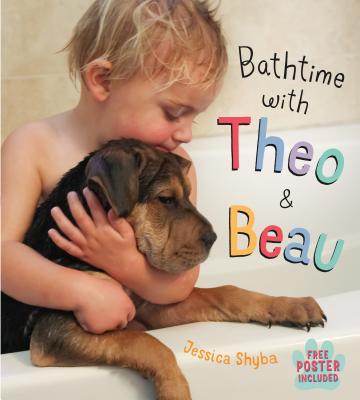 Bathtime with Theo and Beau (Hardcover)
with Free Poster Included
Feiwel & Friends, 9781250059079, 40pp.
Publication Date: January 19, 2016
* Individual store prices may vary.
Description
Beau is dirty. Theo is dirty. It must be BATHTIME!
The only thing better than watching Theo the dog (part-Boxer, part-Shepherd, part-Labrador, part-Sharpei) curl up for a nap with his best friend Beau (a two-and-a-half year old toddler) is watching them having a blast together in the bath. The strong friendship, trust and love that was so visible in Naptime with Theo and Beau, is once again on full display in Jessica Shyba's absolutely adorable and unbelievably charming photos.
Prepare to have your heart stolen all over again by these world famous viral sensations!
About the Author
Jessica Shyba, author of Naptime for Theo and Beau, is an eternal urban soul dedicated to capturing as many moments with her family as possible. Her beautiful images capturing the friendship and trust between her son Beau and their new puppy Theo touched the hearts of millions of people around the world, and quickly turned the adorable duo into an Internet sensation. She lives in California with her husband, four children, and two pets.
Praise For Bathtime with Theo and Beau: with Free Poster Included…
"An eminently adoptable option and fun addition to most picture book collections." —School Library Journal
"Beau is a towheaded toddler who naps every day with his puppy . . . A simple, accessible narrative of the canine-toddler friendship." —Kirkus Reviews on Naptime with Theo and Beau
"This might be the sweetest thing I've ever seen." —Jessica Alba on Momma's Gone City
"So cute it hurts." —Alyssa Milano on Momma's Gone City
"Unbearably adorable" —The Daily Mail UK on Momma's Gone City
"Good luck getting through these without yelling 'squee!'" —Today.com on Momma's Gone City
"The most mesmerizing naps ever caught on camera." —Good Morning America on Momma's Gone City
"Utterly charming." —The Huffington Post on Momma's Gone City