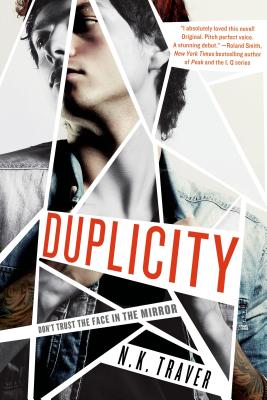 Duplicity (Hardcover)
Thomas Dunne Books, 9781250059147, 256pp.
Publication Date: March 17, 2015
* Individual store prices may vary.
Description
A computer-hacking teen. The girl who wants to save him. And a rogue mirror reflection that might be the death of them both.

In private, seventeen-year-old Brandon hacks bank accounts just for the thrill of it. In public, he looks like any other tattooed bad boy with a fast car and devil-may-care attitude. He should know: he's worked hard to maintain that façade. With inattentive parents who move constantly from city to city, he's learned not to get tangled up in things like friends and relationships. So he'll just keep living like a machine, all gears and wires.
Then two things shatter his carefully-built image: Emma, the kind, stubborn girl who insists on looking beneath the surface – and the small matter of a mirror reflection that starts moving by itself. Not only does Brandon's reflection have a mind of its own, but it seems to be grooming him for something—washing the dye from his hair, yanking out his piercings, swapping his black shirts for … pastels. Then it tells him: it thinks it can live his life better, and it's preparing to trade places.
And when it pulls Brandon through the looking-glass, not only will he need all his ill-gotten hacking skills to escape, but he's going to have to face some hard truths about who he's become. Otherwise he'll be stuck in a digital hell until he's old and gray, and Emma and his parents won't even know he's gone.
Huffington Post lists N. K. Traver's Duplicity as part of one of the great YA book trends to look for in 2015 —don't miss it!
About the Author
As a freshman at the University of Colorado, N.K. TRAVER decided to pursue Information Technology because classmates said "no one could make a living" with an English degree. It wasn't too many years later Traver realized it didn't matter what the job paid—nothing would ever be as fulfilling as writing. Programmer by day, writer by night, it was only a matter of time before the two overlapped. Duplicity is Traver's first novel.
Praise For Duplicity…
One of USA Today's Happily-Ever-After Best Romances of 2015!
A 2016 Quick Pick for Reluctant YA Readers by the ALA!
"I definitely recommend it to fans of the twisted and strange...it's a really, really intriguing concept." —USA Today
"I absolutely loved this novel! Original. Pitch perfect voice. A stunning debut. I'm jealous. N.K. Traver knocks it out of the park. A must read. I. Could. Not. Put. It down." —Roland Smith, New York Times bestselling author of Peak and the I, Q series
"N.K. Traver's Duplicity is an intriguing, fast-paced read. It's the dark, malevolent-mirror-filled soul baby of Tron and The Matrix that I never knew I wanted. Don't miss it!" —Kendare Blake, author of Anna Dressed in Blood
"Traver's debut is an accessibly written cautionary tale that literally takes readers through the looking glass, calling on them to engage with Brandon's quest for liberation while questioning their own relationships with digital seduction." —Booklist
"Traver blended the world of computers, excitement of hacking, bad boy personas and a regular teenager looking for love and attention brilliantly." —Fresh Fiction
"Duplicity is an incredibly unique, fast-paced debut. I've never read a story quite like it! With a clever writing style and satisfying hints of humor, N.K. Traver knocks this one out of the park! I can't wait to have a copy of it on my shelf. This is a great debut that will be sure to suck in both male and female readers. It kept me thinking, even after I finished the last page." —Lindsay Cummings, author of The Murder Complex
or
Not Currently Available for Direct Purchase