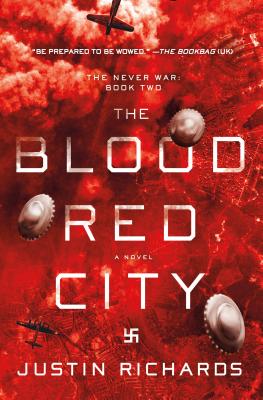 The Blood Red City (Hardcover)
A Novel (The Never War #2)
Thomas Dunne Books, 9781250059215, 400pp.
Publication Date: March 29, 2016
* Individual store prices may vary.
Description
The alien Vril are waking, and the Never War is heating up. Colonel Brinkman and his team at Station Z desperately need answers - they have to discover exactly what they are facing and how the attack will come. But the information doesn't come easily. With a major Vril offensive imminent, the Nazis step up their own project to exploit Vril weapons and technology.
Leo Davenport finds himself fighting with the Greek resistance as he struggles to solve an ancient mystery. Major Guy Pentecross must travel to the ruined deathtrap of the most dangerous city in the world to track down the one man who can help.
From a spaceship crash in Bavaria in 1934 to the rat-infested devastation of Stalingrad, from the ancient ruins of occupied Greece to the bombed-out streets of London, the second book of the Never War series continues a secret history of the Second World War in which humanity itself is fighting for survival...
This is Indiana Jones crossed with The X-Files. In The Blood Red City, Justin Richards has an extremely credible grasp of the period's history and has transformed it into a groundbreaking alternate reality thriller.
About the Author
Justin Richards is a British writer. He has written many spin off novels based on the BBC science fiction television series Doctor Who, and he is Creative Director for the BBC Books range. He has written for television, contributing to Five's soap opera Family Affairs. He is also the author of a series of crime novels for children about the Invisible Detective, and novels for older children. His Doctor Who novel The Burning was placed sixth in the Top 10 of SFX magazine's "Best SF/Fantasy novelization or TV tie-in novel" category of 2000.
Praise For The Blood Red City: A Novel (The Never War #2)…
"Justin Richards brings all his skills as a leading Doctor Who writer to this tale of wartime intelligence at odds with some of H.P. Lovecraft's worst nightmares." —Michael Moorcock on The Suicide Exhibition
"Justin Richards has reworked an old myth to nightmarish effect. You get the feeling that if the Nazis could have done this, they would. The Suicide Exhibition has a ghastly plausibility." —Stephen Baxter, author of Doctor Who: The Wheel of Ice, on The Suicide Exhibition
"The audacious use of historical characters in this book owes much to the vast influence of the ever-changing Time Lord... And, with Richard's evident knowledge of historical settings, it works well." —Fantasy Book Review (UK) on The Suicide Exhibition
"If you're a fan of gritty action novels and enjoy science fiction then this mash-up could well be the book for you!" —The Eloquent Page on The Suicide Exhibition
"Justin Richards has perfectly captured a sepia-toned world of wax-sealed envelopes, typewritten orders and Nazi supernatural conspiracies...The narrative quickly moves from a pastiche of a Jones-style archeological dig to a complex spy thriller." —Starburst Magazine, 9 out of 10 stars on The Suicide Exhibition
or
Not Currently Available for Direct Purchase