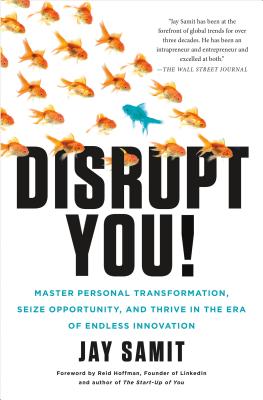 Disrupt You! (Hardcover)
Master Personal Transformation, Seize Opportunity, and Thrive in the Era of Endless Innovation
Flatiron Books, 9781250059376, 304pp.
Publication Date: July 7, 2015
Other Editions of This Title:
Digital Audiobook (7/6/2015)
Pre-Recorded Audio Player (7/7/2015)
* Individual store prices may vary.
Description
In today's volatile business landscape, adaptability and creativity are more crucial than ever. It is no longer possible-or even desirable-to learn one set of job skills and to work your way up the ladder. At the same time, entrepreneurs with great ideas for new products or technologies that could change the world often struggle to capture the attention of venture capital firms and incubators; finding the funding necessary to launch a start-up can feel impossible. The business leaders of our future must anticipate change to create their own opportunities for personal satisfaction and professional success. In Disrupt You!, Jay Samit, a digital media expert who has launched, grown, and sold start-ups and Fortune 500 companies alike, describes the unique method he has used to invent new markets and expand established businesses.
Samit has been at the helm of businesses in the ecommerce, digital video, social media, mobile communications, and software industries, helping to navigate them through turbulent economic times and guide them through necessary transformation so that they stay ahead of the curve. In Disrupt You!, he reveals how specific strategies that help companies flourish can be applied at an individual level to help anyone can achieve success and lasting prosperity-without needing to raise funds from outside investors.
Incorporating stories from his own experience and anecdotes from other innovators and disruptive businesses-including Richard Branson, Steve Jobs, Elon Musk, YouTube, Circ du Soleil, Odor Eaters, Iams, Silly Putty, and many more-Samit shows how personal transformation can reap entrepreneurial and professional rewards. Disrupt You! offers clear and empowering advice for anyone looking to break through; for anyone with a big idea but with no idea how to apply it; and for anyone worried about being made irrelevant in an era of technological transformation. This engaging, perspective-shifting book demystifies the mechanics of disruption for individuals and businesses alike.
About the Author
JAY SAMIT has been described by Wired magazine as "having the coolest job in the industry." He is a leading technology innovator who has raised hundreds of millions of dollars for startups; sold companies to Fortune 500 firms; taken companies public; and partnered with some of the world's biggest brands, including Coca Cola, McDonald's, General Motors, United Airlines, Microsoft, Apple, Verizon, and Facebook. He was a senior advisor to LinkedIn and held senior management positions at Universal Studios, EMI, and Sony. An active philanthropist, Samit was appointed to the White House initiative for education and technology by President Bill Clinton. The president of ooVoo, a mobile video chat service with 100+ million users, and an adjunct professor of entrepreneurship at USC's Viterbi School of Engineering, Samit is the host of the Wall Street Journal Start of the Year Series and the nationally-syndicated radio show, Business Rockstars.
Praise For Disrupt You!: Master Personal Transformation, Seize Opportunity, and Thrive in the Era of Endless Innovation…
"Despite the constantly changing tides of the media industry, Jay Samit has been at the forefront of global trends for over three decades. He has been an intrapreneur and entrepreneur and excelled at both." —Wall Street Journal
"Samit, who has been at the helm of many digital watersheds, from negotiating with Steve Jobs over iTunes, to having the original leader in college social networks is optimistic that user attention will be a valuable enough currency to pay for more than just entertainment." —Fast Company
"Jay Samit is one of the world's most successful digital media innovators." —Founders Institute
"Embracing innovation has been a hallmark of Jay Samit's career...and that's the mindset all professionals should aspire to now. To successfully navigate today's professional landscape, you must understand the dynamics of disruption. As Jay teaches in this book, you can swim with the currents of change instead of against them. And when you do that, disruption can propel you toward new opportunities, new creative challenges, and prosperity." —Reid Hoffman, founder of LinkedIn and author of THE START-UP OF YOU
"Before, disruption was something we sat and admired. Now, thanks to this book, it's something we can stand up and do. With an array of examples so energizing they seem to leap off the page, technology innovator Jay Samit offers sage advice for launching products, building businesses, and transforming careers." —Adam Grant, Wharton professor and New York Times bestselling author of GIVE AND TAKE
"This book provides invaluable advice for anyone who wants to disrupt themselves, solve big problems, and thrive in today's rapidly changing, constantly innovating world. A must read." —Peter H. Diamandis, CEO, XPRIZE; Executive Chairman, Singularity University; and New York Times bestselling author of ABUNDANCE
"DISRUPT YOU! solves the innovator's dilemma by teaching entrepreneurs how to think and how to achieve game-changing results. Samit combines powerful business insights with a practical step-by-step roadmap for success." —Nolan Bushnell, founder Atari, Chuck E. Cheese, and Brainrush
"Jay Samit has been at the center of the most disruptive trends of the last thirty years and he has crystallized how innovation shakes the world-from tech, to education, to mankind. DISRUPT YOU! is your guide to becoming the smartest person you know!" —Ken Rutkowski, host of Business Rock Stars
"DISRUPT YOU! is revolutionary. To survive in today's economy, everyone needs to think like an entrepreneur. Samit shows how we have the power to succeed in business by disrupting our internal limitations, turning obstacles into opportunities, and killing our best ideas. This is a must read for every entrepreneur and intrapreneur wanting greater satisfaction out of their careers." —Kelly Perdew, entrepreneur and winner of NBC's The Apprentice
"In the 20 years I've known him, Jay has reinvented one business after another. Part magician, part engineer, and part analyst, he's predicted, prepared for, and prospered from the disruption of several multi-billion- dollar businesses. In DISRUPT YOU! he reverse-engineers the disruptive mindset that will affect every business from automotive to the corner restaurant. A must read." —Seth Shapiro, two-time Emmy® Award-winner and member of the Board of Governors, the Television Academy
"If you are looking to ignite your journey in life, look no further than DISRUPT YOU! Jay Samit provides the keys to unlock what has been holding us back from achieving the levels of greatness we are capable of and disrupting the tired status quo. Not a should read, a must read." —John Lee, host of EntrepreneurOnFire, awarded Best Podcast of iTunes
"I used to live in fear that Jay Samit would compete with me. Now that I have his book I have at least a chance." —Robert Scoble, founder of SCOBLEIZER
"DISRUPT YOU! is an inspiring Cliffs Notes (if you know what that is) for all serious entrepreneurs and innovative managers looking to launch a new company or new product. A must-read for all start-up founders, this is the best book I know for increasing a start-up's likelihood of financial success." —Brian Solis, author of WTF!
"From the moment I met Jay, I knew he was a different kind of entrepreneur. Bold, blunt and refreshing. Start-ups everywhere should be singing hallelujah that Jay has decided to put all his unique insights into his new book, DISRUPT YOU! I've been waiting for it! No doubt any entrepreneur who picks this book up will increase their likelihood for success. This is a definite must read!" —Betty Liu, author of WORK SMARTS
"What Jay Samit empowers you to do is nothing short of mercurial: to predict the market, disrupt yourself, and position your business for exponential growth. This is your chance to leverage his years of leadership at start-ups to global media companies, such as Universal Studios and Sony. If you want to collapse time, minimize risk, and accelerate success, buy DISRUPT YOU!
" —Simon Mainwaring, founder of We First and New York Times Bestselling author of WE FIRST
"If you need an acting coach, hire Russell Crowe. Throwing a football? That's easy: get help from Joe Montana. But when it comes to your next big business idea, get into the mind of Jay Samit. The "why" is obvious: he knows how to disrupt the industry you work in, right now. That's important because "disruption" is a fine art and it's easy to get wrong: ideas that are too safe get no attention; but ideas that are too big can flame out quickly. Ideas that are disruptive? They get the most funding, the best partners and the most highly qualified employees. Disrupt correctly and you'll take over the world." —Oren Klaff, New York Times Best-Selling Author of Pitch Anything