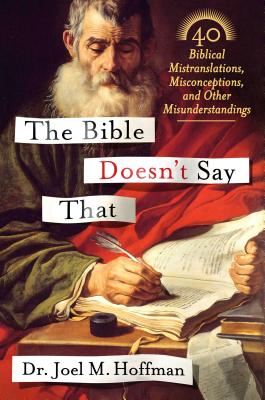 The Bible Doesn't Say That (Hardcover)
40 Biblical Mistranslations, Misconceptions, and Other Misunderstandings
Thomas Dunne Books, 9781250059482, 304pp.
Publication Date: February 16, 2016
* Individual store prices may vary.
Description
The Bible Doesn't Say That explores what the Bible meant before it was misinterpreted over the past 2,000 years.
Acclaimed translator and biblical scholar Dr. Joel M. Hoffman walks the reader through dozens of mistranslations, misconceptions, and other misunderstandings about the Bible. In forty short, straightforward chapters, he covers morality, life-style, theology, and biblical imagery, including:
*The Bible doesn't call homosexuality a sin, and it doesn't advocate for the one-man-one-woman model of the family that has been dubbed "biblical."
*The Bible's famous "beat their swords into plowshares" is matched by the militaristic, "beat your plowshares into swords."
*The often-cited New Testament quotation "God so loved the world" is a mistranslation, as are the titles "Son of Man" and "Son of God."
*The Ten Commandments don't prohibit killing or coveting.
What does the Bible say about violence? About the Rapture? About keeping kosher? About marriage and divorce? Hoffman provides answers to all of these and more, succinctly explaining how so many pivotal biblical answers came to be misunderstood.
About the Author
JOEL M. HOFFMAN, PhD, is the author of In the Beginning: A Short History of the Hebrew Language and And God Said: How Translations Conceal the Bible's Original Meaning. He is the chief translator for the 10-volume series, My People's Prayer Book (winner of the National Jewish Book Award) and for My People's Passover Haggadah. He is an occasional contributor to The Jerusalem Post and The Huffington Post, and has held faculty appointments at Brandeis University and at Hebrew Union College-Jewish Institute of Religion. He lives in New York.
Praise For The Bible Doesn't Say That: 40 Biblical Mistranslations, Misconceptions, and Other Misunderstandings…
"[A] witty and accessible look at Scripture...Hoffman has produced the best kind of popular scholarship, that will interest both religious and secular readers" - Publishers Weekly, STARRED review
"The Bible Doesn't Say That challenges the reader to think differently about many of the Bible's core ideas...the author writes in an accessible style that requires only an open mind and willingness to challenge long-held assumptions. A reader comes away understanding that while some of our misconceptions about the Bible are relatively minor, other misconceptions have led to significant misunderstandings, and even conflict, between people of faith." - JewishBookCouncil.org
Praise for The Bible's Cutting Room Floor
"A wonderful book to confirm the beliefs of the faithful, to strengthen those whose faith begs for more information and to enlighten those who reject the stories of the Bible as mere fiction. " -Kirkus Reviews

"An engrossing gift for amateur bible students." -Booklist
Praise for And God Said
"Deeply welcome as a valuable tool for teaching . . . well-worth acquiring." —Jewish Book World
"A sensitive . . . discussion of the structure of languages in general and of Biblical Hebrew in particular." —The Jerusalem Post
"A lively tour of the difficulties besetting the Bible's translators, their successes and (more frequent) failures." —Jewish Ideas Daily
Praise for In the Beginning
"Hoffman has a flair for explaining how languages work." —The Times Literary Supplement (London)
"Written in an energetic style with a commitment to exploring the evolution of Hebrew from ancient times to the present in ways that a broad audience can comprehend." —Religious Studies Review