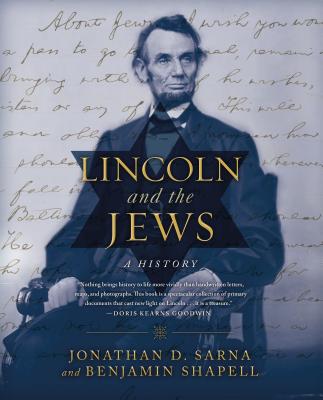 Lincoln and the Jews (Hardcover)
A History
Thomas Dunne Books, 9781250059536, 288pp.
Publication Date: March 17, 2015
Other Editions of This Title:
MP3 CD (6/9/2015)
Compact Disc (6/9/2015)
* Individual store prices may vary.
Description
One hundred and fifty years after Abraham Lincoln's death, the full story of his extraordinary relationship with Jews is told here for the first time. Lincoln and the Jews: A History provides readers both with a captivating narrative of his interactions with Jews, and with the opportunity to immerse themselves in rare manuscripts and images, many from the Shapell Lincoln Collection, that show Lincoln in a way he has never been seen before.
Lincoln's lifetime coincided with the emergence of Jews on the national scene in the United States. When he was born, in 1809, scarcely 3,000 Jews lived in the entire country. By the time of his assassination in 1865, large-scale immigration, principally from central Europe, had brought that number up to more than 150,000. Many Americans, including members of Lincoln's cabinet and many of his top generals during the Civil War, were alarmed by this development and treated Jews as second-class citizens and religious outsiders. Lincoln, this book shows, exhibited precisely the opposite tendency. He also expressed a uniquely deep knowledge of the Old Testament, employing its language and concepts in some of his most important writings. He befriended Jews from a young age, promoted Jewish equality, appointed numerous Jews to public office, had Jewish advisors and supporters starting already from the early 1850s, as well as later during his two presidential campaigns, and in response to Jewish sensitivities, even changed the way he thought and spoke about America. Through his actions and his rhetoric—replacing "Christian nation," for example, with "this nation under God"—he embraced Jews as insiders.
In this groundbreaking work, the product of meticulous research, historian Jonathan D. Sarna and collector Benjamin Shapell reveal how Lincoln's remarkable relationship with American Jews impacted both his path to the presidency and his policy decisions as president. The volume uncovers a new and previously unknown feature of Abraham Lincoln's life, one that broadened him, and, as a result, broadened America.
About the Author
JONATHAN D. SARNA is a historian and leading commentator on American Jewish history, religion and life. Dubbed by the Forward newspaper in 2004 as one of America's 50 most influential American Jews, Sarna is the Joseph H. & Belle R. Braun Professor of American Jewish History at Brandeis University, and the 18th president of the Association for Jewish Studies. The author of hundreds of scholarly articles, Sarna may be best known for his acclaimed American Judaism: A History, winner of the Jewish Book Council's "Jewish Book of the Year Award."
BENJAMIN SHAPELL is the founder of the Shapell Manuscript Foundation, an independent educational organization with offices in Los Angeles and Herlizya, Israel, whose collection includes original documents of world-renowned individuals, including American presidents and Mark Twain. Shapell has initiated and overseen the creation of numerous publications, exhibitions, and films relating to the central themes of the collection. The Foundation has also partnered in exhibitions with major institutions, including the Library of Congress, the National Library of Israel, and the Smithsonian Institution. Shapell lives with his family in Israel.
Praise For Lincoln and the Jews: A History…
"Nothing brings history to life more vividly than handwritten letters, maps, and photographs. This book is a spectacular collection of primary documents that cast new light on Lincoln...it is a treasure." —DORIS KEARNS GOODWIN
"With a dazzling mastery of the subject, and a compelling style that transforms a scholarly book into a page-turner, Jonathan Sarna and Benjamin Shapell have provided nothing less than the definitive study of a long-neglected aspect of Civil War history and Lincoln biography. If a picture is worth a thousand words, then this book is further elevated, and exponentially, by the prominence of hundreds of magnificent illustrations--many from the amazing Shapell archive, and quite a few of them new to this old hand at Lincoln relics and portraiture. The result is that happiest marriage of text and images: an instant classic." —HAROLD HOLZER, ROGER HERTOG FELLOW, NEW-YORK HISTORICAL SOCIETY
"This book is one of the most fascinating troves of American history and Jewish history I have ever seen. It is inexhaustibly interesting and deeply moving. Lincoln and the Jews portrays an essential chapter in the history of freedom." —SENATOR JOSEPH LIEBERMAN
"Jonathan Sarna and Benjamin Shapell have produced a groundbreaking and enlightening book, an accessible source for scholars and general readers alike. This new study broadens our understanding of the American Jewish experience during the Civil War. Most illuminating, though, is the book's portrayal of Abraham Lincoln, the first president to truly interact with Jews and to welcome them into leading American circles. Lincoln and the Jews is an essential addition to any library on American Jewish and U.S. history." —MICHAEL OREN, FORMER ISRAELI AMBASSADOR TO THE UNITED STATES
"Elegant, edifying and entertaining. Lincoln and the Jews is a gift for Lincoln enthusiasts." —DANIEL STASHOWER, AUTHOR OF THE HOUR OF PERI L: THE SECRET PLOT TO MURDER LINCOLN BEFORE THE CIVIL WAR
"Even Lincoln experts are likely to learn something from this fascinating and comprehensive study of the president's relationship with American Jews, which is being published to coincide with a travelling exhibition of original documents. Sarna, a preeminent historian of American Jewry, and Shapell, the founder of the Shapell Manuscript Foundation, make good use of what Shapell calls "the 'other' letters of U.S. presidents"--ones that don't present significant historical facts, but that limn the quotidian aspects of Lincoln's life, such as his recommendation of his Jewish chiropodist, Issachar Zacharie. The authors convincingly make the case that Lincoln's positive attitude toward Jews was strongly influenced by Abraham Jonas--a fellow Illinois politician, the only man Lincoln ever directly called "one of my most valued friends," and one of the first to suggest that he seek the Republican nomination for President in 1860. Jonas also warned his friend of a plot to assassinate him before his first inauguration. Images of the source material add depth and lend perspective; a page from a narrative describing Lincoln's death is stained with blood, probably the president's." —PUBLISHERS WEEKLY (STARRED)
"A noted historian asks new questions about Abraham Lincoln... Drawing on archival sources and historical accounts, the author paints a well-delineated portrait of Lincoln as a friend and advocate of Jews before and during his political career. Heavily illustrated with images and manuscripts from the Library of Congress, many other collections and especially from the Shapell Manuscript Foundation, the book offers an enhanced perspective on Lincoln's moral and ethical decisions, as well as his personal friendships... Sarna and manuscript collector Shapell offer a vivid, fresh perspective on Lincoln's life and times." —KIRKUS REVIEWS
"Lincoln and the Jews is filled with rare photographs and letters that tell the story of a man who himself defied the limitations of his time, and whose strength of character altered the nation's destiny." —Rabbi David Wolpe, Time
"This book ensures that Lincoln's relations with American Jews, long a rather obscure aspect of his life and presidency despite all that's been written about him, will be much better known." —Pittsburgh Tribune
"Lincoln and the Jews is a beautiful volume, packed with fascinating official documents, letters and photos collected by Shapell over many years." —Cleveland Plain Dealer
or
Not Currently Available for Direct Purchase